Open Kitchen Shelves Revisited is a discussion of the whole idea of open shelves from of a different perspective now that I've had them for two years. If you've ever wondered if you would like the same in your kitchen, you mind find my perspective rather interesting.
When we bought our house in 1991, the cabinets were the original varnished wood  in a lovely orange-y flavor, circa 1979. I'm not sure how, but I convinced my husband we should paint them red. The merits and demerits of that decision are a subject for another time.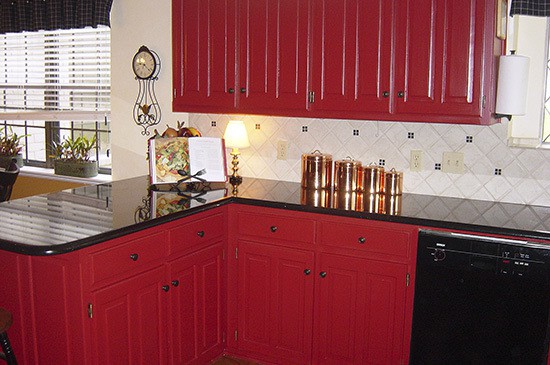 In 2010, I was smitten by the wave of open shelves I saw everywhere on the internet. So one Friday night, as my husband sat at the breakfast table diligently preparing his BSF lesson, I quietly and unceremoniously removed the doors on a few of the upper cabinets. When he finally noticed, I had moved all plates, glasses, and other junk to the dining room.  I then confidently announced we didn't need those cabinet doors any more. He agreed only after I promised to keep the doors handy in case we needed to sell the house and put them back on.
You can see the details of the whole project here as I described it a couple years ago. Today, I am revisiting the subject with a new perspective.
The verdict on open shelves?…
I loved the way open shelves/cabinets forced me to keep the contents tidy. I also enjoyed how easy it was to empty the dishwasher because I didn't have to constantly open and close cabinet doors. Guests could conveniently help themselves to a clean glass or a paper plate without foraging behind closed doors. Furthermore, I thought it made my kitchen look more interesting, like it was a happenin' place.
My husband? Not so much. I think it offended his sense of order and neatness. He prefers the look of minimal clutter. Me too, actually, but it was something different, and I love change, especially if I'm in control. 🙂
When we began to plan a remodel of the first floor of our house this past January, I proposed new cabinet doors with windows. Seeing his chance to get the doors back on, my husband went for it.
It turned out to be a good compromise that suits both of us. Seeing the irregular pattern of white and clear-glass dishes breaks up all the red. I am still forced to keep the cabinets orderly, but the doors tie everything together.  If you compare the before and after pictures, you will see we have also replaced the exterior windows, so the patterns echo each other.
New windows call for new curtains, right? So I removed the black valances, which looked like heavy eyebrows over my windows– not a great look for 8-foot ceilings.
In case you are wondering, I did NOT just have windows put into the original doors.  That was my plan, but the cabinet man said it was not a good idea. So I still have the original doors (just in case you decide to buy our house some day and can't stand for anybody to see inside your cabinets).
P.S. I'm not addicted to Pinterest, but it did give me some great ideas for our little remodeling project.  The pictures below are proof. I pinned the image of the linen curtains from Houzz, another great site for decorating ideas.
If you like home decorating projects, here is another Pinterest interpretation.
Sorry I don't have a recipe today but these rooms all have to do with eating, so I hope you enjoyed seeing where the food on this blog comes from, especially since there hasn't been much food coming out of my kitchen with all the construction going on lately. As soon as I find my bread machine and blender, I'll be back in business.