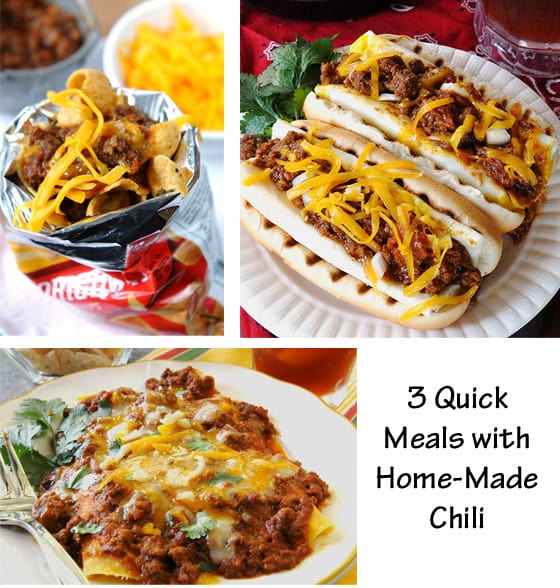 There are two kinds of chili in the world. The kind you eat out of a bowl and the kind you use as a condiment. (Never mind the ten bazillion variations on Google.) In my mind, chili eaten out of a bowl has more liquid and may have beans–kinda like the chili at Wendys.
The second kind is thicker and meatier–like chili you would eat on a hot dog. It's what I like to keep in my freezer–1/2 cup portions in small snack-size zippered plastic bags. If you don't already have a favorite chili recipe, this one works perfectly.
There are so many uses for these mini packets. Here are 3 ideas to get you started. All of these are individual servings and require a half-cup portion of chili. They go together quickly for those times you are too tired to cook a real meal, it's been awhile since you went to the grocery store or in the case of the egg sandwiches, you have leftover hot dog buns.
1. Frito Pie
Easiest snack ever. Open snack size bag of Frito or tortilla chips. Pour approximately 1/2 cup steaming chili into bag on top of chips. Sprinkle 1/2 cup shredded Cheddar cheese or pourable cheese dip over all. Although my insurance man would prefer the chips poured out onto a plate, serving them in the bag works great on a camping trip.
2. Chili-Cheese Egg Sandwiches

This idea comes from my friend Scott B. who came up with "Egg Sandwiches the Long Way"–a way to use up leftover hot dog buns. I make my own version and call them Chili-Cheese Egg Sandwiches. At first glance, I know it looks like a chili-cheese dog but look again and you'll see a cooked egg takes the place of a hot dog. Dress it up with onions and cheese in addition to chili to suit your own tastes.
In Scott's words, "A leftover hot dog bun becomes obsolete after a weekend cookout." Until now.
Put the stove on high heat for 2 minutes
Crack three eggs into a large nonstick skillet and split open the yokes and cook for one minute.
Turn the stove to medium heat and flip the ends of the egg whites toward the middle of the skillet forming the letter "I". Cook for one minute and then turn over.
Cook for two minutes then cut the "I" shape into two equal sections for insertion into two separate toasted hot dog buns.
Prepare egg sandwich the same way you would fix a chili dog.
3. Quick Beef Enchiladas
Once upon a time I worked in a hospital kitchen as a dietary supervisor. Two of the most useful things I learned there were how to fry chicken and how to make beef enchiladas.
These instructions are for one serving with two tortillas using the microwave. Making these for a crowd is not a lot more trouble. Assemble however many you can get into a casserole dish, cover with chili and bake at 350 degrees F until chili is hot and all cheese is melted.
First: Lightly spray corn tortillas with vegetable oil on both sides. Place between paper towels or plates and microwave 2 of them for 20 seconds to soften.
Second: Thaw 1/4 cup frozen onions in the microwave for 1 minute on HIGH. (I prefer frozen onions because they're already soft when thawed and don't need to be sauteed first although you certainly can if you aren't too hungry to wait for the stove to heat up.) Distribute onions down the middle of each tortilla. Layer 1/2 cup shredded cheese of your choice over the onions. I like Cheddar, Pepper Jack or Colby. Honestly, I use whatever I have in the fridge–although I probably wouldn't use Parmesan. Roll up each tortilla tightly.
Third: Place rolled tortillas on plate . Cover with chili and more shredded cheese. Microwave about 1 minute for each tortilla or until cheese is melted and chili is hot.
Note: Amounts of onions and cheese are a matter of personal taste. My insurance man also likes a few jalapenos thrown in for a spicy kick.
p.s. A special thanks to Scott Bevier for the egg sandwich idea.