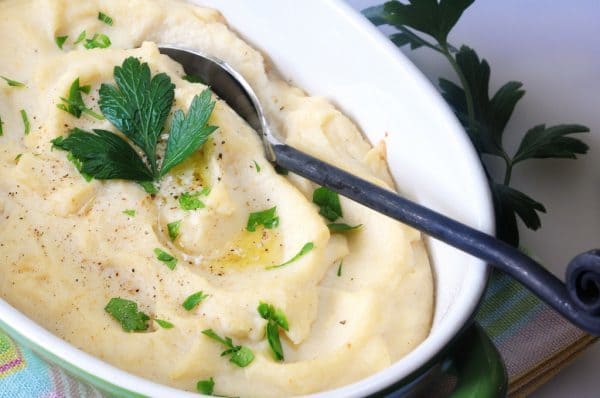 Friends who share favorite recipes are extra special in my book. Take this recipe, for example. Patsy was in my Bible Study Fellowship group some years ago. Although it was not a time to sit around talking recipes, she was a passionate cook and sharing recipes was her way of reaching out. She would frequently slip me one or two after class and tell me I must try them.
These were not just recipes she thought looked interesting. She tested all of them, leaving handwritten notes proving she really wanted them to turn out right for me. Ten years later, I'm still using many of them. Although I doubt if she'll ever read this, thanks Patsy.

The appearance and texture of Baked Cauliflower Cream reminds me of mashed potatoes. It's velvety on the tongue and slides down the throat slick as silk. When I'm in the mood, I add a skinny pat of butter on top and sprinkle freshly ground black pepper over all just like my mom used to do with mashed potatoes when we had company.
Baked Cauliflower Cream--the Mashed Potato Imposter
Well-seasoned, pureed-until-smooth cauliflower is a side dish perfect with sausage.
Ingredients
1 medium head cauliflower, leaves trimmed and woody core removed
1 teaspoon + 2 tablespoons butter
½ cup chopped onions (I use frozen)
1 chicken bouillon cube or 2 teaspoons concentrated chicken base
1 small clove garlic, chopped (I often leave out)
½ cup sour cream (lite is fine)
⅛ teaspoon or more of fresh grated nutmeg (Patsy added this in her notes-I don't usually add it)
Salt and pepper
Chopped fresh parsley
Instructions
Preheat the oven to 350 degrees F. Break cauliflower into small florets and place in 2-quart batter bowl or something similar. Cover and microwave on HIGH for about 7 minutes. Cauliflower should be very tender and soft. Drain.
Place 1 teaspoon butter, onions, garlic and bouillon cube in small glass bowl, cover and microwave on HIGH for 3 minutes. Onion should be quite soft.
Puree cauliflower and onions in food processor until smooth. Add sour cream and remaining 2 tablespoons butter a little bit at a time. Process until smooth like mashed potatoes. Season with salt, pepper and nutmeg if using.
Spoon cauliflower mixture into a lightly buttered 1-quart baking dish. Bake 15 minutes. Remove from oven and garnish with parsley.
P.S. I know this recipe has been published somewhere because Patsy photocopied it but I have been unsuccessful in determining the source. If you recognize it, let me know.
Other veggie dishes you might enjoy…