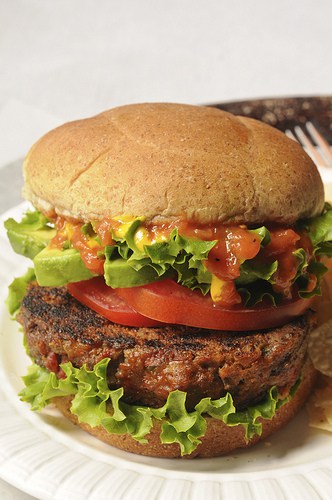 Since Billy and I are in the "empty nest" stage, I have no hungry kids to help me eat all the food I cook around here. Consequently, I've gotten creative with leftovers so my husband won't feel abused when I don't cook a fresh meal every night.
I recently posted a recipe for Bacon-Wrapped Meatloaf which resulted in a surplus of meatloaf in my freezer that looked like I got carried away at Sam's.   Blackened meatloaf to the rescue.  I slice chilled leftover meatloaf and wrap the individual slices before tossing them into a big Zip-Lock bag to freeze.  Then I grab however many slices I need for a quick weeknight meal.   Of course, you don't have to use my Bacon-Wrapped Meatloaf recipe.  Any meatloaf will work as long as it doesn't fall apart when sliced.
Although delicious with barbecue sauce, I love to serve blackened meatloaf slices with Tomato Gravy, especially if I have mashed potatoes to eat with it. Note the butter is optional for a richer taste but leave it out for fewer calories. You won't miss it….much.
Blacked meatloaf also makes a great sandwich with avocados, lettuce, mustard, barbecue sauce and/or ketchup or serve it with Tomato Gravy.
Blackened Meatloaf with Tomato Gravy--A Leftover Makeover
Ingredients
½ to 1-inch thick sliced leftover meatloaf (slice when chilled)
Blackening Spice Mix or your favorite rub (I used Chef Paul Prudhomme's Meat Magic)
Tomato Gravy
1 can (about 16 ounces) diced tomatoes (I like the ones with garlic added)
1 tablespoon flour
1 teaspoon sugar
¼ teaspoon salt
Freshly ground pepper
1 teaspoon apple or white vinegar
1 teaspoon Worcestershire sauce
2 teaspoons prepared mustard
1 tablespoon butter (optional)
Instructions
Preheat skillet over medium-high heat. Turn on exhaust vent.
Sprinkle blackening seasoning over meatloaf and press into meat with fingers to help it stick.
When skillet starts to smoke a little, lay slices of meatloaf into skillet and allow to brown/blacken. Since meatloaf is already cooked, this won't take long. Flip pieces to brown other side. Serve immediately.
Tomato Gravy
Drain juice from tomatoes into a 1 or 2-quart Pyrex measuring cup or dish and set tomato solids still in can aside.
Whisk flour into tomato juice until smooth. Add remaining ingredients and whisk well. Add tomato solids and stir.
Microwave on HIGH for 5 minutes until thickened, stopping to stir 2-3 times. Stir in butter until melted.
At this point, your gravy will be lumpy with diced tomatoes. If you prefer a smoother gravy, use an immersion blender until sauce is the consistency you like. Or you could start out with crushed or pureed tomatoes instead of diced for a smoother sauce from the beginning.
Related Posts
:
Sloppy Joe Sliders on Homemade Whole Wheat Rolls