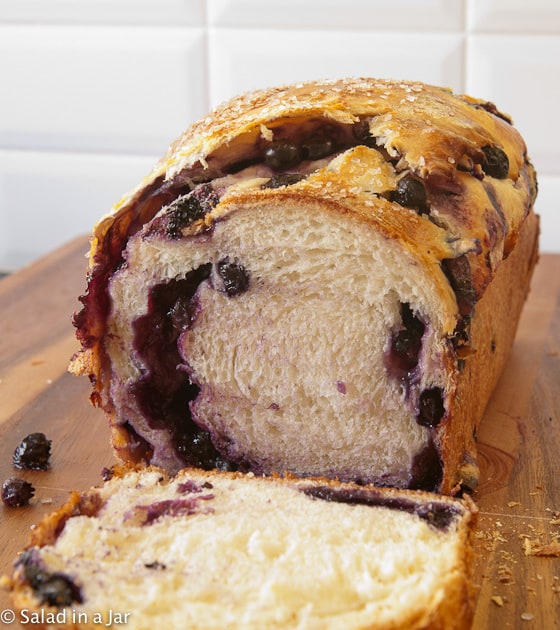 The tastiest bread I've ever experienced in my life came from the Sally Lunn house in Bath, England. My older sister and I had accompanied our two elderly aunts on a genealogy-fact-finding trip back to the origins of the Herd (my maiden name) family in Sedburgh, England. We skulked around graveyards, rifled through dusty files in small libraries, hiked through gorgeous countryside in search of old homesteads, and were even privy to an impromptu sheep dog demonstration put on by a Herd relative we happened onto during one of our treks. After a week of looking at tombstones, we set out to explore the rest of England.
One of the best memories of the trip was Cream Tea at Sally Lunn's House in Bath. Not only were their famously light and sweet yeast "buns" the most delicious bread I ever tasted, but they were also the most expensive. I have been on a mission to reproduce the recipe ever since. Not surprisingly, many others have tried to figure out the secret but the original recipe found in the 1930's in a previously undisclosed cupboard over the downstairs corner fireplace remains just that, a secret. I found this recipe for Sally Lunn in the Bread Machine Magic Book of Helpful Hints by Linda Rehberg and Lois Conway. It is an essential guide for bread machine users.
The idea of adding blueberries was inspired by the recipe for Fresh Blueberry Brioche published in Huckleberry and authored by Zoe Nathan. Brioche is time-consuming (best made over a two-day period) and high calorie so I decided to do the next best thing and use a recipe for brioche-like Sally Lunn. The results were so spectacular, I couldn't stop myself from having one more slice and then another. It's almost like eating light-as-a-feather pound cake with the freshest blueberry jelly you can imagine.
A word of warning:  The second rise of the loaf after you place the dough in a loaf pan takes much longer than the usual bread recipe because you have used frozen blueberries in the filling. Allow at least 2 hours, possibly longer, for this rise.

Blueberry-Stuffed Sally Lunn Bread
Cuisine:
Breakfast, Brunch, Snack
A light, sweet, brioche-like yeast bread with fresh, sweetened blueberries swirled throughout
Ingredients
1 and ½ cup blueberries
¼ cup heavy cream, lukewarm
¼ to ⅜ cup water, lukewarm
3 large eggs
1 teaspoon salt
⅓ cup butter, cut into pieces
¼ cup sugar
3 cups unbleached, all-purpose flour
2 teaspoons bread machine yeast
Glaze
1 egg yolk
1 tablespoon heavy cream
Pinch of salt
Granulated, sanding, or coarse sugar for sprinkling on top of loaf.
Instructions
Place clean, fresh blueberries onto a cookie sheet and freeze until solid. (Do not use frozen blueberries from the store as they are too watery.)
Dump remaining ingredients into the bread pan of your bread machine. Select the dough cycle and press start. Open lid and check dough after about 10-15 minutes of mixing to make sure the consistency is correct. Dough should stick to the side, then pull away. If dough is too dry, add more water 1 teaspoonful at a time. If too sticky, add flour 1 tablespoon a time.
When dough cycle completes and dough has risen to double its original size, remove dough to a floured surface. Press or roll dough into a rectangle roughly 10 x 16 inches. Short side should be closest to you. Scatter berries over dough, then sprinkle with 2 tablespoons sugar. Carefully roll top of dough towards you to make a cylinder.
Turn cylinder of dough and reshape into an approximately 12 x 6-inch cylinder. With short end closest to you, roll dough tightly from the top. Place in greased 8 x 4-1/2 inch loaf pan.
Allow to rise until almost double.
When you see the bread has almost risen enough, preheat your oven to 350 degrees F.
Whisk together ingredients for glaze in small bowl. Paint raised but unbaked loaf with a light touch so glaze won't puddle at the outer edges of the loaf. Sprinkle with plenty of sugar. I use sanding sugar but regular sugar works too.
Bake at 350 degrees for 40 to 45 minutes. Watch to make sure crust doesn't overbrown before bread is done in the middle. If necessary, consider tenting loaf halfway through baking time with aluminum foil to avoid burning crust.
Cool in pan about 15 minutes before removing loaf from pan to a rack to continue cooling. Best eaten after an hour but good luck getting people to wait that long.
RELATED POSTS: