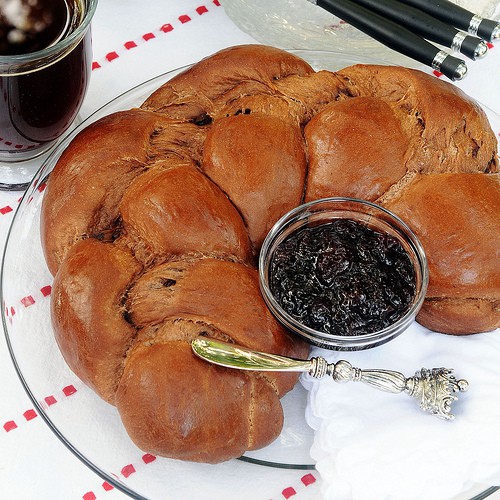 Some people say chocolate doesn't belong in bread. They obviously haven't tasted this one. Cocoa  +  semi-sweet chocolate chunks + rich, egg dough = chocolaty, brioche-style yeast bread.  The small, soft chunks of chocolate scattered throughout add an exclamation mark of flavor you will find hard to resist.
I have adapted this recipe for the bread machine. It's so easy and the results are predictable IF you get the flour and liquid amounts right in the beginning. Proportions may vary according to the humidity, ambient temperature, temperature of ingredients, hormones, etc. (Just kidding about the last one–I think.) For those of you who prefer to make bread with a mixer, click here for general instructions.
Some observations:

I think Dutched cocoa tastes best in this bread. Valrhona is my favorite when I can get it.  I buy it out of a bin at Central Market because it's cheaper. Hershey's Special Blend will also work.
The egg wash is especially important since the dough is so dark in color.
Although you could use chocolate chips, I highly recommend a good bar like Ghirardelli for best taste and appearance.  If you must use chips, at least chop them just slightly–not too small or they'll be absorbed into the dough. The chunks of chocolate are half the fun in eating this bread
If braiding intimidates you, try a different shape or use  a 9 x 5 loaf pan.  I tried a round shape but it wasn't good considering the color of of the bread, if you know what I mean.
Serve bread with cherry butter or preserves for a "black forest" taste experience. Or spread with peanut butter a la Reese's peanut butter cup. Try Nutella if you're the kind of person who just can't get enough chocolate.
This bread is still amazingly good on day 2 and 3.  Try it toasted. Oh my.  Divine does not adequately describe it. Crispy on the outside with melted chunks of chocolate on the inside.  What a way to start the day!
Use this bread to make bread pudding or panini. I will be posting recipes for both soon.
Leave out the chocolate chunks and use the dough to make cinnamon rolls.  Finish with chocolate icing.
Braided Chunky Chocolate Bread
Author:
Adapted from Grant Corner Inn Breakfast and Brunch Cookbook by Louise Stewart.
Recipe type:
Bread (bread machine)
Ingredients
½ cup whole milk or put 2 tablespoons heavy cream in measuring cup and add skim milk to make ½ cup
½ cup sugar
3 tablespoons unsweetened cocoa
1 teaspoon salt
2 eggs
¼ cup butter (1/2 stick), melted and cooled
¼ cup Greek yogurt (I use nonfat) or sour cream
1 teaspoon vanilla
3¼-1/2 cups bread flour (if you use all-purpose unbleached flour you will probably need the entire 3½ cups)
2 teaspoons bread machine yeast
3 ounces semi-sweet chocolate bar coarsely chopped into ¼ pieces.
Egg-wash
1 egg plus 1 teaspoon water
Instructions
Add all ingredients except semi-sweet chocolate to bread machine in order listed. Set machine on dough cycle and start. Immediately check to make sure blades are in place and turning. After 10-15 minutes, assess consistency of dough. Add flour 1 tablespoon at a time if necessary to get dough to come into a ball. If dough is too dry and slapping the side, add milk 1 tablespoon at a time until dough sticks to side slightly but pulls off.
When dough cycle is complete and dough has risen to double its original size, remove from machine to lightly floured board. Divide dough in thirds. Roll out each third to an approximately 5 x 14-inch rectangle. Sprinkle ⅓ of chopped chocolate over each rectangle. Roll from long side into a cylinder and seal. You should have three snake-like pieces of dough with no visible chocolate pieces. Transfer to a prepared cookie sheet (covered with a silicone baking mat or parchment paper). Form into a braid, tuck the end pieces, and shape into a semi-circle. Cover with a towel and let rise in a warm place.
When twist is almost double in size, brush egg wash over every exposed surface.
Bake in a preheated 350 degree oven for 30-40 minutes. Admittedly, it is difficult to tell when this loaf is done because of the color but it does get brown. In fact, I cover mine with aluminum foil in the last 10-15 minutes so it won't get too brown. This next hint may not be helpful until you have some experience but I lift the bread up on one side and if it feels relatively light, I know it is done. If it is still heavy, give it a few more minutes. You could use a thermometer. Reading should be approaching 190 degrees but you can be fooled if you happen to stick thermometer in a chocolate pocket. Cool on a rack.
Related Posts:
If  you enjoy fancy yeast bread, you might like these too: