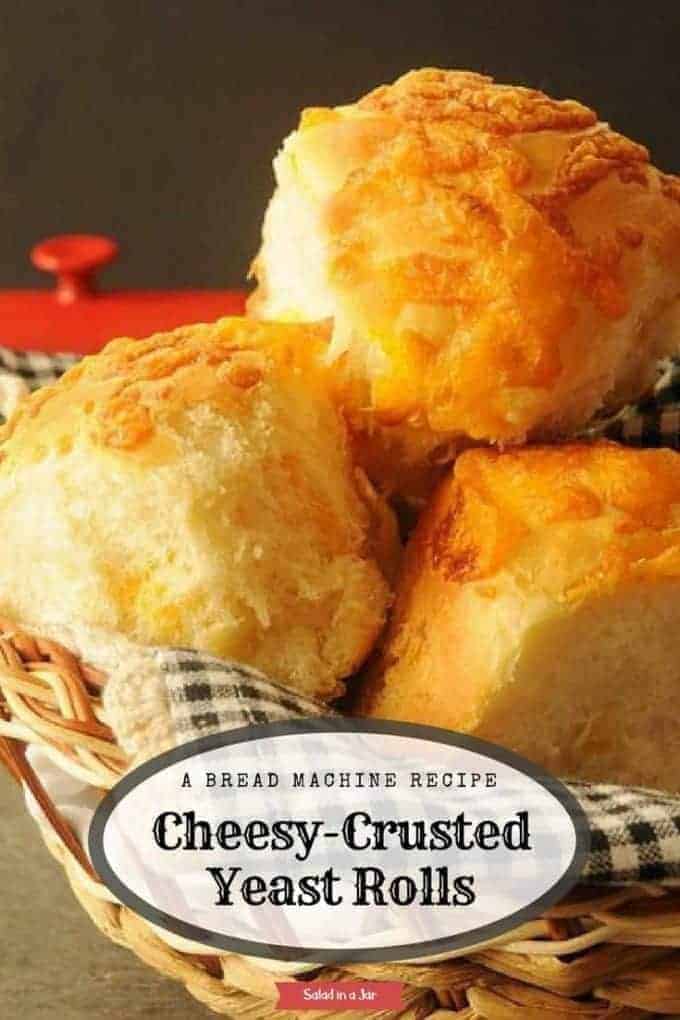 These may be the best cheese rolls on the planet!  Or at least the best I've ever made.  They are perfect for dinner… and sandwiches later.
They are also fun to give away. Coworkers and friends alike are usually thrilled to get any kind of homemade bread. Something about the cheese makes them special. Yesterday, I took these to my friend Staci, who is having a garage sale this weekend to raise money for their upcoming adoption. Didn't they have a great idea?  You can read about it on her blog, "Rustic Roots." (Even if you are reading this late, Staci has some great photography and funny stories about her family you are sure to enjoy.)
I started by kneading shredded, sharp Cheddar into My Favorite Dinner Rolls recipe. Then I sprinkled cheese on top.  The result?  A pillowy soft, cheese-infused dinner roll with a chewy, cheesy crust. I highly recommend them.
They also make great slider buns.  Try them with ham and a little mustard. Their small size helps with portion control.  On the other hand, you could make your rolls twice as big (or any size you want since you're doin' the makin') and use them as regular buns.
I nearly always make these in my bread machine–but I used an electric stand mixer this time to illustrate a different method.  Click here to see the same dough mixed and kneaded in a bread machine.
See those cheesy bits left clinging to the pan?  Consider them the cook's reward.

Cheesy Crusted Yeast Rolls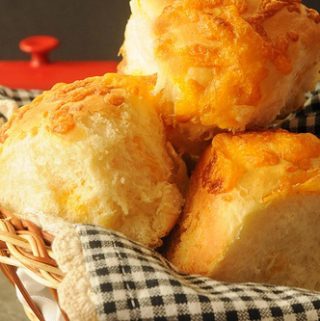 Ingredients
1 cup milk
1 teaspoon salt
3 tablespoons sugar
¼ cup shortening
1 egg
3-3½ cups flour (if you use bread flour, you will need the lesser amount, unbleached flour-more, bleached flour-the most)
2¼ teaspoons instant or bread machine yeast
2 cups (4 ounces) sharp, shredded Cheddar cheese
1 tablespoon milk
Instructions
Warm milk in the microwave for 1 minute. Add to mixing bowl along with salt, sugar, shortening and egg. Add 3 cups flour, then yeast on top of flour. (You can use regular yeast but dissolve it in the warmed milk first, adding to other ingredients before the flour.)
Using dough hook, start mixer on LOW until all ingredients are combined and mixed. Increase speed to 2-3 and knead 6-8 minutes or until smooth and elastic. Add additional flour 1 tablespoon at a time as necessary. Dough should begin to hold a shape and not level out. It may be slightly sticky but should not be a gooey mess. (I think this is the most difficult part of making dough. Knowing when to add or stop with the flour can be tricky. Practice helps.)
Remove dough from mixing dough, form into a loose ball and place in a greased bowl, turning quickly to grease all surfaces. Cover loosely and allow to rise to double in a warm place. The ambient temperature will make all the difference in how long this takes. Allow 60-90 minutes.
Push dough down gently and turn out onto generously floured surface. Place 1½ cups shredded cheese on the dough and knead in. Cut dough in half. Then cut each of those halves into half and continue until you have 16 balls. Use your fingers to mold the dough into a smooth round ball. When you get the hang of it, the whole process goes quick. Never mind if they aren't perfect. Looks aren't everything.
Place small dough balls in a greased 8 or 9-inch round pan. Cover loosely and allow to rise again until almost double.
Before baking, carefully and lightly brush rolls with milk. Sprinkle remaining cheese over the top of the rolls. Bake in 375 degree F oven until brown 13-16 minutes. Allow to sit on the counter for 5 minutes. Run knife carefully around the edge of the pan to loosen rolls,especially where cheese is sticking to the pan. Flip out and let rest on cooling rack. (Leaving rolls in the original pan will result in soggy bottoms. YUK!)
If you enjoy making and/or eating bread, take a look at these delicious ideas: