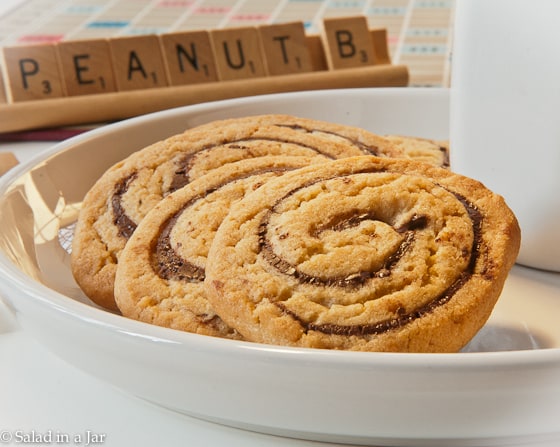 See the Scrabble board in the picture above?  It's the same board seen in the picture below. That's me on the left, playing against my younger sister Bonnie. I think I was around 10 yrs-old, so she would have been about 8.  We spent many winter evenings on the farm playing Scrabble since we had no TV. Nowadays? We still play, every day, on Words with Friends. Competition is friendly, but we still take satisfaction in the occasional B-I-N-G-O and high score. Bonnie is way too gentle to keep a running tally of who has won the most games overall, but I'm pretty sure I'm in the lead.  (I can hear her laughing about that one all the way from Denver!)
I'm not sure what was going on with my bangs, but don't blame my mom.  I wouldn't let her style my hair from first grade on.  You can imagine the weird hairstyles I came up with.  I still like strange hairstyles.  🙂
I found the recipe for these cookies printed on an old calendar. They're fun and tasty when I want something just a bit different. Taste-wise, they remind me of a chocolate chip cookie with peanut butter in it. They speak directly to my frequent craving for Reese's Peanut Butter Cups.
Get started by mixing the dough per the recipe below.  Turn it out onto waxed paper and follow the pictures.
Chocolate-Peanut Butter Pinwheels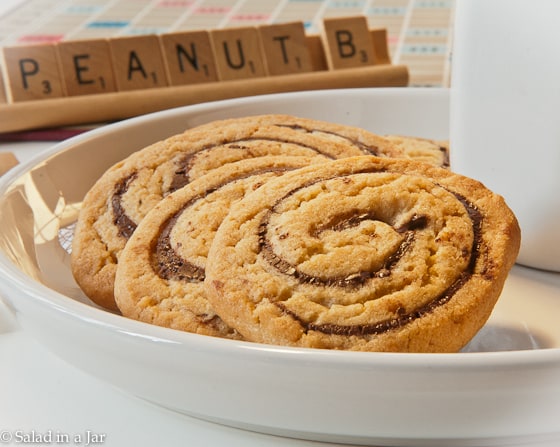 Ingredients
½ cup butter, softened
1 cup sugar
½ cup chunky peanut butter
2 tablespoons milk
½ teaspoon vanilla extract
1 egg
1-3/4 cup all-purpose flour
½ teaspoon salt
½ teaspoon baking soda
1 6-ounce package semi-sweet chocolate chips
Instructions
Beat butter and sugar until light and fluffy. Blend in peanut butter, milk, vanilla extract, and egg.
Stir in flour, salt, and baking soda.
Melt chocolate in separate bowl by microwaving for one minute on HIGH. Set aside to cool.
Press dough into a ball and place between two long sheets of waxed paper. Roll out into a 10 x 17 inch rectangle.
Remove top piece of waxed paper and spread cooled chocolate over the top. Starting with the long side, roll up dough with chocolate inside. Chill for 30-45 minutes.
Preheat oven to 375 degrees F. Prepare cookies sheets by covering with a silicone baking mat or parchment paper or by greasing.
Slice chilled roll ¼ inch thick and place on prepared cookie sheet.
Bake for 10-12 minutes. Move to cooling rack while still warm.