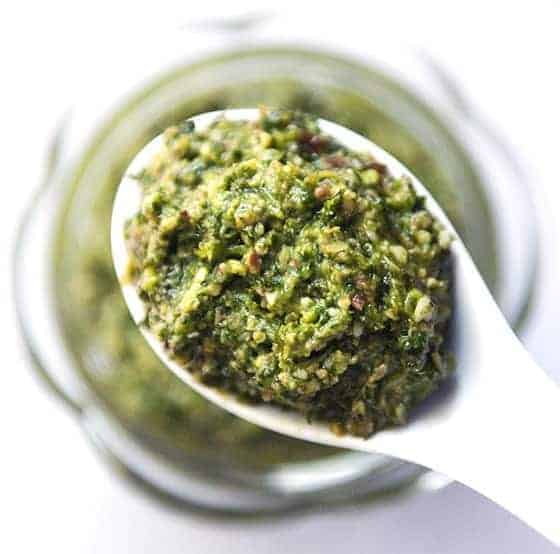 Fresh cilantro seems to have a short shelf-life in my refrigerator. I usually buy it for one recipe with high hopes to use it in many others. But before long, it turns dark and is better suited for an over-the-hill party than my dinner table.
Transforming a bunch of cilantro leaves into pesto is my best solution. It will keep in the refrigerator several days and the freezer for several months. I freeze it in a zippered plastic bag mashed flat so it's easy to break off or shape it into little patties that defrost quickly.
Add this concentrated cilantro flavor to a bowl of rice or pasta.  Stir it into Greek yogurt for a delicious dip or salad dressing.  Spread it over a raw pizza crust, sprinkle with Mozzarella cheese and some pre-cooked fajita chicken for a quick pizza that's one of my favorites.
Cilantro and Green Chili Pesto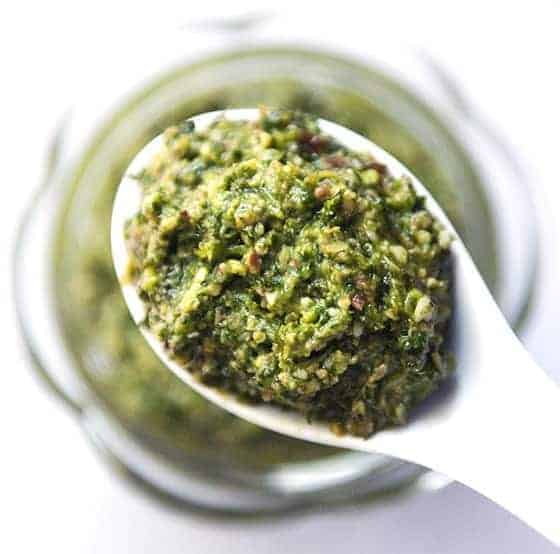 Convenience food for cilantro lovers
Ingredients
4 ounces fresh cilantro (2 bunches) with large stems trimmed
½ cup olive oil
⅔ cup toasted almonds
4 cloves garlic
¼ cup green chilies
1 fresh jalapeno, seeded
½ cup grated Parmesan
salt and pepper
Instructions
Add cleaned and dried cilantro, olive oil, almonds, green chilies, and jalapeno to bowl of food processor or blender. Pulse and process until fairly smooth.
Add Parmesan cheese and season with salt and pepper.
Notes
Freezes well. Place in 1-quart plastic freezer bag, seal and mash flat which makes it easy to break off a piece as needed, even when frozen.