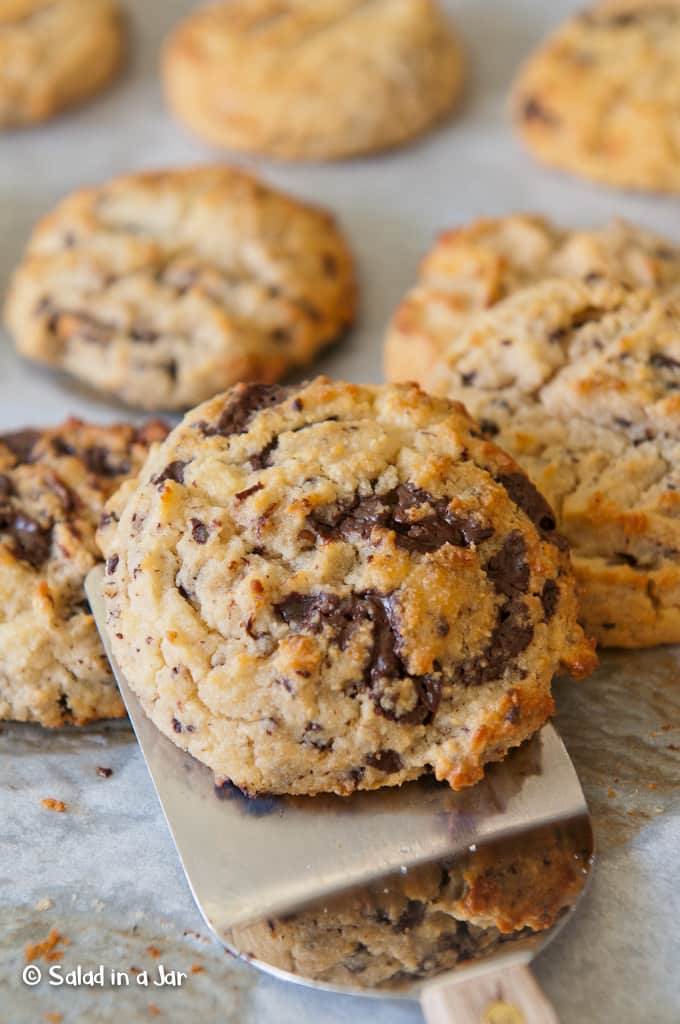 I'm not sure I should share this recipe. Many will say it has too many calories. Many more will complain it's not sweet enough to deserve the name "cookie." Others may think it has too much fat. Consider yourself warned. These aren't the gigantic-chewy-and-crispy-on-the outside-soft-on-the-inside chocolate chip cookies you might see at a New York City bakery.
But for me, it's the perfect treat as I battle my sugar monster. It's a dessert that doesn't spike my blood sugar, yet one cake-like cookie satisfies my craving for something sweet after lunch.
The only sweetness comes from the "natural" applesauce, the 85% chocolate bar, and the inherent sweetness of almond flour.
Thanks to Gourmet Girl Cooks for introducing me to these cookies. I have significantly revised her recipe, but hers are very good, too, and taste much sweeter due to the use of artificial sweetener. If you are a sugar-holic who wants to cut back, I recommend you start with 1/2 cup of sweetener such as granulated Swerve and gradually decrease the amount.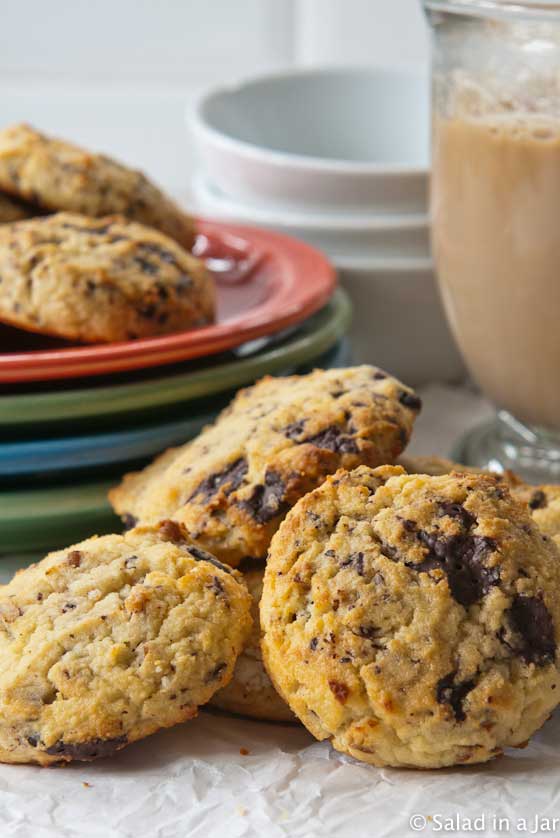 I store these cookies in the freezer. My husband prefers to eat them frozen, but I like to microwave them just until the chocolate gets soft–30 seconds or less. Tastes fantastic when enjoyed alongside a latte made with half Hazelnut Decaf coffee and half cashew milk.

Grain-Free, Reduced-Carb Chocolate Chip Cookies
Chocolate chip cookies made with almond flour. unsweetened applesauce, and 85% chocolate make a not-so-sweet treat that won't cause your sugar monster to go out of control.
Ingredients
2 cups extra fine grind almond flour
1 teaspoon baking powder
¼ teaspoon sea salt
¼ cup butter, softened
½ cup unflavored Greek yogurt (should be extra thick)
½ cup unflavored, unsweetened applesauce
Sweetener of your choice, (optional--see notes)
1 egg
1 teaspoon vanilla extract
½ cup chopped pecans, toasted
¾ cup 85% chocolate bar, roughly chopped (I like The Dark Chocolate Lover's Chocolate Bar from Trader Joe's)
Instructions
Preheat oven to 350 degrees F. Prepare a cookie sheet by covering with parchment paper, a non-stick baking mat, or lightly grease.
Stir together almond flour, baking powder, and salt in a medium bowl.
In separate bowl, combine butter, Greek yogurt, egg, and vanilla extract. Add to dry ingredients and stir until blended.
Fold in toasted pecans and chopped chocolate. If dough seems a little soft, chill it in the freezer for 30 minutes or the refrigerator for an hour to make the cookies hold their shape better. You don't want them to spread much.
Drop dough with two spoons or a spring-loaded ice cream dipper onto prepared cookie sheet. Dip fingers in water and slightly press down on each ball to make a flat, round shape. Don't press too hard--you don't want to flatten the cookies.
Bake for 16-20 minutes or until the cookies are nicely browned all over.
Allow to cool at least 10 minutes before removing from cookie sheet because cookies are crumbly when warm. When cool, they will hold together and have the texture of little cakes.
Notes
I have weaned myself from needing any added sweetener in this recipe. The applesauce, chocolate and the inherent sweetness of almond flour are enough. If you need more sweetness, ½ cup of Swerve is a good place to start. If you prefer another kind of sweetener, you may need to experiment with the amount.
Nutrition Information
Serving size:
1
Calories:
181
Fat:
16 g
Saturated fat:
4.4 g
Unsaturated fat:
9.9 g
Trans fat:
0 g
Carbohydrates:
7 g
Sugar:
2 g
Sodium:
93 mg
Fiber:
2 g
Protein:
5 g
Cholesterol:
21 g
Related Posts: