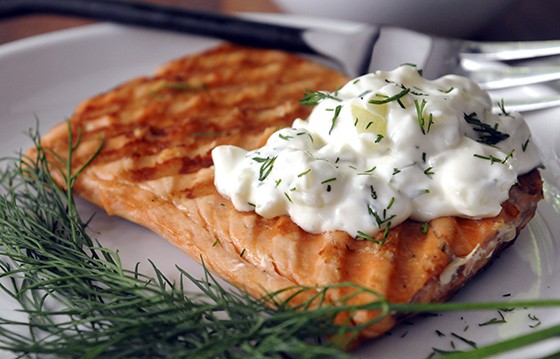 The average American eats only 3.5 ounces of the recommended 8 ounces of fish every week.
Some weeks, I'm not even average.
I love fish but it's a bit expensive in my landlocked city. It also stinks up the house when I cook it and furthermore, I don't have a large repertoire of simple and healthy fish recipes.
But my number one excuse for not eating more fish? . . .  (weak, I know);  fish isn't comfort food for me.  I have almost no childhood memories of eating fish save the occasional fish fry at the Lion's Club in Lucerne.
When I do cook fish at home, I have 3 favorite recipes:  Almond Salmon, Pizza Fish, and this sauce served with almost any grilled or sauteed fish.
This recipe was originally published in Best Recipes From the Backs of Boxes, Bottles, Cans and Jars by Ceil Dyer. I used to serve it with salmon loaf made from canned salmon but since I rarely make that anymore, it's one of my favorite accompaniments for grilled salmon. Incidentally, this is the only way I will eat cucumbers, one of my least favorite vegetables.  But they work in this sauce.
I've been making this condiment/sauce  for years with sour cream but now that I have homemade Greek yogurt in the fridge at all times, I substitute Greek yogurt for sour cream and it tastes even better.
Other changes I made include replacing fresh onions with onion powder (I don't do raw onions) and using fresh dill instead of dried although dill out of a bottle works fine too–just cut the amount in half.
In case you're wondering, this is a close relative of tzatziki sauce, but we've never called it that– probably because we weren't sure how to say the word or spell the word.
Greek Yogurt and Cucumber Sauce for Fish
Author:
Adapted from Recipes from the Backs of Boxes
A mild sauce to eat with simply prepared fish
Ingredients
½ cup mayonnaise (I like olive oil or reduced fat)
½ cup plain Greek yogurt (I use nonfat)
½ cup finely chopped, peeled cucumbers
¼ teaspoon powdered onion
1 teaspoons chopped fresh dill (or ½ teaspoon dried)
Instructions
Combine all ingredients and serve with fish. Reserve a pinch of dill for garnish.