Don't feel like cooking? Is the pantry getting empty? Grab a flour tortilla and make these Jelly-Cheese Quesadillas for a quick snack.

Have you ever tasted an appetizer made by pouring jelly over a block of cream cheese?
Normally served with crackers, it can be deceptively addicting. Using similar ingredients and substituting tortillas for crackers, I have discovered a new snack/lunch/supper.
I know these are simple. Perhaps I am the last person in the world to have discovered them, but I really love these. They are my new "peanut butter and jelly sandwich."
How to Make a Jelly and Cheese Quesadilla:
#1
Grab a cooked tortilla.
I use the raw tortillas sold at Costco. See note below for more details. Your favorite flour tortilla will also work.
#2
Spread or sprinkle one half of the tortilla with cheese.
I have tried shredded mild cheddar cheese, Laughing Cow Light swiss cheese, and fat-free Greek Yogurt. The yogurt must be strained until it is the consistency of cream cheese.
#3
Spread the other half of the tortilla with your favorite preserves.
Be generous. Go for spicy as in jalapeno jelly. Or use something sweet like strawberry or cherry preserves. Even salsa is good but that's a different recipe altogether.
Fold jelly side over cheese side of tortilla.
#4
Put in the microwave on a paper towel or plate for 15 seconds.
It may not even take 15 seconds. All microwave ovens are different. Cook too long and you will end up with a sweet, chewy rubber band.
Alternatively, you could sauté briefly in a nonstick skillet, flipping once for a somewhat crispier final product.
#5
Slice in wedges with a pizza cutter or scissors.
If you are by yourself and don't care about manners, just start eating any old way you can. But be careful. The sugar and cheese get hot quick!
You probably already have all the ingredients on hand. That's why I like this recipe. Here lately, I have been eating one of these quickie quesadillas for lunch with my salad. It's an almost guilt-free indulgence.
A note about my favorite tortillas:
I happen to be crazy about the raw flour tortillas sold at Costco. It's entirely possible they may be my undoing some day. Since the package is rather large, I divide and freeze them in zippered plastic bags usually containing 5-6 tortillas.
Thaw before you want to prepare them. Cook individually or several at a time if you prefer. They will keep about five days cooked and stored in the refrigerator.
How to Cook Raw Flour Tortillas:
To cook these flat pieces of heaven, heat a nonstick skillet on medium.
Lay the tortilla flat in the pan and leave for 30-60 seconds or until it starts to bubble.
Flip it and repeat. Tortilla will bubble up and become flaky.
If a really big bubble develops, pop it with a fork so the tortilla will brown evenly.
Flip it 3-4 times.
If you leave it on one side too long it will scorch. Doesn't take long to brown so don't get distracted.
If you make this and enjoy the recipe, it would help me and others if you would return to this post and leave a rating (on the recipe card itself underneath the picture). Although always appreciated, no comment is required. Thanks so much! Paula
Posts Related to Jelly-Cheese Quesadillas
C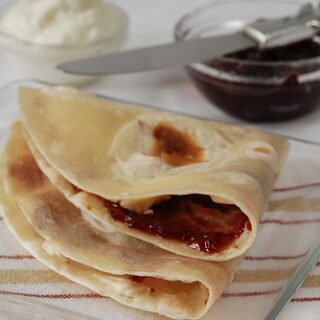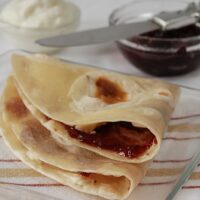 Jelly-Cheese Quesadilla
A grilled flour tortilla filled with jelly and soft white cheese.
Ingredients
1 flour tortilla
1 tablespoon jelly
1 tablespoon cream cheese (or another soft white cheese)
Instructions
If using a raw tortilla, cook it first.
Add cheese to one-half of one side of the tortilla.
Spread jelly on the other half of the same side of the tortilla.
Fold jelly half over the cheese.
Warm in the microwave for 10-15 seconds.
Fold or cut into quarters.
Nutrition Information:
Yield:

1
Serving Size:

1
Amount Per Serving:
Calories:

244
Total Fat:

8g
Saturated Fat:

4g
Trans Fat:

0g
Unsaturated Fat:

4g
Cholesterol:

14mg
Sodium:

280mg
Carbohydrates:

38g
Fiber:

2g
Sugar:

8g
Protein:

5g
Nutritionals may vary according to the brand and ingredients you choose.