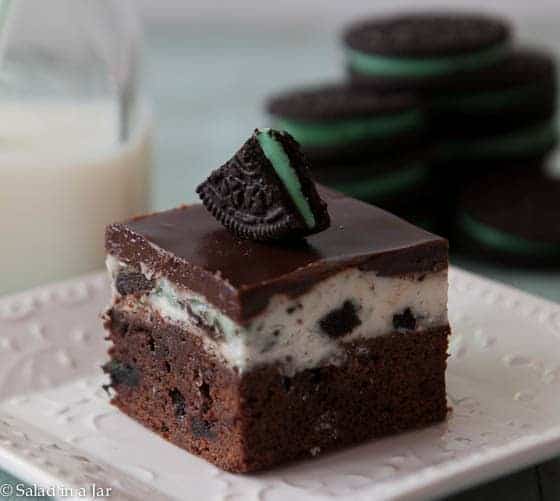 It was a blustery spring morning at Turner Falls in Oklahoma.  Our home for the weekend was a simple pop-up camper, shared with friends, Steve and Joan, and our combined offspring.
It could have been worse. Maybe. Restroom accommodations were better than an old-fashioned outhouse, but just barely. Because it was Spring Break, 3 or 4 port-a-potties were installed across the parking lot to accommodate the overflow of campers.
Following breakfast the first morning, I reluctantly trotted to the port-a-potty. After getting comfortable (no easy task considering I had to hold my nose at the same time), the wind rudely took advantage of my failure to lock the door.  Without so much as a knock, apology, or explanation, the door flew open, and not just a few inches either. Oh no, the door opened all the way, banging on the side as if signaling the whole world to take notice. The door seemed plastered to the outside wall in that position, refusing to provide any privacy.
I was horrified, especially when I realized my family and friends were staring/giggling/dying laughing at me. You can probably imagine the challenges and gracefulness involved in closing a wide-open, glued-to-the-wall port-a-potty door from the inside.
Grasshopper cookies are another camping memory. (I realize these come in many forms, but I'm referring to mint Oreos.) Eating them never fails to bring on flashback-fever.
So when I saw the recipe for Cookies and Cream Brownies, I was anxious to try it with grasshopper cookies. I am happy to report they are just as good as the original recipe, especially if you like the mint-chocolate combination.
Use your own favorite brownie recipe for the base, if you like, but I'm warning you. The frosting and ganache are rich so a decadent brownie would be overkill in my opinion. I use my microwave brownie recipe, and I think it's perfect.
Cool Mint Cookies and Cream Brownies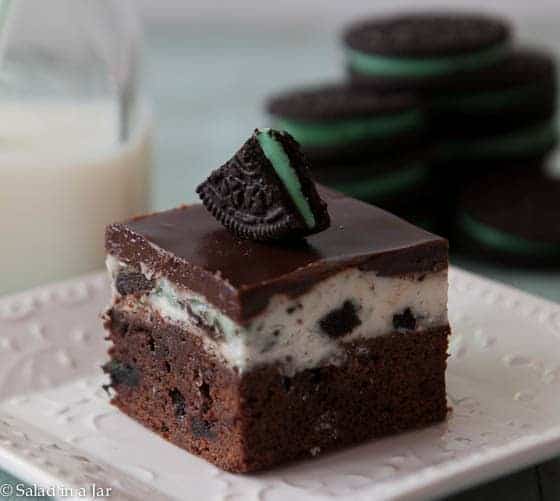 Ingredients
Brownie Base:
2 eggs
1 cup sugar
½ teaspoon salt
1 teaspoon vanilla extract
½ cup melted unsalted butter
¾ cup all-purpose flour
½ cup cocoa
1 teaspoon instant espresso (optional)
6 Oreo cookies, chopped
Frosting Layer:
2 cups powdered sugar
4 tablespoon butter, room temperature
2-3 tablespoons heavy cream, plus a little extra
7 Cool Mint Oreo cookies, crushed
Chocolate Ganache:
4 ounces semi-sweet chocolate (I like Ghiradelli)
½ cup heavy cream
2 tablespoons butter, room temperature
Instructions
Brownies:
Blend eggs, sugar, salt, and vanilla with a mixer (hand mixer works fine) about 1 minute until light.
Add melted butter and keep beating.
Sift flour and cocoa together and add to other ingredients at low speed just until the flour disappears. Stir in cookies.
Pour into 8-inch square pan lined with parchment paper or non-stick aluminum foil.
Bake at 350 for 20-25 minutes. Remove from oven and allow to cool.
Frosting:
Beat room-temperature butter until light and fluffy.
Add powdered sugar and heavy cream until consistency is spreadable. (This will likely require some additional cream.) Gently stir in cookie crumbles.
Spread over cooled brownies. Chill.
Chocolate Ganache:
Break chocolate into small pieces and place in a small bowl. Heat heavy cream in microwave on MEDIUM for 2 minutes or until boiling.
Pour heavy cream over chocolate and let it sit for 30 seconds.
Gently stir cream and chocolate together in circular motion until smooth.
Add butter a small piece at a time and stir until smooth.
Spread on top of iced brownies.
Other related posts:
Emergency Microwave Brownies
Camper's Special
Homemade Greek Yogurt: A Cheat Sheet and a Cookies and Cream Treat
Cookies and Cream Brownies