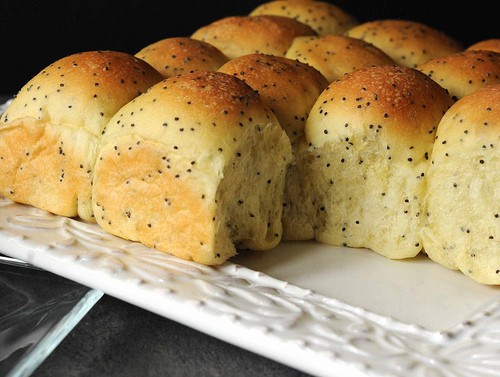 WARNING: Do not eat these the day before taking a drug test. It's true.  Eating poppy seeds can result in a positive reading. Check it out on Snopes.com.
But if you aren't applying for a new job or on furlough from federal prison, I heartily encourage you to introduce yourself to these wonderful little yeast rolls.
Add these to your repertoire if you like poppy seed cake, muffins, or bagels. Try them spread with lemon curd or preserves.
Or take the savory route and make hot ham and cheese sliders–perfect for a party. Whip up these rolls for Easter dinner, and then later, make sandwiches using leftover Easter ham and some honey or Dijon mustard. I think I just planned my Easter menu!  (Which reminds me–I need to pick up a spiral-sliced ham from Costco this week.  They are the best and quite reasonably priced too.)
You don't have to have a bread machine to make these but it's easier if you do.  Dump all ingredients in pan and set on the dough cycle. Wait till the dough has risen to double.  Take out of the pan, form into rolls and let rise again until double.  Bake in a conventional oven. Voila!  You have just made yeast rolls you'll have to tie down to keep from floating off like a cloud. If you prefer to use a heavy duty mixer, see these directions.
And one more thing:  Unlike most homemade bread, these rolls will stay fresh and delicious for 3-4 days.   This is important so I don't feel compelled to eat leftovers the same day!
Poppy Seed Yeast Rolls
Recipe type:
Bread (bread machine)
Ingredients
1 cup water
¼ cup vegetable oil
1 teaspoon vanilla
1 teaspoon vanilla nut butter extract or butter extract
½ teaspoon almond extract
1 teaspoon salt
3 tablespoons sugar
1½ tablespoons poppy seeds
3 cups bread flour (substitute at your own risk)
2¼ teaspoons bread machine or instant yeast
Instructions
Place ingredients in order listed into bread machine. Set for dough cycle. After machine has run about 7 minutes, open the lid and check the dough. If too dry, add water 1 tablespoon at a time. If too wet, add flour 1 tablespoon at a time. When cycle is finished remove from pan to floured board. (If you are a novice bread machine user, check out the mini-tutorial on this post)
Divide dough in half. Cut each half into 8 pieces or 16 according to your preference. Form into balls. See video for an explanation how to form dough into balls. Place in 2 8-inch round or square pans sprayed with vegetable oil.
Cover pans and allow to rise until double in a warm place. May take from 30 minutes to 1 hour.
Bake in 350 degree oven for 11-14 minutes until brown.
Let rolls sit on counter for about 5 minutes. Then turn out onto a towel or plate. Flip upright onto serving plate or tear apart and pile into serving basket.