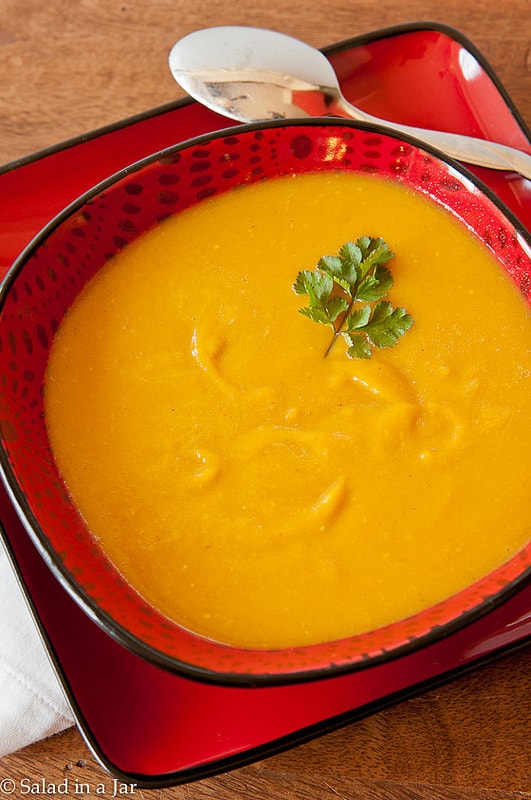 While the weather is still cool, I must share my latest obsession in the kitchen. I first read about this Butternut Squash Soup on Orangette, but she got it from someone else who adapted it from a Better Homes and Gardens recipe. That seems to be the way recipes evolve these days, and I kinda like it. No reason to reinvent the wheel when you only need a hole patched, a differently sized wheel, or a better way to install the wheel.
Honestly, I have avoided butternut squash for years because I found the preparation too difficult and time-consuming. Buying already peeled-and-cubed squash is a guilt-inducing option I can't seem to handle. Then I discovered taking the whole squash for a quick swing through the microwave changed my attitude and softened the skin just enough to make the task manageable.
Next, I wanted a creamy texture without using the real cream called for in so many butternut soup recipes. Lite coconut milk was the solution in this case–not too heavy but adding a nice mouth-feel and the slightest coconutty flavor.
As you look through the ingredients, please don't leave out the Asian fish sauce. It's easy to find in the Oriental section of the grocery store and keeps forever. It adds depth to the flavor in this dish and I predict you will find other uses for it, especially if you like stir-frys. Likewise with the Sriracha or rooster sauce, as we call it. You don't need much but it adds an unforgettable zing.
If you happen to have an immersion blender, it was made for this recipe. Yes, you can use a blender or a food processor to whip this soup into creamy submission, but an immersion blender means no extra dirty dishes. I highly recommend it.

Curried Butternut Squash Soup with Coconut Milk
Author:
Adapted from Orangette and Better Homes and Gardens
Ingredients
1 tablespoon coconut oil (or olive oil)
½ cup chopped, frozen onion
2-3 garlic cloves, minced
1 tablespoon curry powder
1 whole butternut squash
1 (14-ounce) can unsweetened coconut milk LITE
2 cups chicken broth
1 tablespoon maple syrup
1 tablespoon Asian fish sauce
1 teaspoon or less Sriracha
Fresh cilantro for garnish
Instructions
Saute onion in coconut oil in medium-size dutch oven or large saucepan until onion is translucent.
While onion cooks, microwave whole, unpeeled butternut squash about 5 minutes to soften skin. Cut off each end, divide in half and remove seeds. (A spring-loaded ice cream scoop works like magic) Peel each half, then cube squash into 1-inch cubes.
Add garlic to onion and saute for 1-2 minutes. Stir in curry powder and continue cooking for another minute or two.
Add squash, coconut milk, chicken broth, maple syrup, fish sauce, and Srircha sauce to onion mixture. Bring to a boil and allow to simmer until squash is soft.
Use an immersion blender to puree soup in in the dutch oven you made it in. (Or you can use a regular blender or food processor.)
Garnish with cilantro if desired.
Notes
Freezes beautifully.
Related Posts: