Susan's Sour Cream Coffee Cake is a cinnamon-pecan coffee cake from one of our family's best cooks. Besides being perfectly moist, it gets even better the second day, which means you can make it the day before if it's more convenient. I love vanilla and cinnamon, so my recipe calls for double the amount used in Susan's version.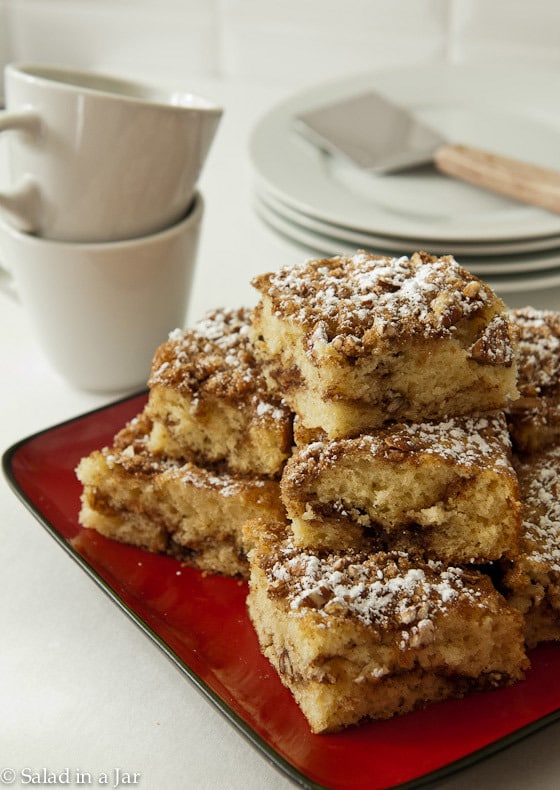 Who is Susan?
Susan's name is scribbled at the top of this family legend. She is married to my older brother, and they live on the same farm in Indiana where I grew up.
Susan is a skilled cook, gardener, and farmer's wife, but the cooking part hasn't always been so. Back in the sixties, she married my brother a week before he was shipped off to Vietnam. She found a job teaching music at my little country school (only a couple steps up from a one-room schoolhouse), so my parents invited her to live with us for a year until my brother returned home. Can you imagine living with your in-law's and their pre-teen daughters, in your first year of marriage, without your husband?
Back to my story. I remember the day Susan decided to make some yeast rolls. I was no expert, but since I had made these rolls for the 4-H fair one year, I was familiar with the process. After she formed the rolls into butter horn shapes, as dictated by family tradition, she set them aside to rise. It wasn't long before she impatiently asked me if they were ready to bake. I told her I didn't think so, but she said, "Too bad. I can't wait." The result were some rather small and not-so-light dinner rolls. We all laughed about it, she the most, and tried to eat the rolls before they got cold since even bad homemade bread is pretty good when it's still warm. She has since perfected her skills, and now I can't wait to eat at her dinner table any chance I get.
In keeping with my philosophy to make desserts in small sizes, I usually halve this recipe, use a foil-lined 8 x 8-inch square baking pan, and reduce oven time to 25 minutes.  No leftovers = no needless temptation. Because, believe me, those layers of cinnamon-y goodness will call your name and nag you endlessly if left to idle in your kitchen.
Assembling Susan's Sour Cream Coffee Cake: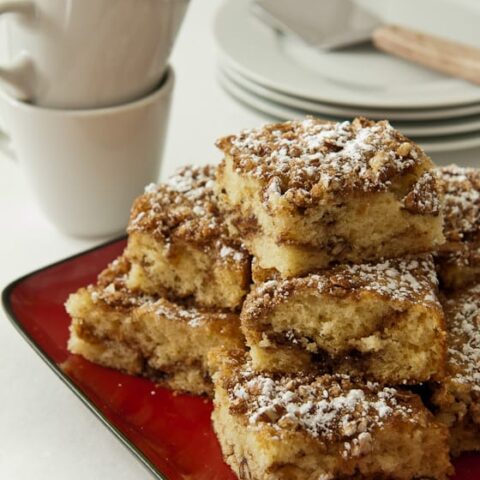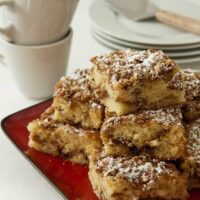 Susan's Sour Cream Coffee Cake
A simple, moist coffee cake that's even better the next day.
Ingredients
1/2 cup butter
1 cup sugar
2 eggs
2 cups all-purpose flour
1 teaspoon soda
1 teaspoon baking powder
1/2 teaspoon salt
1 cup sour cream
2 teaspoons vanilla
1/2 cup milk
1/3 cup brown sugar
1/4 cup sugar
2 teaspoons cinnamon
1 cup chopped pecans
Instructions
Batter
Beat room-temperature butter and sugar until light and creamy. Add eggs and continue to beat another minute or two.
Sift or stir flour, soda, baking powder, and salt together in a separate bowl.
Whisk sour cream, vanilla, and milk together in another small bowl.
Alternate adding dry ingredients and sour cream mixture to the butter and sugar. Mix just until combined. Don't overdo it.
Pour half of the batter into a 9 x 13-inch pan. Sprinkle with half of the streusel. Repeat with other half of batter and streusel which means you will end up with streusel over the top.
Bake at 325 degrees for 35-40 minutes.
Streusel
Combine all ingredients and follow instructions above.
Notes
Sprinkling the top with powdered sugar is optional. That's how I do it.
Nutrition Information:
Yield:

12
Serving Size:

1
Amount Per Serving:
Calories:

365
Total Fat:

19g
Saturated Fat:

8g
Trans Fat:

0g
Unsaturated Fat:

10g
Cholesterol:

63mg
Sodium:

215mg
Carbohydrates:

45g
Fiber:

2g
Sugar:

27g
Protein:

5g
 Related Posts: