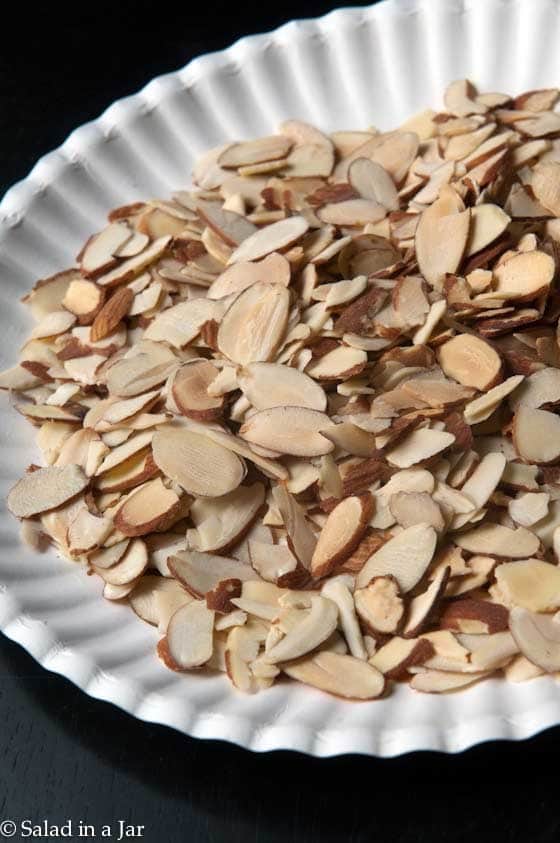 Do you ever skip over directions instructing you to toast nuts before adding to a recipe? Is it too much trouble, or too hot, or too time-consuming to turn on the oven?  Some recipes even ask you to get out a pan, melt butter (unneeded calories) and basically saute those nuts. YIKES!
I know, I used to ignore the toasting step myself.  But it makes a huge difference in taste if the nuts are toasted in almost any baked recipe, sweet or savory.  The only time I don't toast  is if they are part of a topping that will eventually be baked.
Although the web contains dozens of sites explaining this process using the microwave, I can't remember seeing it in a published cookbook.  So here is my contribution to the whole subject.  Nothing really new here, just wanted to mention it. By the way, you can do the same thing with coconut.
Directions:
Measure 1 cup slivered almonds.  Spread evenly on paper plate.  Toast for 1 minute on HIGH.  Stir and redistribute on plate evenly.  Toast for another minute.  Stir.  Nuts will continue to brown for a few seconds.  Pick out any pieces that got too dark–usually only a very few.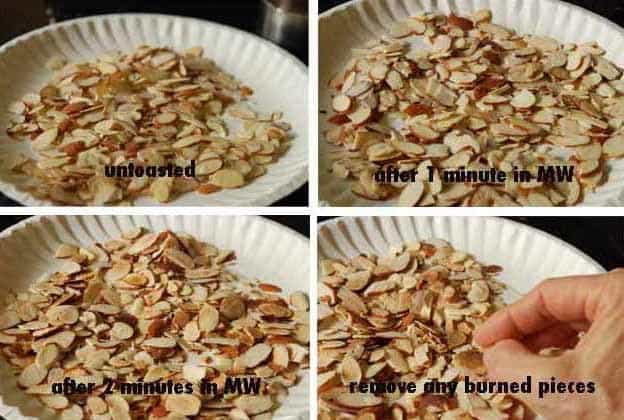 If toasting pecans, I use 1 cup halves and follow the same procedure as above.  If pecans have been frozen, you may need to add another minute.
Here is the same idea translated to coconut.  Evenly distribute 1 cup on a paper plate. Toast on HIGH for 2 to 2 1/2 minutes. Stir after every 30 seconds.
Before and After