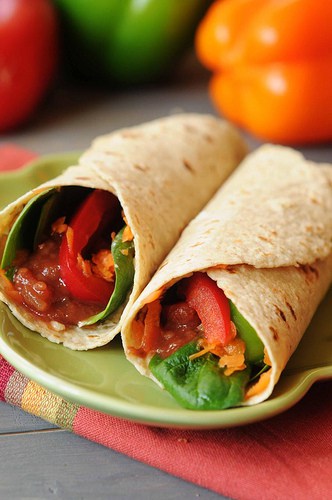 Wayne, a church friend of mine, is one of those guys who looks like he drinks daily from the fountain of youth.  Same for his wife.  So when he sent me a "healthy"  recipe recently, I was anxious to try it. He says they were a hit at a recent Superbowl party. Claims even the kids loved them.
I googled the title and found many variations but none looked as interesting as his version.  I'm not normally much for cold sandwiches or wraps but this one is quite satisfying and tasty. Try it for lunch or slice it and take to a party.
I can imagine all sorts of variations. Wayne says he likes to add sliced olives and cucumber strips. I think sprouts of any kind would be good or maybe some avocado. Please share if you come up with something fabulous.
Wayne's Fresh Veggies in a Blanket
Fresh veggies wrapped in whole wheat tortilla
Ingredients
1 cup low-fat hummus or bean spread (I used black olive hummus)
8 whole wheat tortillas (My favorite are La Tortilla Factory Original Whole Wheat--the small size with 50 calories a piece and 7 g of fiber)
4 carrots, grated
8 lettuce leaves or 1 cup spinach leaves
1 red or orange bell pepper-cut into strips
Mild Salsa
Instructions
Spread hummus thinly on the tortilla.
Layer spinach or lettuce, then carrots, followed by salsa. Place a strip or two of bell pepper across the tortilla.
Roll up each tortilla and slice into 5 even pieces. Secure with toothpicks if necessary. Or leave them unsliced and wrap in paper or plastic wrap for a portable meal. Either serve immediately or wrap tightly and refrigerate.
Notes
100 to 125 calories each depending on the tortilla and hummus or bean dip you use.
If you enjoy veggies, you might like these recipes also: