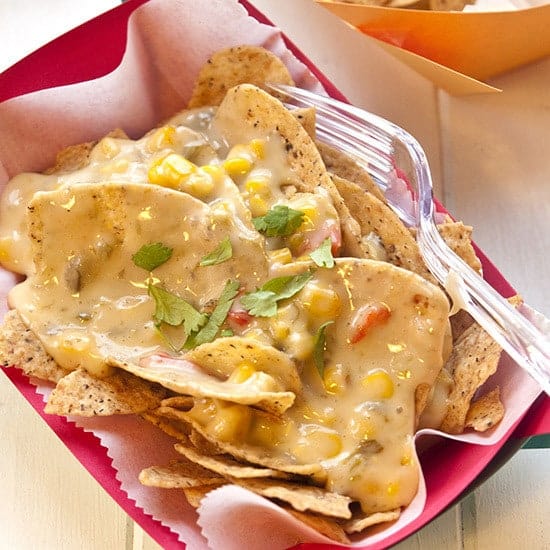 Cheese dip made with Rotel tomatoes and melted Velveeta was responsible for most of my freshman 15. This Hoosier girl had never heard of such a thing and I took to the stuff with a little too much gusto at midnight dorm parties.
Fast forward a few years and I have a new vice that isn't far from my old favorite. White Queso and Corn Dip is almost as easy and equally difficult to resist once you get started. Perfect for a holiday party. Serve from a crock pot with corn chips or my favorite, multi-grain tortilla chips.
A note about the cheese: I buy the Hot Pepper Cheese at Krogers–it's their store brand. If not available, substitute white American cheese and add  chopped, pickled jalapeno peppers, especially if you like your cheese dip spicy. Although I haven't tried it myself, I suspect you could also substitute Velveeta–but of course, it won't be white any more.
White Queso and Corn Dip
Ingredients
2 tablespoons butter
2 cups frozen southwestern seasoned corn or canned Mexicorn, drained
1 clove garlic, minced
¼ cup chopped green chilies
16 ounces Hot Pepper pasteurized processed cheese food with jalapeno peppers or white American cheese +1-2 teaspoons pickled jalapeno peppers, chopped
1 12-ounce can evaporated milk
Fresh chopped cilantro (optional)
Instructions
Melt butter in large skillet over medium heat. Add corn to skillet and saute until corn barely begins to brown. Stir in garlic and green chilies.
Reduce heat to low. Cut cheese into small chunks and add to skillet. As cheese begins to melt, stir and add milk gradually till cheese is dipping consistency. You may not use all the milk immediately but save it to thin dip as needed. Whatever you do, don't let this mixture boil or it will separate and be ruined!
Add cilantro just before serving if desired.
Other spicy snacks you might like…