10 Cooking Stocking Stuffers from a Restaurant Supply
Sneak Preview: Cooking Stocking Stuffers lists ten of my favorite kitchen tools (mostly) under $10 for a Christmas stocking.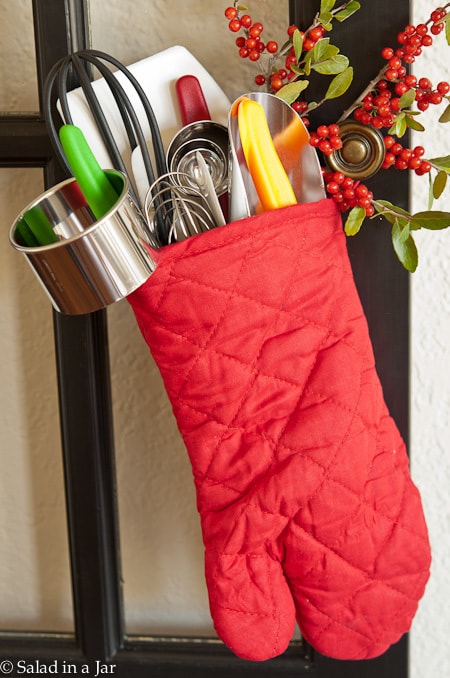 As an Amazon Associate, I earn from qualifying purchases.
Have you ever discovered a new but cheap kitchen tool that improves your life so much you wonder how you lived without it? I love it when that happens, so I'm here to share.
If you know my daughters-in-law, please don't tell. They might find some of these things peeking out of their stockings on Christmas morning.
1. Plastic Spreaders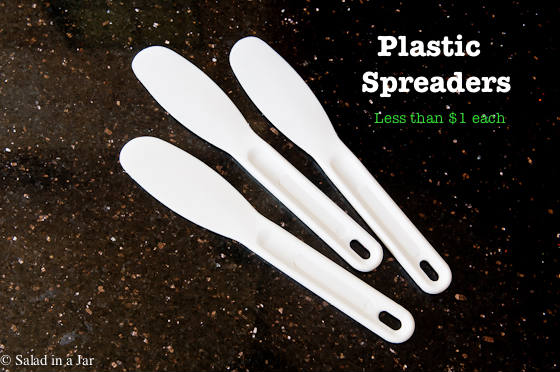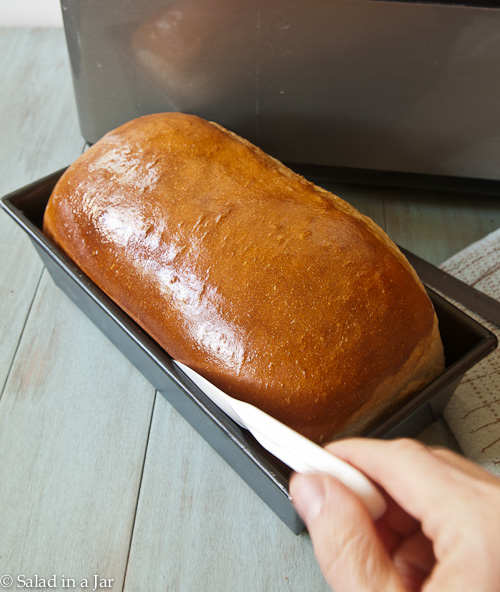 Advantages of plastic spreaders:
Loosen baked goods non-stick pans. These spreaders won't scratch off the finish like a regular kitchen knife or silverware. They are very thin, unlike a table knife, so they won't tear up your cakes, muffins, or bread.
The obvious: spread peanut butter, jelly or any kind of dressing onto a sandwich.
Scrape cookware to remove stubborn, baked-on food.
Clean out smooth-sided containers.
Light-weight, take hardly any space in your drawer, and go into the dishwasher. Yes!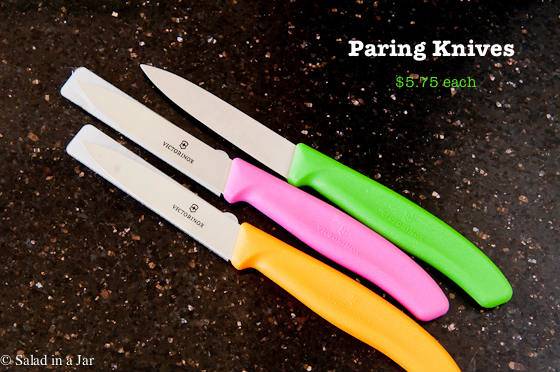 2. Plastic scraper
I've already confessed my tendency to put knives into the dishwasher. Knives with plastic handles are appropriate for me. I use them to prepare fruit for our cereal every morning. Suitable for lightweight jobs. The price makes them practically disposable.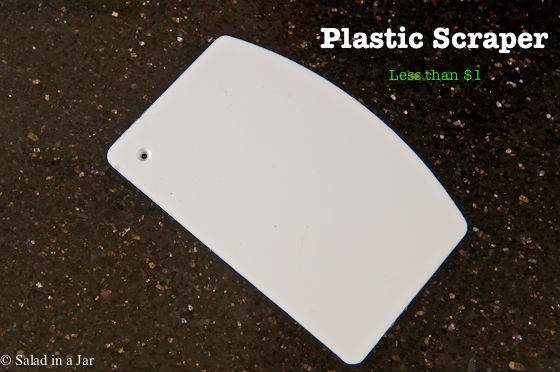 A bowl scraper is a necessity if you like to make yeast bread. Not only is the curved side handy for pushing the dough out of a round bowl, but the straight side is also good when cutting portions to roll into balls. Like the plastic spatulas, you can also use them to scrape dried or baked-on food from cooking pans or cookie sheets.
3. Small Cutting Board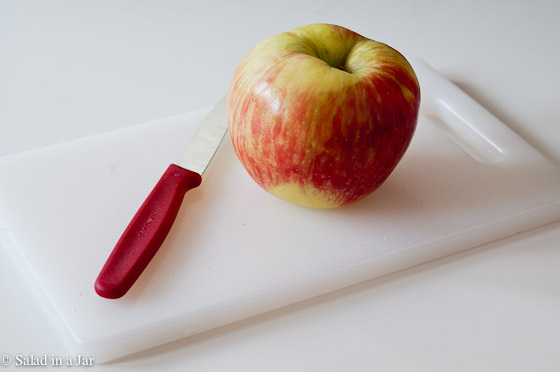 Can a cook have too many small cutting boards?
4. Stainless Steel Biscuit Cutter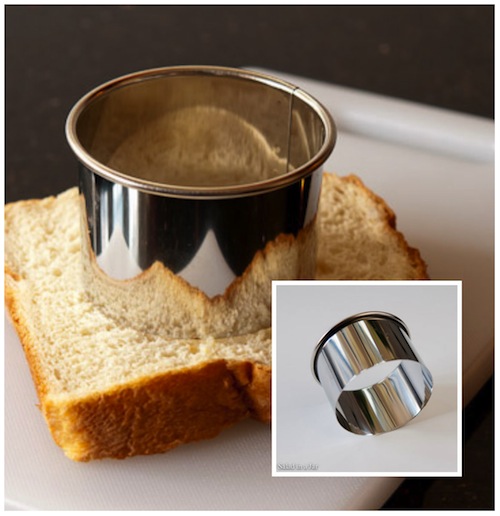 Yes, you can use a drinking glass or a repurposed tin can to cut biscuits, but this tall cutter leaves a clean edge that will help your biscuits rise higher. Also suitable for cutting frozen bread. I use mine frequently to make avocado-egg toast.
5. Aluminum Scoop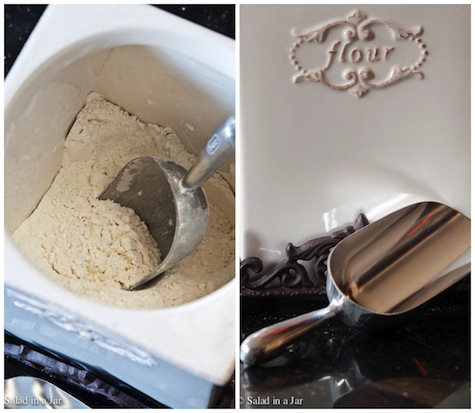 In the past, I used a measuring cup or big spoon to transfer sugar or flour from a canister to a measuring cup. No more. I keep one of these inexpensive but durable scoops in every canister of flour I own—one less item to wash and always handy. Use the edge to level your measuring cup.
6. Stainless Steel Measuring Spoons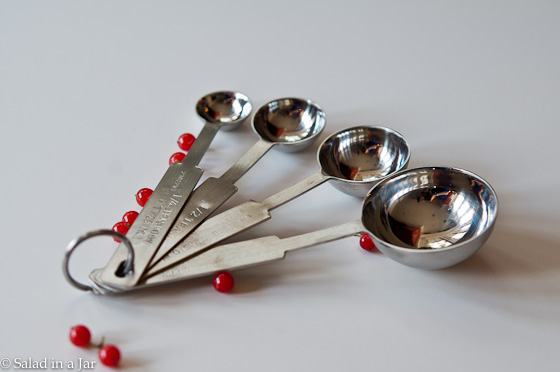 Everybody owns measuring spoons, but multiple sets are handy for power cooking. Cheap spoons work just fine until they come apart and you lose one or two. Then, you can get this sturdy set that is nicer to use and lasts longer for a few pennies more. They're cuter too!
7. Stainless Steel Whip or a Nylon Whisk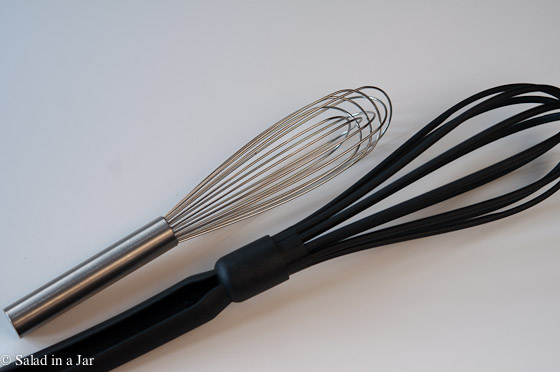 If you don't have a little whisk or whip in your life, you don't know what you're missing. They work better than a fork or a large whisk for mixing ingredients in small bowls or cups.
Nylon whisks are perfect for skillets with non-stick coatings, of which I am a fan. I also like them when mixing in a glass or metal bowl because they are quiet. The plastic coating makes them suitable for mixing pancake or waffle batter on weekends when everybody else is still asleep.
8. Silicone Baking Mats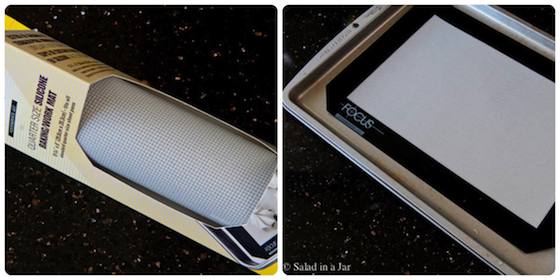 If you dislike scrubbing cookie sheets as much as I do, you need silicone mats in your kitchen.
Reasons why I own lots of silicone mats:
Instead of using your countertop or a cutting board, use a silicone mat to roll out dough. Less flour is required to prevent sticking. For clean-up, see #3 below.
Line baking sheets with mats to keep pans shiny and skip the greasing step when baking cookies or rolls. Saves you from buying so much parchment paper or foil to line your pans.
Throw them into the dishwasher to clean.
9. Collapsible Funnel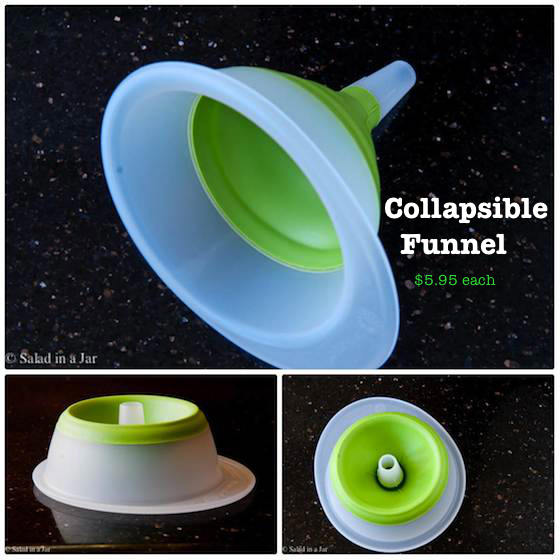 Why didn't I think of this? A collapsible funnel I can store inside the other bowls in my plastics drawer. I know it's not a big deal, but the standard funnel is not so easy to stack in a crowded cabinet.
10. Miscellaneous cooking stocking stuffers that won't fit into a stocking: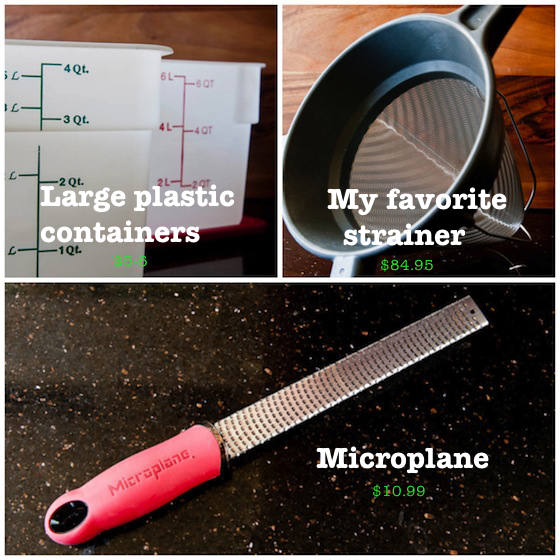 These last three things are too big for stocking-stuffers, but I wanted to mention them because I enjoy them so much. I use plastic containers to make iced coffee and hold bread dough while it rises.
You may recognize the strainer. I use it to make Greek yogurt. The mesh is so fine I don't have to line it with paper towels or cheesecloth. It's also good for making ricotta cheese and straining chicken stock.
In case you think it's expensive, you're RIGHT! And it's worth every penny to me. I use mine at least twice a week and sometimes much more. Some day, I plan to write a whole post about the merits of a good quality strainer.
A microplane is indispensable in my kitchen. If you are a big-time cook and don't have one of these yet, you don't know what you're missing. It makes old-fashioned graters seem like inefficient antiques.
I purchased all these items at Ace Mart Restaurant Supply, but I assume you can find most of these things at any restaurant supply and, of course, many discount stores such as Walmart or Target for a bit more. The only people at Ace who know me are the helpful salespeople. I have not been reimbursed in any way. I love to hang out there, often trolling the aisles for good deals and things I didn't know I needed.
Related Posts:
If you have questions or suggestions, email me privately for a quick answer: Paula at saladinajar.com. Hope to see you again soon!