Divide and Conquer–My Skinny Secret for Holiday Sweets
Preview: "Divide and Conquer" is about using half-size pans to make smaller desserts that result in fewer leftovers to tempt you after the party is over.
Is it just me, or do you also have trouble resisting leftover desserts from holiday celebrations?
With Thanksgiving almost behind me, but hopefully not still ON my behind, I am contemplating my defense plan against the traditional weight gain of the Christmas season.
For me, the leftover pie, cake, or cookies beckon most loudly when everybody has gone home. So, of course, I try to palm off any extra food, but I've observed that more and more people decline. And who can blame them?
I'm taking a break from my regularly scheduled programming to bring you this editorial about my "Divide and Conquer" philosophy. I hope it is helpful during this time of seasonal surplus.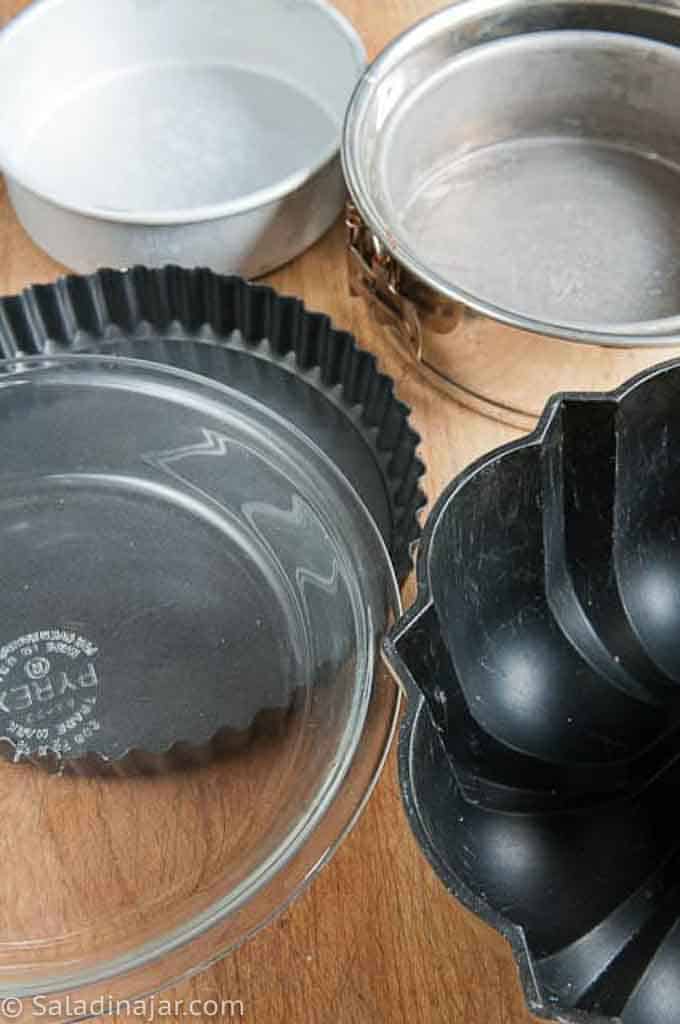 My plan of defense against too many tempting leftovers:
After accidentally buying several 7-1/2 inch glass pie plates on eBay a few years ago, I noticed the average pie recipe, when cut in half, would fit perfectly into my small pie plates. Although reduced in size, there still seemed to be plenty of dessert for our special family dinners (hubby, me, two sons, and their wives and kids) with few to no leftovers.
So, I started looking around. I found a small tart pan at a Home Goods store, small, round cake pans (6-inch) at a restaurant supply (also seen in craft stores), and a small bundt pan in my mom's kitchen. I even have a spring-form pan in a small size and small loaf pans.
Having small pans means I can cut almost any dessert recipe in half. Everybody enjoys their favorite sweets, but I have little left when the party is over.
One of my favorite ways to downsize dessert servings is to use these mini-tart silicone molds, as seen in the Pumpkin Pie Mini-Tarts and the Browned Butter Pecan Mini Tarts below. These molds are even smaller, as seen in Mascarpone Cheesecake Mini-Tarts below right. They are the perfect size to eat out of hand. Also suitable for people who want to try several desserts.
Last week, I made 4 (7-1/2 inch) pies for Thanksgiving dinner, all of them filled with only half a recipe. Multiple culinary choices seem to be part of the Thanksgiving tradition, and I wanted to make sure everybody got what they wanted without too much waste.
Most people tasted several pies, then helped themselves to a larger serving of their favorite one. The result was much fewer leftovers than in past years when we would have 4 or 5 full-size pies.
So few that I didn't feel guilty about tossing remainders at the end of the day.
For Those of You Worried About People Not Getting Enough To Eat:
I remind myself that anything in short supply suddenly seems more precious and popular. Better to have people fighting over the last piece than trying to palm off half a cake on people who don't want it or, worse, me eating it later. After all, we're talking about dessert here. Nobody NEEDS it.
A Word of Caution About Downsizing Recipes:
Try experimenting ahead of time with any recipe you're planning to divide to ensure you did the math right. I make a note of the amounts for future reference right there in the cookbook.
For things like pie or tart crusts, you may need more like 2/3 or 3/4 of a recipe. For example, I like to double a one-pie-crust recipe and then make three smaller crusts instead of 2 larger ones. The same rule applies to frosting.
Don't forget to adjust baking times. For example, a half-recipe will probably take more than half the original time, but not as long as a whole recipe.