Greek Yogurt and Cucumber Sauce for Fish is a simple, no-cook sauce containing Greek yogurt, cucumbers and seasoned with dill. Serve alongside grilled or pan-fried fish. Also excellent with any kind of seafood patties.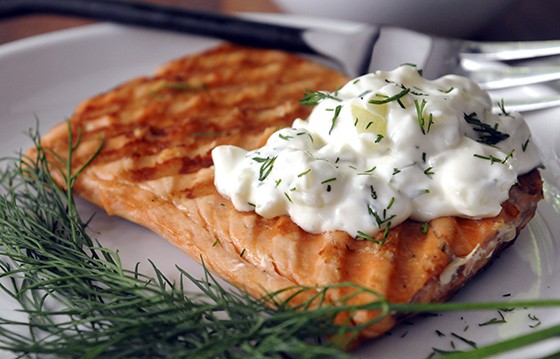 In case you're wondering, this simple sauce is most likely a close relative of Greek tzatziki sauce, but we've never called it that. Probably because we weren't sure how to say it or spell the word.
This recipe for Greek Yogurt and Cucumber Sauce for Fish was adapted from a rather old book, Best Recipes From the Backs of Boxes, Bottles, Cans and Jars by Ceil Dyer. I use to serve it with salmon loaf made from canned salmon, but since I rarely use canned salmon anymore, it has become one of my favorite accompaniments for grilled salmon.
Speaking of grilled salmon, we love the fresh salmon sold at Costco. Have you tried it? Tastes so fresh and is delicious straight off the grill with a simple condiment.
Due to only two of us at my dinner table normally, and Costco only selling the fresh salmon in large pieces, the leftovers have motivated me to expand my "salmon-leftovers" library, which is a good thing.
If you also need to expand your seafood library, my 3 favorite recipes on this blog are: Almond Salmon, Pizza Fish (great for the kids), and pan-fried tilapia with Spicy Cowboy Sparkle Dust. Greek Yogurt and Cucumber Sauce for Fish now makes the fourth.
A passing note…
I've been making this condiment/sauce for years with sour cream. But now that I have homemade Greek yogurt in my fridge at all times, I substitute Greek yogurt for sour cream. Tastes even better.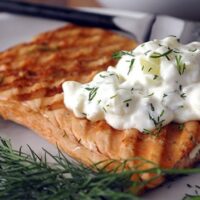 Greek Yogurt and Cucumber Sauce for Fish
A mild sauce to serve with fish containing yogurt, cucumbers, and dill. 
Ingredients
1/3 cup mayonnaise (I like olive oil or reduced fat)
1/2 cup plain Greek yogurt (I use nonfat)
1/2 cup finely chopped, peeled cucumbers
1/4 teaspoon powdered onion
1 teaspoons chopped fresh dill (or 1/2 teaspoon dried)
Instructions
Combine all ingredients and serve with fish. Reserve a pinch of dill for garnish.
Nutrition Information:
Yield:

16
Serving Size:

1
Amount Per Serving:
Calories:

44
Total Fat:

4g
Saturated Fat:

1g
Trans Fat:

0g
Unsaturated Fat:

4g
Cholesterol:

2mg
Sodium:

32mg
Carbohydrates:

1g
Fiber:

0g
Sugar:

0g
Protein:

1g
Related Posts: