Almond Fans–A Sweet Yeast Roll are really just fancy looking cinnamon rolls with icing and almonds on top.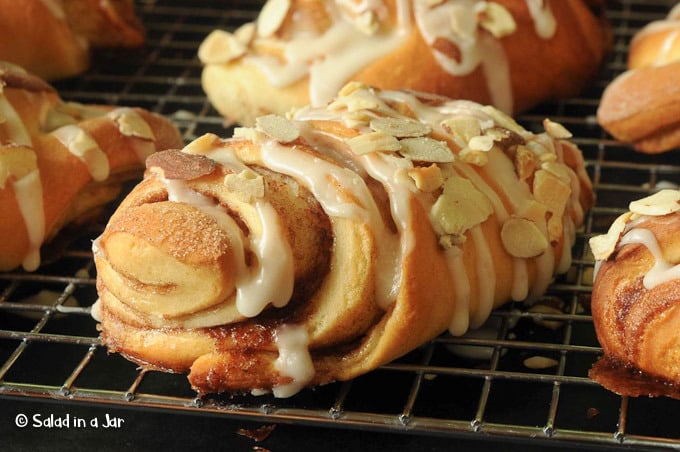 What is your Achilles heel regarding food?
Cinnamon rolls are my weakness. I have no self-discipline when they are in the house. I knew I shouldn't make these last weekend because they are just fancy cinnamon rolls with almonds on top, but I couldn't help myself. They were even better than I expected. I'm not admitting how many I ate.
I adapted the recipe from one of my favorite cookbooks, Grant Corner Inn Breakfast and Brunch Cookbook by Louise Stewart. I have yet to find a bad recipe in this little book. In fact, I think I will make it one of my goals in life to try every one of Ms. Stewart's yeast bread recipes. Surely this would qualify me for a Nobel Peace Prize or something similarly lofty. In reality, it would probably land me a spot on The Biggest Loser.
Although they look complicated, they aren't hard at all. Like most of my bread recipes, I make it in a bread machine. If you don't have a bread machine, I have included the author's original instructions in case you find kneading bread by hand therapeutic.
An alternate method for a smaller Almond Roll:
Cut flattened log into 10-11 pieces instead of 6. Instead of 3 cuts make one. The final product won't be quite as impressive as the large one but the calories will be much more reasonable. See the picture below for illustration of roll with 3 cuts (top) and roll with 1 cut (bottom).
RELATED POSTS: