Make your sandwiches memorable with these homemade seven-grain hamburger buns. Recipe developed for the bread machine but can be made in a mixer or by hand.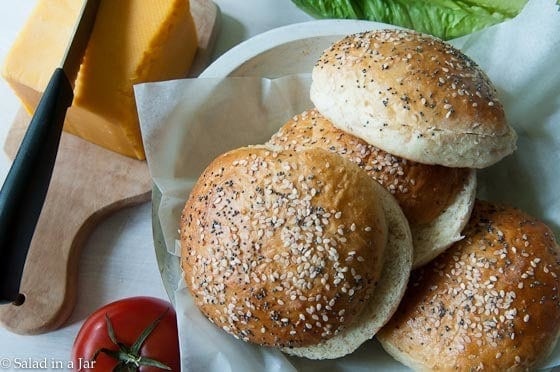 When I go to a baseball game, I love to eat. I try to eat slowly because when I run out of food, I'm ready to go home, unless I have a chatty girlfriend sitting next to me. But the prices and the calorie count of ballpark food are rather scary, so I prefer to pack it in with us. (Yes, it's legal at the Ballpark in Arlington.)
When my sister and her husband from Denver came to town to watch the Rockies play against the Rangers earlier this summer, I prepared a meal to eat at the game including barbecue sandwiches made with homemade buns.
Weeks later, my husband is still raving about those buns and requesting a repeat performance. That's how homemade buns can make a sandwich memorable.
As usual, I mix the dough for this recipe in my bread machine. I DON'T BAKE IT IN THERE, just mix and knead the dough. You should do likewise if you have a bread machine and/or delight in eating homemade bread that is perfectly mixed and kneaded with little effort and time on your part.
If you are a new bread-machine user or somebody who thought they didn't like bread machines, please check out my previous posts about using a bread machine. You can also use a stand mixer or make this recipe by hand.
More about the 7-Grain Mix:
Don't let the 7-grain mix scare you away. Substitute the same amount of bread flour, whole wheat flour, or wheat bran if you prefer. I buy Bob's Red Mill 7 Grain Hot Cereal, containing wheat, rye, triticale, oats, oat bran, barley, rice, and flaxseed. Makes me feel virtuous just reading the list. It's not always easy to find. Try Target, Whole Foods, or any grocery store with an organic food section. This recipe is a variation on my Potato-Cheese Rolls which I love because the rolls naturally stay fresh longer because of the potatoes.
Kitchen Secret:
This comes in handy for hamburger buns because you can make them ahead. I like to use leftover mashed potatoes as opposed to difficult-to-find potato flour or rather bland tasting instant potatoes. The salt, pepper, butter and milk added when making everyday mashed potatoes seems to make these rolls even better.
Because I tend toward spur-of-the-moment baking, I freeze any leftover mashed potatoes passing through my kitchen into half-cup portions as seen in the picture above. They only need a quick defrost in the microwave before they go into my bread machine.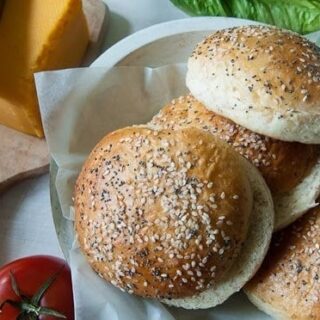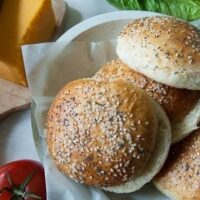 7-Grain Hamburger Buns
Prep Time:
2 hours
30 minutes
Total Time:
2 hours
50 minutes
Make these 7-grain buns for your next cookout or tailgate.
Ingredients
1 egg
1/4 cup sugar
1 teaspoon salt
1/4 cup butter cut into small pieces
1/2 cup well-seasoned mashed potatoes
2/3 cup milk
2-1/2 cups bread flour
1/2 cup 7-grain mix (or use wheat bran or whole wheat, if preferred)
2 teaspoons bread machine yeast
Glaze:
1 egg
1 tablespoon water
Poppy seeds and sesame seeds
Instructions
Add egg, sugar, salt, butter, and mashed potatoes to bread-machine pan.
Heat milk 1 minute and 30 seconds in microwave on HIGH. Pour over other ingredients already in the bread machine to warm them and melt the butter.
Add bread flour and then yeast.
Select the dough cycle and start.
When finished, remove dough from pan to floured surface. Divide into 8 portions and form into balls. Allow to rise until double.
Flatten balls with palm of your hand, rather severely, or else your buns will be too thick in the middle.
Make glaze by whisking egg and water together in a small bowl. Carefully brush tops and sides of buns. Sprinkle with poppy seeds and sesame seeds.
Bake in preheated 375 degree oven for 15-20 minutes or until golden brown and internal temperature reaches 190 degrees.
Notes
Vary the seeds on top according to what you like and/or have on hand. Or, leave them off if you prefer. I like to make some with, and some without to please all the eaters around my table.
Recommended Products
As an Amazon Associate, I earn from qualifying purchases. But don't worry. This doesn't change the price you pay.
Nutrition Information:
Yield:

8
Serving Size:

1
Amount Per Serving:
Calories:

393
Total Fat:

11g
Saturated Fat:

5g
Trans Fat:

0g
Unsaturated Fat:

5g
Cholesterol:

64mg
Sodium:

385mg
Carbohydrates:

63g
Fiber:

8g
Sugar:

7g
Protein:

14g
P.S. If you need a quick lesson in making perfect dough balls, see this video.
Related Posts:
Sloppy Joe Sliders on Homemade Whole Wheat Rolls
Beefy Bean and Frito Burgers
Potato-Cheese Yeast Rolls