No More Lopsided Brioche (A Beginner's Guide To Making Beautiful Bread) is a recipe for traditional brioche rolls designed for making in a stand mixer. Read about my fool-proof method for forming the classic Brioche roll with a topknot.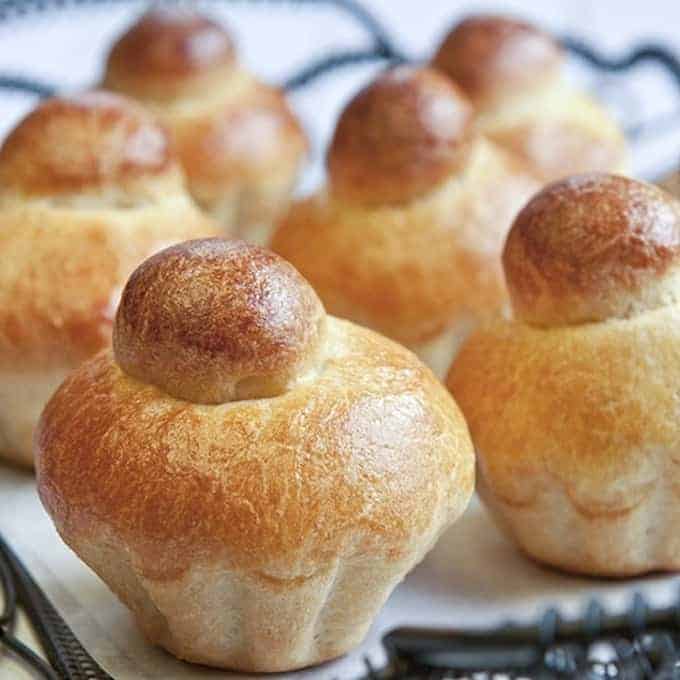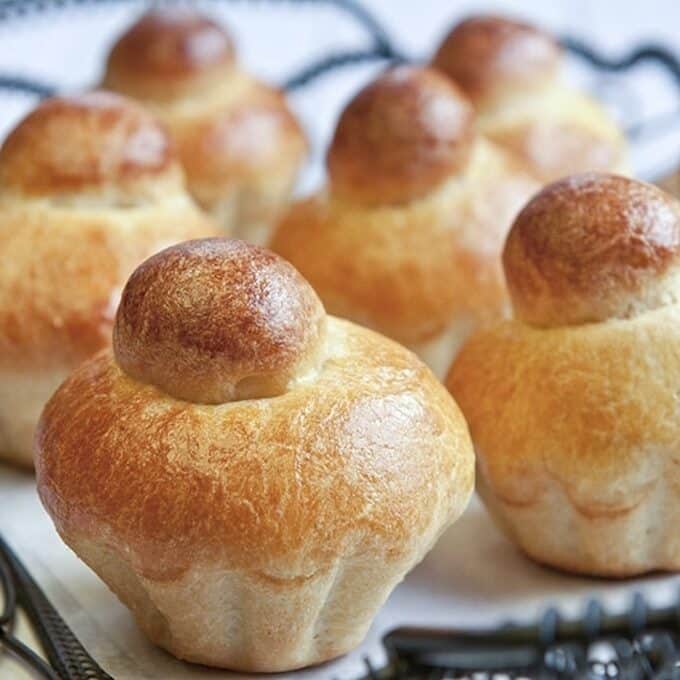 After eating buttery brioche for the first time a few weeks ago, I promptly purchased eight brioche rolls for 4$ at Central Market. Yikes! At that price, I wanted to learn how to make them myself.
Disclaimer: I am not French nor do I know much about authentic French Brioche. Maybe I should call these "Texas-style Brioche" because they are at least as good as what I can buy at Central Market in Ft. Worth.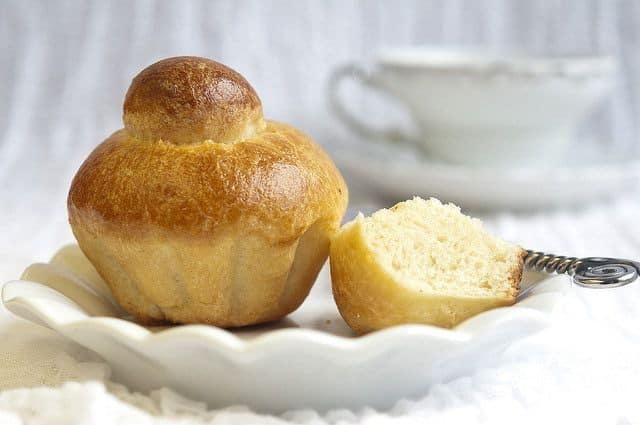 No More Lopsided Brioche – A Beginner's Guide was born when I finally figured out a way to ensure the charming little topknots wouldn't go crooked, or worse, almost disappear.
Check out the pictures below to see how I do it. If you are a total bread-making klutz, you might consider leaving the hats off or make a loaf instead.
First: make the dough
I experimented with several recipes using both the bread machine and a stand mixer (i.e. Kitchen Aid mixer). In the end, my favorite dough came out of a stand mixer. The bread machine works, too, however the texture is slightly better out of the mixer in my mind.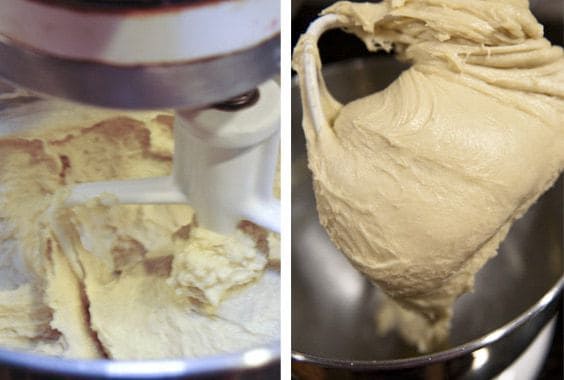 The dough is well-chilled when forming the rolls. Consequently, it handles beautifully. Rumors I'd heard about sticky dough turned out not to be true.
If the dough does get warm and difficult to handle, return it to the fridge. Recipes that leave out the refrigeration time are suspect in my book.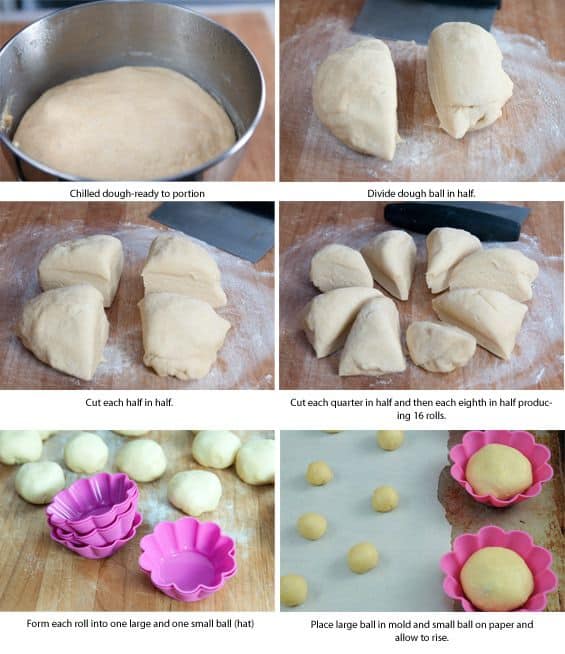 Nearly all recipes I read called for placing the small balls or topknots on top of the larger rolls before the final rise. DIDN'T WORK for me.
The topknots would not stay in place no matter how big a hole I punched, or how firmly I pressed the ball into the center. Some methods resulted in a roll resembling a ball with a pimple on top. Wrong! I was going for a cute little hat!
How to avoid lopsided brioche: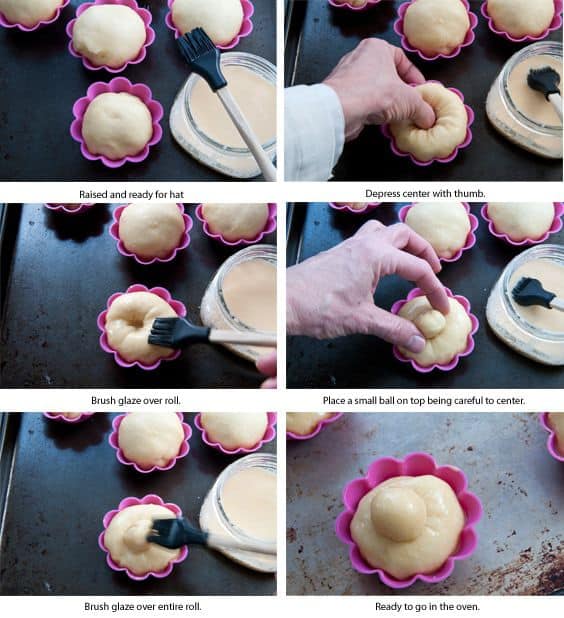 In case you would like a quick tutorial on how to make perfectly round balls of dough, check out this very short video.
Tips for baking Brioche:
#1
Removing rolls from a muffin pan uninjured can be challenging.
Using a spray butter/flour mixture generously is highly recommended if you must use a standard muffin pan.
However, when I discovered these individual silicone plastic pans/molds, my troubles were over, and all was right with my Brioche. Nothing sticks to them. You don't have to grease them ahead of time.
#2
Be careful not to crowd rolls on the cookie sheet.
When crowded, they don't brown evenly.
#3
Make the dough ahead of time.
Brioche rolls are a bit of trouble. But you can make the dough ahead of time which makes them perfect for Christmas or Sunday dinner. Also, the rising period is rather long, so you have time to focus on other last-minute details.
I hope you have fun with this recipe. May the little hats stay attached right where you put them!
If you make this and enjoy the recipe, it would help me and others if you would return to this post and leave a rating (on the recipe card itself underneath the picture). Although always appreciated, no comment is required. Thanks so much! Paula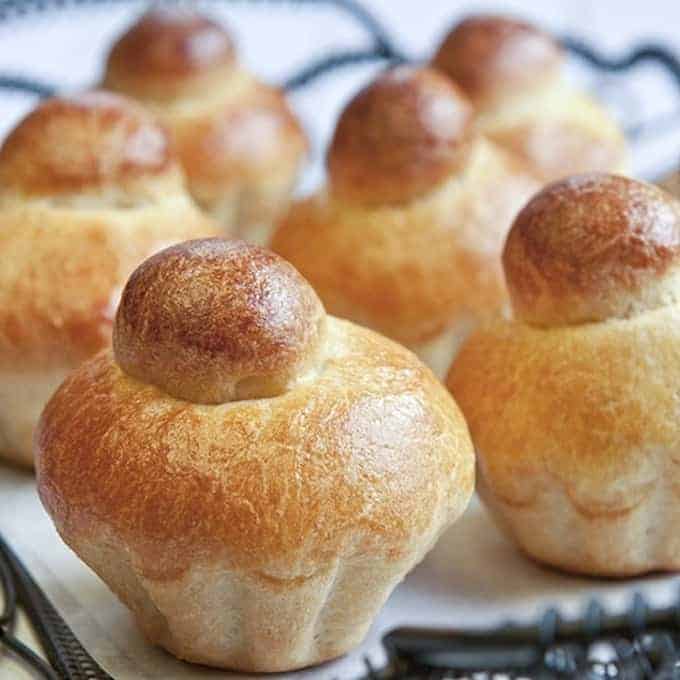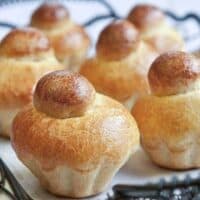 No More Lopsided Brioche - A Beginner's Guide
Total Time:
8 hours
15 minutes
Easy recipe for Brioche made with stand mixer or bread machine. Includes fool-proof method for forming classic Brioche roll with a topknot.
Ingredients
1/4 cup warm water
2 tablespoons dry milk
3 eggs, room temperature
1-1/4 teaspoon salt
3 tablespoons sugar
12 tablespoons butter, room temperature (Important)
1 cup bread flour
1-3/4 cup all-purpose, unbleached flour
2-1/4 teaspoons bread machine or instant yeast
Glaze:
1 egg + 1 tablespoon heavy cream whisked together well.
Instructions
Add all ingredients to mixing bowl of stand mixer and set speed on LOW until flour is moistened. Increase speed to just below MEDIUM and set the timer for 15 minutes. When ready, dough with be shiny and elastic and the bowl will be clean with all dough sticking to the paddle.
If using a bread machine, dump all ingredients into pan and set on dough cycle. Dough will be sticky but do not add extra flour.
Dough should be allowed to rise for 1-1/2 to 2 hours in warm place immediately after mixing and kneading. Then gently release dough from the sides to remove some of the air.
Cover bowl (mixing bowl or bread machine bowl) and place in refrigerator for 6-24 hours. Do not skip this part. If you don't have time for the chill, you might want to make another kind of bread.
Remove dough to lightly floured board and mold into a ball. Cut in half. Cut each half in half --you should now have 4 pieces. Cut each of those in half (giving you 8 balls) and then cut each of those in half giving you a total of 16 balls.
Pull a small amount off each of the 16 balls to make hats. Roll all portions into little balls. The smoother the better and practice helps. Place one large ball in each mold or fill muffin tin. Place all small balls (future hats) on wax paper, parchment or silicone mat on cookie sheet. Cover all with tea towels and allow to rise in warm place until almost double. This may take 1-2 hours.
When rolls have almost doubled in size, use greased thumb to carefully depress dough in the center. Don't worry, it will spring back once it hits the oven. Brush with glaze. Place a small ball in the center of the roll and again brush entire roll with glaze taking care not to let glaze pool at the edges between the dough and the mold.
Place individual molds or muffins pans on cookie sheet to keep the bottoms from over-browning. Preheat oven to 425 degrees. Then reduce temperature to 375 degrees and bake rolls for about 15 minutes. Loosely cover rolls with foil if tops are getting too dark. Internal temperature should reach 185-190 degrees. Remove from oven and allow to cool for a couple minutes before turning out onto a cooling rack.
Best eaten the same day but also good toasted the next day.
Recommended Products
As an Amazon Associate, I earn from qualifying purchases. But don't worry. This doesn't change the price you pay.
Nutrition Information:
Yield:

12 rolls
Serving Size:

1 roll
Amount Per Serving:
Calories:

123
Total Fat:

2g
Saturated Fat:

1g
Trans Fat:

0g
Unsaturated Fat:

1g
Cholesterol:

64mg
Sodium:

250mg
Carbohydrates:

20g
Fiber:

1g
Sugar:

4g
Protein:

5g
What would you like to read next?