This is a copycat recipe for All Steak Orange Rolls you can make in your bread machine. These yeast rolls are distinctly sweet, orangey, and reminiscent of those served at my sister's favorite steakhouse in Cullman, Alabama.
Directions are included for mixing and kneading in a bread machine but you can certainly do it by hand or use a stand mixer. See the recipe notes for details.

This post is dedicated to my Alabama sister and all lovers of anything flavored with oranges.
Recipe inspiration
My sister Kay has been talking about these famous orange rolls for years. She was often encouraging me to come up with a recipe so she could make them herself at home. Since I had never been to the restaurant that serves these rolls, I could only go by her description.
Words proved to be a poor substitute for actual taste-testing. I devised these Iced Orange Yeast Rolls a few years ago, but I was way off despite how scrumptious they are on their own credentials.
A few years ago, my sister actually transported the famous rolls to my house. They didn't fare so well after a 12-hour car trip. I was not impressed.
During my annual visit last year, she finally took me to the restaurant. Since it wasn't dinner time, we asked for a half dozen rolls to go. Now I understood what she had tried to describe to me for so long.
Assessing the real orange rolls from All Steak
The rolls were still hot when we got them and a little bit doughy. They were extremely orangey both in color and taste. The sweet stuff on top was a glaze, not an icing like you might put on traditional cinnamon rolls.
I took notes in my mind and tried to remember the taste. Have you ever tried to remember exactly how something tastes? Kinda difficult actually, especially after some time has passed.
Fast forward…
A few weeks ago, I was inspired by a food magazine that recently printed a recipe for the famous rolls. The first step was to figure out how to use my bread machine to mix and knead it. No problem.
(If you would like to know how to convert most any regular bread recipe to use in your bread machine, see this post.)
However, I was not happy with the final product because the orange flavor wasn't nearly as prominent as the real thing. I fixed that by using frozen orange juice concentrate in place of fresh orange juice and increasing the amount of orange peel used in the filling.
Kitchen tip:
Be careful not to pick up any of the white under the peel which can cause bitterness.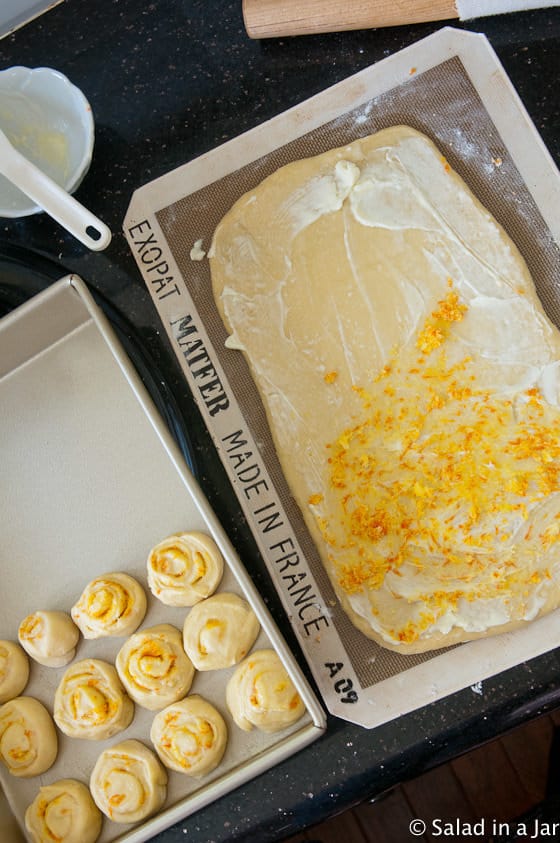 Is this the authentic orange roll recipe?
No. I make no claims of authenticity regarding this recipe for All Steak Orange Rolls. They are a bit lighter and fluffier than the original rolls– more like traditional cinnamon rolls.
In the final analysis, however, these rolls are mighty tasty and so fabulous that I want to eat half the pan by myself. Therefore, I'm declaring this experiment–DONE!
For me, this is a special-occasion-only recipe. Way too much temptation to make very often.
---
Posts Related to All Steak Orange Rolls
Pin the picture below to save for later.
---
---
Did you try this recipe and enjoy it? Consider helping other readers (and me) by returning to this post. Leave a rating on the recipe card itself underneath the picture. Although always appreciated, comments aren't required.
If you have a question or tip to share, please leave it in the regular comments after the recipe so I can answer back. Or, email me privately: paula at saladinajar.com.

Thank you for visiting!
Paula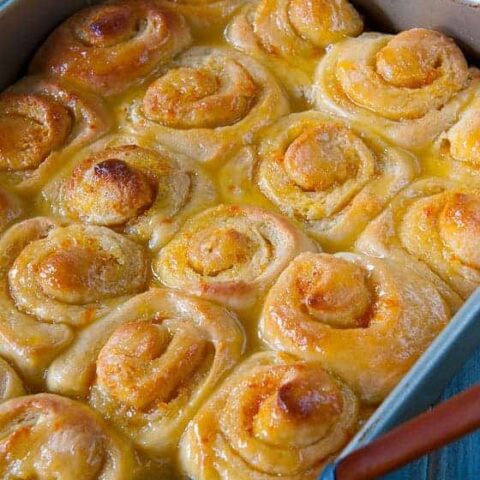 All Steak Orange Rolls From a Bread Machine
Total Time:
4 hours
30 minutes
Distinctly orange-flavored sweet yeast rolls similar to those served at one of my sister's favorite steakhouses in Alabama.....mixed and kneaded in a bread machine
Ingredients
Dough:
1/4 cup heavy cream (warmed in the microwave about 30 seconds)
1/2 cup frozen orange juice concentrate (thawed to room temperature)
2 tablespoons sugar
1 teaspoon salt
1 large egg plus 1 yolk
6 tablespoons unsalted butter, softened
3 cups all-purpose flour
2 teaspoons bread machine or instant yeast
Filling:
2 tablespoons unsalted butter, softened
1/2 cup sugar
2 tablespoons grated orange zest (from two medium oranges)
Glaze:
1/4 cup heavy cream
1/4 cup sugar
2 tablespoons orange juice concentrate
2 tablespoons unsalted butter
1/8 teaspoon salt
Instructions
Add ingredients to a bread machine pan in order given. Leave lid open. Choose the DOUGH cycle and press start.
Observe dough after about 10 minutes. If dough does not stick to side of pan and then pull away because it is too dry, add a tablespoon of water. If dough is too wet, add flour a tablespoon at a time until dough sticks and then pulls away. Continue to add water or flour until dough looks just right according to this picture. Close lid and allow dough cycle to complete.
When dough cycle finishes, check to make sure dough has doubled in size. If not, allow dough to continue to rise in the pan until it is double the original volume. IMPORTANT NOTE: Because this is a highly enriched dough, it takes longer than usual to rise. All at least an extra hour for this.
Remove dough from the bread machine pan onto a floured surface. Roll into a rectangle measuring approximately 12 x 17 inches.
Spread softened butter over rolled-out dough until dough is completely covered. Sprinkle sugar-orange zest mixture evenly over butter.
Begin rolling dough from the long side. Roll as tightly as you can. Cut long roll in quarters. Cut each quarter into 5 evenly-sized rolls.
Place inside buttered 9 x 13 inch pan, cover with a tea towel, and allow to rise in a warm place for about 45 minutes before baking.
Preheat oven to 325˚F. Bake rolls for 25-30 minutes or until internal temperature reaches 190˚F.
Prepare glaze while rolls bake. Combine all ingredients into a small saucepan and heat over medium temperature under mixture turns syrupy and coats the back of a spoon. Set aside to cool.
Pour glaze over hot rolls as soon as they come out of the oven.
Notes
Alternate Mixing Instructions:
Directions for making bread with a stand mixer or by hand:
To make this recipe in a heavy-duty stand mixer, add ingredients to the bowl in the same order. Turn on low to mix until all ingredients are moistened. Using a dough hook, turn speed to 2 or 3 and continue beating/kneading until dough becomes smooth and elastic (about 5-10 minutes). Cover and allow to rise in a warm place. Deflate dough gently and shape as indicated in the recipe.
If making by hand, combine all ingredients into a shaggy ball in a large bowl. Turn dough out onto a floured surface and knead with your hands until dough becomes smooth and elastic, a process that will likely take 10-20 minutes depending on your experience. Place the dough ball into a greased bowl. Cover and allow to rise until double. Deflate dough gently and shape as indicated in the recipe.
How to substitute active dry yeast for bread-machine yeast or instant yeast:
If you substitute regular yeast for instant or bread-machine yeast, you must dissolve it first before adding to the dry ingredients. Stir it into about 1/4 cup of the lukewarm liquid called for in the recipe. Let sit for about 10 minutes. Add to other wet ingredients and then add dry ingredients. Proceed as directed to knead and shape the dough.
Recommended Products
As an Amazon Associate, I earn from qualifying purchases. But don't worry. This doesn't change the price you pay.
Nutrition Information:
Yield:

20
Serving Size:

1
Amount Per Serving:
Calories:

193
Total Fat:

9g
Saturated Fat:

5g
Trans Fat:

0g
Unsaturated Fat:

3g
Cholesterol:

40mg
Sodium:

126mg
Carbohydrates:

26g
Fiber:

1g
Sugar:

11g
Protein:

3g