Chinese Chicken and Green Beans with Sesame Seeds
Preview: Chinese Chicken and Green Beans with Sesame Seeds is a mixture of vegetables and chicken pieces in an all-purpose stir fry sauce good for many Chinese dishes.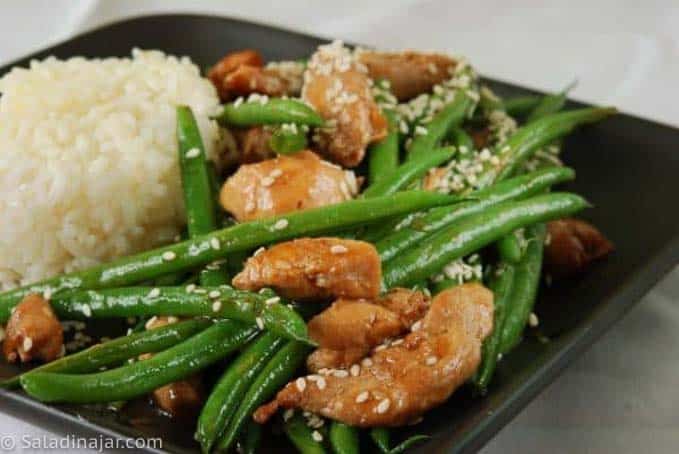 As an Amazon Associate, I earn from qualifying purchases.
What dishes or recipes bring back vivid memories for you? One of my favorite food memories is tied to my friend Sharon, from ultrasound school a few years back. We used to frequent a Chinese place (don't remember the name) for lunch in downtown Dallas.  We always ordered the same thing–String Bean Chicken.
This recipe for Chinese Chicken and Green Beans is similar. I can't make it without remembering all the good (and bad) times we shared during our school years.
---
Kitchen secret for stir-fry sauce:
The stir-fry sauce used in this recipe works nicely in all my stir-fry dishes.  Make ahead and vacuum-seal it into a pint jar to keep it as long as possible (at least a month).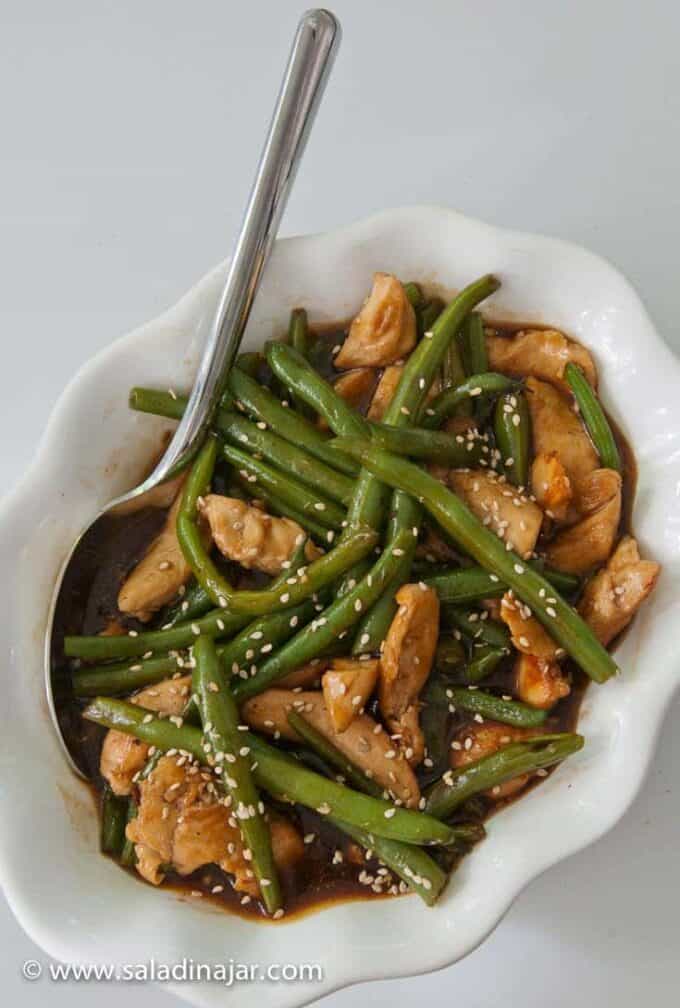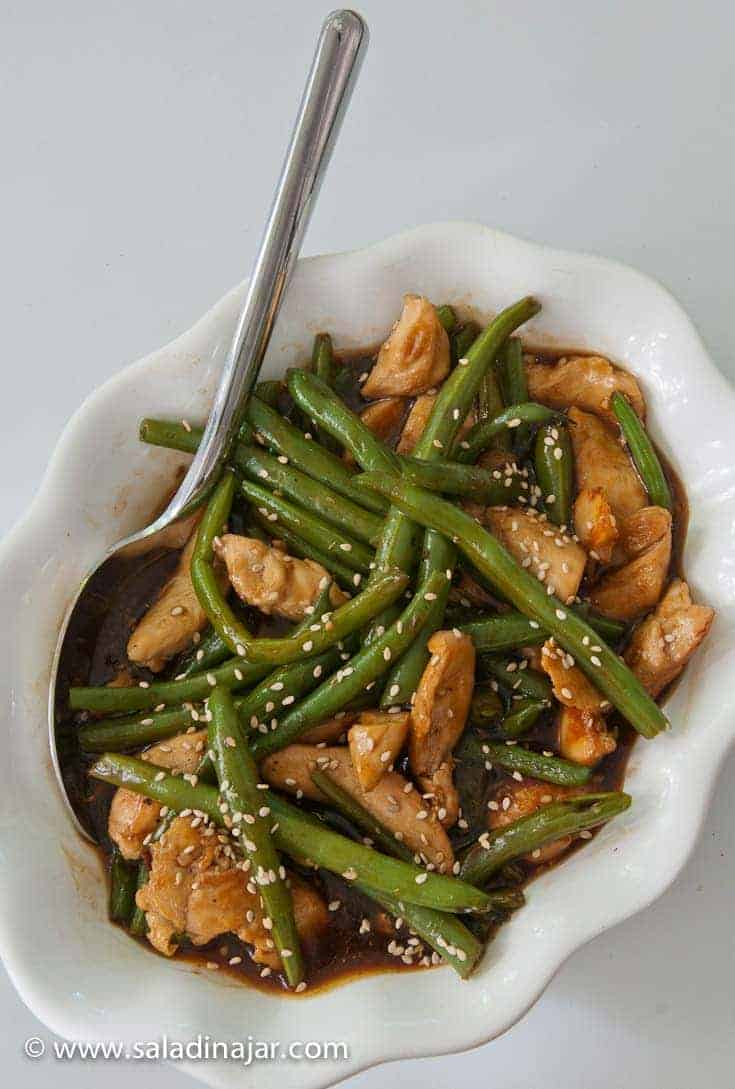 What kind of green beans should I buy?
About the green beans:  French green beans are sometimes hard to find.  I usually get them at Costco or Trader Joe's.  They are small and tender. 
It's not necessary to take the ends off so a good rinse is all they need. Drop them in boiling water and cook until they're tender but still have a little crunch–only about 2-3 minutes.
If you can't find French green beans, try this with only the best quality green beans you can find in the grocery store.  If they are big or old, they will be tough. Look for tender, easy-to-break beans.
---
If you have questions or suggestions, email me privately to Paula at saladinajar.com. Hope to see you again soon! Paula
---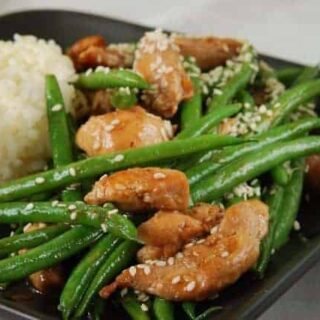 Chinese Chicken and Green Beans with Sesame Seeds
Avoid another take-out night with these tender green beans and chicken combined in a spicy stir fry sauce and served over rice.
Ingredients
½

cup

low sodium soy sauce

1

tablespoons

sugar

½

cup

chicken broth

2.25

teaspoons

arrowroot

1

teaspoons

grated fresh ginger

1

teaspoon

rice vinegar

½

teaspoon

sesame oil

1

teaspoon

chopped garlic

Pinch of red pepper flakes or a few drops of Sriracha sauce

1

pound

chicken breast strips

2

tablespoons

of low-sodium soy sauce

Splash of sesame oil

½ to ¾

pound

French green beans
Instructions 
Sauce
Whisk together all ingredients for the sauce. Or do as I do and put it in a Mason jar, put a lid on it and shake well.
Stir Fry
Slice chicken breasts or filets into thin, small pieces. Place in a zippered bag and douse with soy sauce and sesame oil. Set aside.

Trim and rinse green beans. Drop them into a pan of boiling water on the stove. Cook for from 3-5 minutes or until beans are tender but still a little crunchy. Drain beans and dump in ice water to stop the cooking. Set aside.

Pour 1 tablespoon peanut or avocado oil into a very hot skillet. Brown chicken pieces. Don't stir them too much at first. Let them get nice and golden brown. If your skillet is not very big, do this in batches. Remove chicken and set aside.

Add another tablespoon of oil to your hot skillet. Saute green beans until they get a little toasty but are not overcooked or limp.

Add stir-fry sauce and chicken to vegetables in skillet. Cook until sauce is thickened, about 1-2 minutes. Season with a few drops of Sriracha sauce or a pinch of red pepper flakes–according to your tastes.

Sprinkle with 2 tablespoons toasted sesame seeds. Serve with short grain rice.
Nutrition
Nutrition Facts
Chinese Chicken and Green Beans with Sesame Seeds
Amount per Serving
% Daily Value*
* Percent Daily Values are based on a 2000 calorie diet.
Did you like this? Leave a 5-star rating inside the recipe at the top! 🤩 No comment is required.