Chicken, Cannellini, and Spinach Soup is an easy-to-make soup especially good for a rainy day or after a weekend of indulgence. Add pesto on top for extra flavor.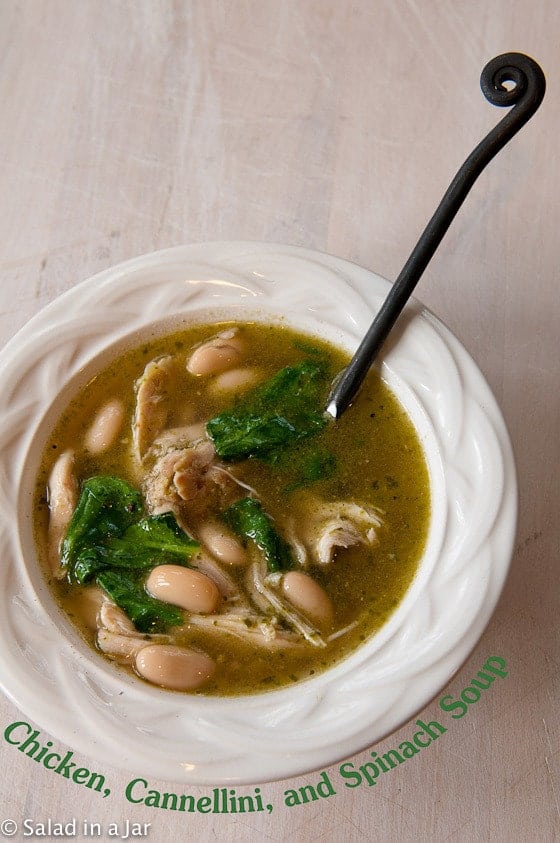 As I continue to grieve the loss of my mother, I can't seem to focus on any one thing very long. Has anybody else experienced this? Seems like nothing is quite as important as it used to be, including cooking a good meal.
But my life is not just about sadness these days.  Yesterday, our family was blessed with the birth of a brand new baby girl, born to my youngest son and his wife. God's antidote for the hole in my heart couldn't be more perfect or amazing.
One of my not-so-lofty goals in life is to build a library of quick and easy-on-the-waistline recipes for times like these. You know the drill:  few ingredients, lots of healthy flavor, speedy assembly and dirty dishes that wash themselves. (I wish.)
I recently ran across this soup recipe in the Parade newspaper supplement published February 2015. It appeared easy enough with only 5 ingredients, and calls for chicken stock made from the carcass of a rotisserie chicken as the base.
You could substitute canned broth or bouillon cubes reconstituted with water. Personally, I prefer to make my own broth with rotisserie chicken and freeze it. Just know, the better your broth, the better your soup will taste.
The instructions suggest a dollop of pesto on top. You could leave that out, but I highly recommend it for increased flavor that makes this soup a home run. In my opinion, the soup looks more appetizing if you stir the pesto into the soup instead of letting it float on top.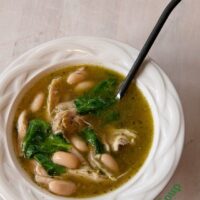 Chicken, Cannellini, and Spinach Soup
5 ingredients make this a light and healthy week-day chicken soup, especially after a weekend of indulgence.
Ingredients
4 cups chicken stock
2 cups shredded cooked chicken
1 (15-oz can) cannellini or white beans, drained
4 cups baby spinach leaves
1-2 tablespoons pesto
Instructions
Heat first three ingredients in a medium saucepan.
Add spinach leaves and cook until wilted.
Stir in pesto. Serve hot.
Recommended Products
As an Amazon Associate, I earn from qualifying purchases. But don't worry. This doesn't change the price you pay.
Nutrition Information:
Yield:

4
Serving Size:

1
Amount Per Serving:
Calories:

389
Total Fat:

16g
Saturated Fat:

4g
Trans Fat:

0g
Unsaturated Fat:

11g
Cholesterol:

73mg
Sodium:

560mg
Carbohydrates:

29g
Fiber:

8g
Sugar:

5g
Protein:

33g
 Posts Related to Chicken, Cannellini, and Spinach Soup