Take creamed corn from mundane to memorable with this recipe for Creamed Corn with Maple Bacon.
Do you have a way to help people remember your name?
When people do this for me, I am most appreciative. I met a man the other night who introduced himself as "Don." He didn't look like a "Don" to me. But then he said, "like Don Juan." I can remember that for a long time.

Another example: I often say, "My name is Paula, like Paula Abdul on American Idol." (Outdated, I know.)
But just for today, I'm saying, "My name is Paula, like Paula Deen." (I'm pretty sure I have more in common with Paula D. than Paula A. anyway.) My younger sister sent me Paula Deen's newest cookbook for Christmas, and one of the recipes inspired me to dress up a family favorite for special meals.
My older sister makes an easy creamed corn dish that my husband loves. It's so simple really– you don't even need a recipe.
How to make Kay's creamed corn…
Dump a can of creamed corn into a medium-sized pan along with 2-4 tablespoons butter. Add another can of whole kernel corn or an equal amount of frozen corn. Stir. Simmer on low heat for a while (30 minutes), until it becomes thick and slightly caramelized.
That's it! Simple, eh?
Paula Deen gave me the idea to top it off with maple bacon. However, she added it to hominy in her recipe. The bacon takes creamed corn to new heights.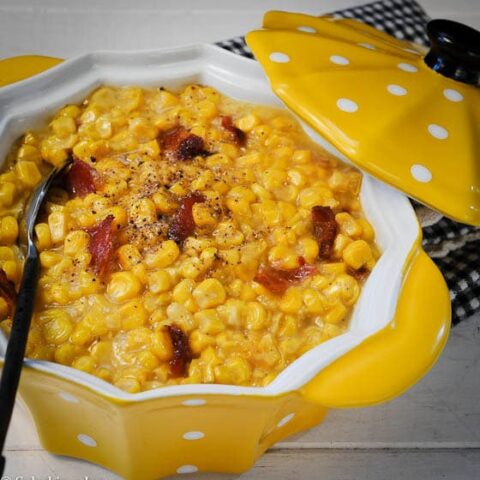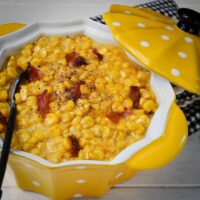 Creamed Corn with Maple Bacon
Everyday creamed corn gets dressed up for dinner with a slightly caramelized sauce and maple bacon.
Ingredients
4 strips bacon
Maple syrup
1-2 tablespoons butter
1 14-3/4 oz can creamed corn
1 14-3/4 oz can whole-kernel corn (may substitute 1-1/4 cup of frozen or fresh corn)
1 teaspoon sugar
Freshly ground pepper
Instructions
Brush bacon with maple syrup. Arrange in a single layer on a baking sheet lined with parchment paper or a silicone mat. Bake at 375 for 25 minutes or until golden and crispy. Allow to cool. (A note from the voice of experience: Do not lay bacon on a paper towel to cool as bacon will stick to it like glue. Either leave in the pan or use a rack.)
While bacon cooks, melt butter in a heavy saucepan or skillet.
Add corn and sugar.
Heat on top of the stove on low approximately 20- 25 minutes, until thickened.
Stir in crumbled bacon and top with pepper.
Notes
This recipe doubles easily and I recommend you do so for company.
If you like your corn creamier, add heavy cream just before you add the bacon until it's the consistency you like. Decadent!!
Nutrition Information:
Yield:

6
Serving Size:

1
Amount Per Serving:
Calories:

162
Total Fat:

7g
Saturated Fat:

3g
Trans Fat:

0g
Unsaturated Fat:

3g
Cholesterol:

18mg
Sodium:

342mg
Carbohydrates:

22g
Fiber:

2g
Sugar:

6g
Protein:

5g
p.s. Merry Christmas to all of you, and may God bless you in 2012. Thank-you for your encouragement, support and most of all, coming back to visit again and again.
If you make this and enjoy the recipe, it would help me and others if you would return to this post and leave a rating (on the recipe card itself underneath the picture). Although always appreciated, no comment is required. Thanks so much! Paula
Posts Related to "Make Creamed Corn Memorable With Maple Bacon"