This amazing Microwave Custard Pie Filling is cooked in the microwave resulting in the smoothest texture with no fear of scorching. You won't believe how easy and fast this recipe is to make.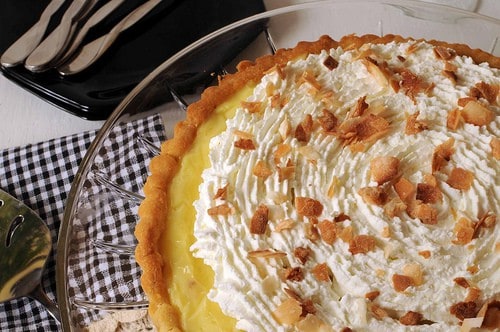 You might have noticed my love affair with the microwave. (Microwave Lemon Curd, Caramelized Nuts, Emergency Microwave Brownies) It began in 1970 when my mom purchased an Amana microwave oven.
They were new on the market at the time, costing around 500$ as I remember. Nobody we knew had ever heard of them. I loved showing it off to my friends. Baked potatoes in minutes, leftovers reheated almost instantly, popcorn in a paper bag–oh, the miracles that happened in the tiny cavity of those first ovens. Never mind the burned spots, exploding eggs, or sparking stray twisties.
In the eighties, I taught microwave cooking schools as appliance companies and stores sought to sell and then educated consumers.

Nowadays, the novelty seems to have worn off microwaves for a lot of people. Some are suspicious and wary, and that's OK for them. But if you're like me, every minute counts. When I can save time and get the same or better results, I'm in!
Say Good-bye to Pudding Mix
You can make pie filling or pudding nearly as fast in the microwave as you can with a mix, but it will taste a hundred times better. You can also make it from scratch on top of the stove with a double boiler. Nevertheless, I still think it's easier in the microwave.
This method of cooking a cream/custard filling applies to most any custard recipe. I have yet to find one that won't work. Try this with your grandmother's chocolate pie, a favorite banana pudding or a soft custard sauce.
How to Make Cream/Custard Filling in the Microwave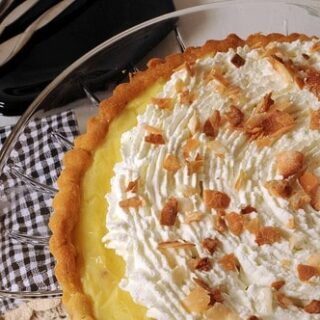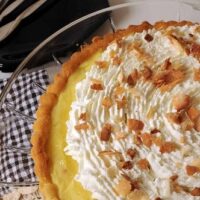 Amazing Microwave Custard for a Pie or Tart
A smooth and tasty vanilla custard cooked in a microwave oven.
Ingredients
2 1/4 cups milk (I prefer 2% or whole)
4 egg yolks
2/3 cup sugar
1/4 cup cornstarch
1/8 teaspoon salt
1 teaspoon vanilla extract
2 tablespoons butter
Instructions
Dump milk, egg yolks, sugar, cornstarch and salt into blender or food processor. You could also whisk it well but results may not be as smooth. Blend for about 10 seconds. There may be a lot of foam. That's OK–it will disappear when cooked.
Pour into 2-quart glass batter bowl. (DO NOT USE A SMALLER CONTAINER–it could boil over and make a mess.) Cook in microwave on HIGH for 5-7 minutes. Whisk well after each minute. After 4 minutes, whisk every 30 seconds. Watch filling carefully. Do not answer the phone. Do not pass GO. Do not collect 200$! It will become thick in a split second and you want to be there to whisk and make sure filling cooks evenly. When this happens it may look like a big lump rising up in the middle or one side. Whisk furiously and it will all smooth out. Trust me. Keep cooking until the custard is thick as pudding ,but do not allow to boil. If it should turn out lumpy (beginner's luck), put it through a sieve immediately.
Stir vanilla and butter into thick custard.
Press plastic wrap over the surface to prevent a skin from forming. Let cool on the counter (or in ice bath if you are short on time) until lukewarm, then pour filling into prepared crust. Again press plastic wrap against surface and refrigerate until filling is cold and firm.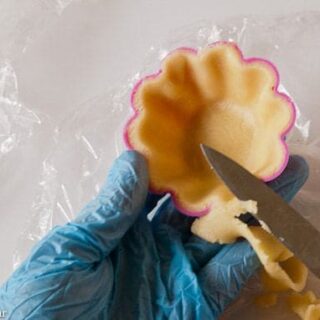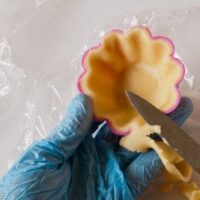 Shortbread Cookie Crust
Total Time:
2 hours
15 minutes
A buttery sweet crust that goes well with any flavor custard or cream filling.
Ingredients
1 1/4 cup all-purpose flour
1/3 cup powdered sugar
1/4 teaspoon salt
1/2 cup (1 stick) chilled butter, cut into 8 pieces
1 large egg yolk
1 tablespoon heavy cream
1/2 teaspoon vanilla extract
Instructions
Combine flour, sugar and salt in food processor. Cut butter into 8 slices and add to flour, pulsing several times until mixture resembles oatmeal. Add egg yolk mixed with cream. Pulse until all ingredients are moistened. Allow machine to run a few seconds until dough starts to stick together. (Add additional drops of cream if dough seems too dry.) Press dough into a roll like refrigerated cookie dough. Wrap in plastic and chill 30 minutes.
Spray tart molds generously with Baker's Joy or something similar. (Baker's Joy is an aerosol spray that mixes flour and oil.) If using silicone molds, no greasing is necessary.
Slice the roll of dough into 13 pieces. Using a rolling pin, roll dough between two pieces of plastic wrap into a circle slightly larger than tart molds. Press dough into a mold with fingers being careful to keep thickness consistent. Use a knife to trim off any extra dough hanging over the top. I usually have enough scraps to make another tart or two. Freeze for at least 30 minutes, overnight or up to a month.
Preheat oven to 400 degrees F.
Place frozen tart shells on a cookie sheet and lay a small square of non-stick foil on top of each crust, non-stick side down. Use your fingers to push foil against the insides of each crust. See picture above or video.
Bake at 400 degrees for 10 minutes. Remove foil and continue to bake until golden brown, usually about 3-4 minutes.
Recommended Products
As an Amazon Associate, I earn from qualifying purchases. But don't worry. This doesn't change the price you pay.
Nutrition Information:
Yield:

14
Serving Size:

1
Amount Per Serving:
Calories:

180
Total Fat:

14g
Saturated Fat:

9g
Trans Fat:

1g
Unsaturated Fat:

4g
Cholesterol:

63mg
Sodium:

148mg
Carbohydrates:

11g
Fiber:

0g
Sugar:

3g
Protein:

2g
How To Make Coconut Cream Tart as Pictured
Add 1/2 to 1 cup toasted coconut (which can also be done in the microwave) and a dash of coriander to the filling. Pour filling into cookie pie crust. There might be a little too much filling for the tart but if you make a 9-inch pie, you will need it all. Cover tart with sweetened whipped cream and garnish with toasted coconut shavings.
Speaking of coconut shavings, they are sold in a bag at my local Krogers next to the usual grated coconut. When toasted, they make the most wonderful topping for yogurt or as a snack all by themselves.
Posts Related to Microwave Custard Pie Filling