These Chocolate Cake and Ganache Pops are egg-shaped, made with my favorite chocolate cake and chocolate ganache, then dipped and decorated.
It was a passing comment that got me to thinking.
My boss recently mentioned she regularly takes treats to show her appreciation to the people who care for her aging relative. She inspired me to consider what I could do for those who watch after my mother.
Then it hit me. Cake pops!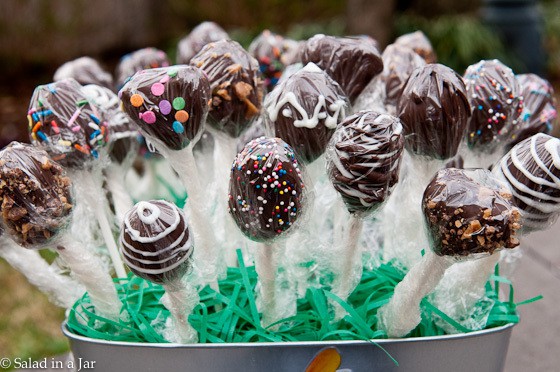 They are already portioned, individually wrapped, don't need refrigeration, and stay fresh for days. Perfect for a break room snack …or office parties, showers, visiting grandkids, bribes, etc.
You can do this!
I'm no fancy cake decorator. Perhaps you've noticed. But with a few sprinkles and some small zippered plastic bags with a snipped off corner, you can dress these cake pops up just enough to make them unique and show somebody you care.
It is not my intent, nor am I qualified to give you a detailed cake pop tutorial. Visit Bakerella for that. Get the how-to here.
Instead, I have recipes to share. Most people make these pops with cake crumbs from a mix and a can of frosting to "glue" the bits together.
I prefer to make this Chocolate Cake with Yogurt and use chocolate ganache instead of frosting as the "glue."  It makes for a completely decadent treat that is not so sugary sweet.
My husband wants me to tell you that you need a plate to eat these, unless you eat them in one bite.
How I Turn Chocolate Cake with Yogurt and Chocolate Ganache into Cake Pops:
For me, this method results in only a few tasty rejects:
#1
Bake a cake.
Allow to cool completely. Crumble cake into a large bowl.
#2
Make ganache.
Immediately pour the ganache into a bowl of cake crumbs and mix lightly with your hands (another use for exam gloves in the kitchen). Chill.
#3
Use an ice cream or cookie dough dipper to portion into balls.
Roll with hands or on wax paper to make a smooth ball. Chill.
#4
Melt chocolate coating.
Place melted chocolate coating into a narrow jar or cup. Carefully dip each chilled cake ball into chocolate and tap on the side several times to let excess coating drip back into melted chocolate.
#5
Poke finished cake pop into styrofoam square.
I used styrofoam left in a big TV box. This method is a great way to let your pops dry. It won't take long. If you want to decorate with sprinkles, do it quickly before chocolate gets hard.
If you want to decorate with chocolate, put a small amount of melted chocolate coating (white or chocolate) into a plastic pint or snack-size bag. Seal, then snip a tiny hole off of one corner and allow chocolate to drip over cake pop in the pattern of your desires.
Credits:
This recipe is adapted from Epicurious, then halved, in keeping with my philosophy about making desserts in smaller sizes. It still makes 50-60 cake pops depending on the size.
Wishing all of my readers, friends, and family a blessed and happy Easter. Love, Paula
If you make this and enjoy the recipe, it would help me and others if you would return to this post and leave a rating (on the recipe card itself underneath the picture). Although always appreciated, no comment is required. Thanks so much! Paula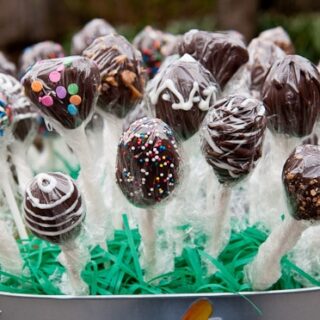 A Chocolate Cake with Yogurt-Perfect for Cake Pops
Total Time:
1 hour
10 minutes
A moist chocolate cake with yogurt--perfect for cake pops, cupcakes or a layer cake
Ingredients
1.5 ounce semi-sweet chocolate (I like Ghiradelli)
3/4 cup hot, brewed coffee
1-1/2 cup sugar
1-1/4 cup all-purpose flour
3/4 cup unsweetened cocoa powder
1 teaspoon baking soda
1/3 teaspoon baking powder (or a generous 1/4 teaspoon)
1/2 teaspoon salt
1 egg + 1 egg yolk
1/3 cup canola oil
3/4 cup yogurt thinned with milk to consistency of buttermilk
1/2 teaspoon vanilla extract
Instructions
Preheat oven to 300 degrees.Chop semi-sweet chocolate and place in small bowl. Add coffee and allow to sit while chocolate melts stirring occasionally until smooth.
Sift together sugar, flour, cocoa powder, baking soda, baking powder, and salt.
In large mixing bowl, mix eggs until lemon-colored and thick. Add oil, yogurt, vanilla extract, and melted coffee/chocolate mixture and mix until well blended.
Add dry ingredients. Mix just until all ingredients are combined well. (This will create a flour blizzard. I like to cover my mixer with a tea towel in the beginning.)
Pour into a greased and floured (or lined with greased wax paper) 11 x 7 inch rectangular pan (or similar 10-cup pan). Bake for 50 minutes or until toothpick poked in the middle comes out clean.
Nutrition Information:
Yield:

55
Serving Size:

1
Amount Per Serving:
Calories:

60
Total Fat:

2g
Saturated Fat:

0g
Trans Fat:

0g
Unsaturated Fat:

1g
Cholesterol:

7mg
Sodium:

60mg
Carbohydrates:

9g
Fiber:

0g
Sugar:

6g
Protein:

1g
Nutritionals do not include dipping chocolate or anything you might add to make cake pops.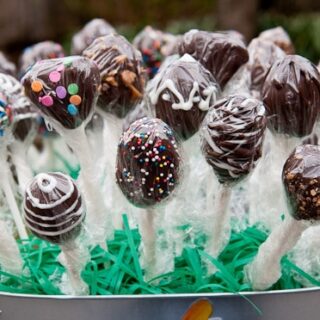 Chocolate Ganache
An easy chocolate ganache useful for a tart filling, cake pops, or cake glaze
Ingredients
4 ounces bittersweet chocolate
1/2 cup + 1 tablespoon heavy cream
2 tablespoons butter (room temperature)
Instructions
Chop chocolate and place into a small heatproof bowl.
Heat cream in microwave just until it starts to boil. (Usually less than a minute. Watch it.)
Pour over chocolate and let sit until chocolate is melted or about 1 minute.
Using a spatula or whisk, begin stirring chocolate slowly, making small circles in the center, then moving toward the outside and making bigger circles until chocolate and cream are combined and smooth.
Divide butter into 4 pieces and add each piece to chocolate one at a time, stirring gently until butter melts. The less you stir, the shinier and richer it will look.
Nutrition Information:
Yield:

8
Serving Size:

1
Amount Per Serving:
Calories:

123
Total Fat:

11g
Saturated Fat:

7g
Trans Fat:

0g
Unsaturated Fat:

4g
Cholesterol:

10mg
Sodium:

27mg
Carbohydrates:

4g
Fiber:

2g
Sugar:

0g
Protein:

2g
RELATED POSTS: