Chocolate Fudge Pecan Pie is a fudge-y dessert with a brownie kind of texture in a classic pie crust. Serve with whipped cream or ice cream for maximum o-o-o-ohs and ah-h-h-s.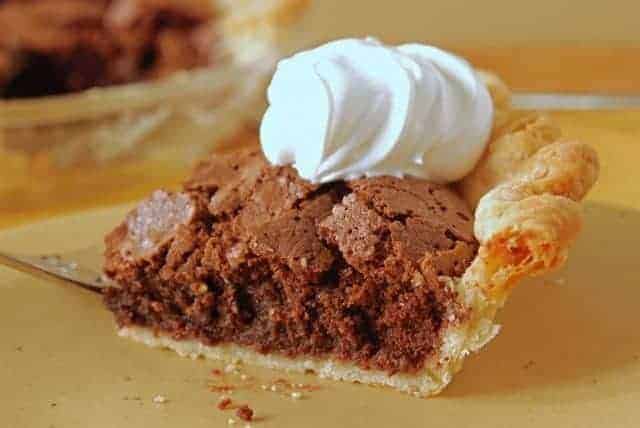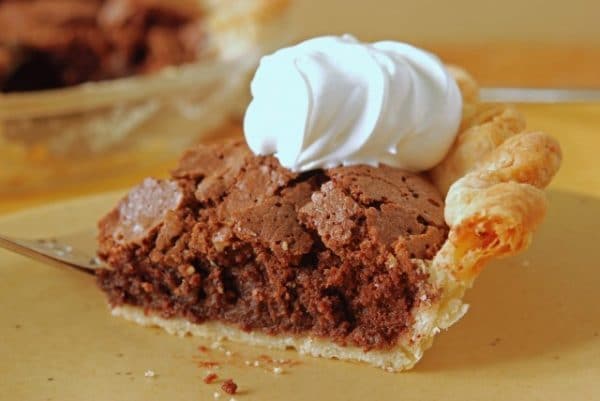 I have a new mission in life. I'm getting rid of a bunch of my old cookbooks. Most have only one or two recipes I use regularly. So I plan to start posting the best recipes here. Then that cookbook goes out the door.
Of course, as soon as I get rid of one, I will wish I had that cookbook back. But it's a risk I'm willing to take. I love to clean things out and get rid of clutter–gives me a feeling of control, even if it's a delusion.
This particular recipe for Chocolate Fudge Pecan Pie comes from a Dallas Community Recipes cookbook. It's good for unexpected company or emergencies. ("Funeral tomorrow–what can you bring?")
Guessing you already have the ingredients in your fridge or pantry. If not, they are readily available–even at the local 7-11. And it's easy. Doesn't require you to haul out the big mixer. Which means you won't have many dirty dishes either. A winner!
Lick the mixing bowl and you will think of brownies-a light brownie with pecans. Recommend serving this with ice cream or whipped cream to cut the richness. Try it with my coffee ice cream.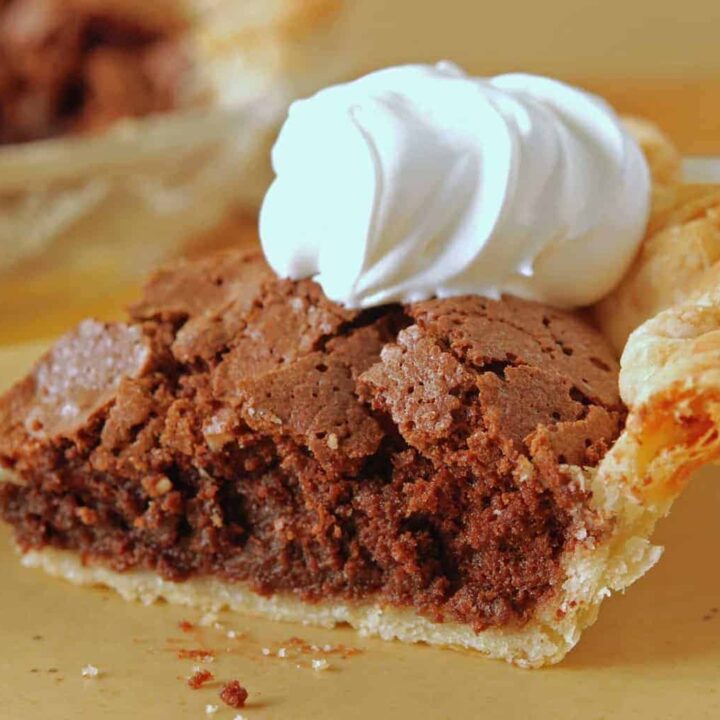 Chocolate Fudge Pecan Pie
A fudge-y, brownie-like pie in a classic pie crust.
Ingredients
4 whole eggs
1 1/2 cups sugar
3 ounces unsweetened chocolate, melted
5 tablespoons butter, melted
1 teaspoon lemon juice
1/2 cup pecans, toasted and chopped
One 9-inch pie shell, unbaked
Instructions
Mix eggs and sugar with a whisk. Add melted butter and chocolate. (I melt it in a pyrex dish in the microwave for 2 minutes on MED.) Add in remaining ingredients.
Pour into unbaked pie shell. Bake at 375 degrees for about 35 minutes. The pie should still be somewhat shaky when removed from oven. Do not chill. Serve with ice cream or whipped cream if desired. Cut small pieces--it's rich.
Notes
1. If you have a 7-inch pie plate, cut the recipe in half and it will be the perfect size for 6 people.
2. It is normal for pie to puff up in the oven--and then crash like a souffle as it cools leaving a crackly, crunchy top with soft, luscious filling underneath.
Recommended Products
As an Amazon Associate, I earn from qualifying purchases. But don't worry. This doesn't change the price you pay.
Nutrition Information:
Yield:

8
Serving Size:

1 slice
Amount Per Serving:
Calories:

416
Total Fat:

22g
Saturated Fat:

10g
Trans Fat:

0g
Unsaturated Fat:

11g
Cholesterol:

112mg
Sodium:

127mg
Carbohydrates:

51g
Fiber:

3g
Sugar:

40g
Protein:

6g
Related Posts: