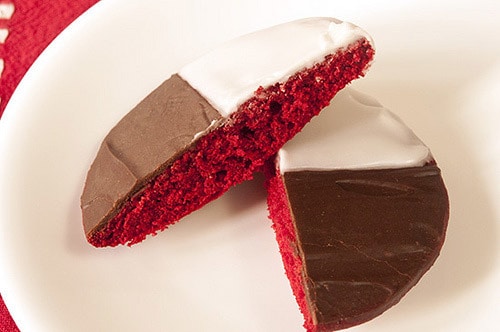 Deciding on Refreshments To Carry Out the Color Theme
The shower hostess group I belong to at church got to host a wedding shower last week for a special couple named James and Jenna.
After learning the bride's colors were red, black and silver, my imagination went crazy. What could we serve that would taste good, be a little different and still carry out the color scheme? We wanted something totally off-tradition.
We have a reputation for going against the grain.  For example, we've done a pie bar, mini-bundt chocolate cakes and Gooey Chocolate Cakes with Coffee Ice Cream in the past.  
Then I remembered a post I published recently on Black and White Cookies–the traditional kind with white batter and a subtle lemon flavor. How would they taste if I used a red-velvet-cake-kind of recipe instead? 
I set to work experimenting with my original recipe. After what seemed like at least 100 bottles of red food coloring, this is my recipe for Black and White Red Velvet Cookies. The frosting is the same for both cookies.
These gorgeously-colored red cookies with a cake-like texture have a mild chocolate flavor with the barest hint of almond. One of Helen Corbitt's (a strong influence from my past) favorite tricks was to dip her measuring spoon in almond extract before measuring out the vanilla. 
I do this a lot (sometimes more than a dip), especially in ice cream and pudding but also anything chocolate.
Implementing Our Plan To Make Black and White Red Velvet Cookies for a Crowd
My friend Debbie (second from the right in picture below), the leader of our hostess group, offered to help bake since we estimated needing at least 45-50 cookies. Saturday night before the shower we produced 3 batches and slathered chocolate frosting on one side leaving them to dry overnight. 
I woke up nervous that we didn't bake enough so I hopped out of bed early Sunday morning before church to make another batch. At this point, the cookies started to take over the kitchen and dining room and I began feeling like a big blob of frosting.
We made them big since they would be the main event with sides of nuts, mints and punch. Each batch produced 14-16 cookies using two ice cream scoops for each cookie. Of course, we had some rejects and a few had to be taste-tested by the husbands.
Once the shower started, it appeared we might run out of cookies. The tray of emergency-only rejects were retrieved from my car.  It was difficult to decide which would be more embarrassing–to serve ugly cookies or have to tell our guests we had no more cookies. Of course, everything worked out in the end. (Thank-you God.)
This shower was special because both the bride and groom grew up in our church so their parents have been friends for a long time.  As you can imagine, guests and gifts were plentiful to honor this special time in the lives of James and Jenna. May God bless their marriage.
Black and White Red Velvet Cookies
The traditional black and white cookie gets dressed up in red velvet. Fun for Christmas or Valentine's Day.
Ingredients
2 cups flour
1/2 teaspoon baking soda
1/2 teaspoon salt
1/2 cup butter (room temperature)
1 cup sugar
1 egg
1 teaspoon vanilla
1/8 teaspoon almond (optional)
3/4 cup buttermilk or unflavored yogurt thinned with milk to same consistency as buttermilk
2 tablespoons cocoa
1 oz red food coloring (1 bottle)
1 ounce unsweetened chocolate
1 ounce semi-sweet chocolate
2 teaspoons butter
2/3 cup confectioners' sugar
2 tablespoons boiling water
2 teaspoons light corn syrup
1/2 teaspoon vanilla extract
2 cups confectioners' sugar
3 tablespoons hot milk
1 tablespoon corn syrup
1/2 teaspoon vanilla extract
Pinch salt
Instructions
Preheat oven to 400 degrees F.
Spray cookie sheets with vegetable oil or cover with parchment paper or silicone baking sheet.
Sift together flour, soda and salt.
Beat butter until smooth and light in color. Add sugar and continue beating. Add in egg and beat until light and fluffy. Add flavorings.
Gently add flour mixture alternately with the buttermilk or yogurt, combining just until mixed. Combine cocoa and red food coloring in separate bowl, stirring until smooth. Add to cookie dough and mix thoroughly.
Using an ice cream scoop, dip cookie dough and place on tray. These cookies with spread out a lot so give them plenty of room. Using an ice cream scoop gives the best chance of producing a perfectly round cookie.
Bake in preheated oven for 10 minutes. Cookies should be only light brown on the bottom. Remove baked cookies from tray immediately and allow to cool on a rack. If cookies cool on baking sheet, the bottoms will get soggy and give you crumbs when you get ready to frost.
Chocolate Glaze
Microwave chocolate and butter for 1 minute. Stir to enable complete melt without scorching. Add in sugar, boiling water, syrup and vanilla. Beat until smooth. If glaze gets too thick to spread evenly, add a few drops of boiling water.
Vanilla Glaze
Add hot milk to confectioners' sugar and stir until smooth. Add remaining ingredients, stirring again until smooth. If glaze gets thick, add a few drops of hot milk.
Directions for Frosting Cookies
The frosting traditionally goes on the underside of the cookies. It's easier to get a smooth finish if you use an offset spatula. Be careful not to use so much icing that it drips off the side and looks messy. Experiment with the consistency of the icing so it is neither too thick nor too thin.
Frost half of each cookie with chocolate icing. Use the long side of your knife to straighten the icing along the middle. Allow to dry.
Now frost the other half of each cookie with the white icing, carefully butting the vanilla icing up against the chocolate icing. Allow to dry before storing or serving.
Honestly, frosting these cookies takes a bit of time but with practice it goes much faster.
Makes 21 "baby" cookies or 12 hugemongous cookies if you want to be more authentic.
Notes
Makes 21 "baby" cookies or 12 hugemongous cookies if you want to be more authentic.
Recommended Products
As an Amazon Associate, I earn from qualifying purchases. But don't worry. This doesn't change the price you pay.
Nutrition Information:
Yield:

21
Serving Size:

1
Amount Per Serving:
Calories:

224
Total Fat:

7g
Saturated Fat:

4g
Trans Fat:

0g
Unsaturated Fat:

2g
Cholesterol:

24mg
Sodium:

182mg
Carbohydrates:

38g
Fiber:

1g
Sugar:

27g
Protein:

4g
Posts Related to Black and White Red Velvet Cookies