Preview: These Chocolate-Dipped Shortbread Cookies are decorated with toffee bits, Skor, or Heath bar pieces. They make a delicious addition to your holiday cookie tray.
The wonderful lady who gave me this recipe called it "shortbread." Is it really shortbread? No matter what you call it, you need this "fancy Nancy" type cookie for your next cookie tray.
The shape and chocolate dip will cause these cookies to stand out. Candy bar-lovers will be thrilled to find the pieces of Skor or Heath Bars sprinkled on the chocolate.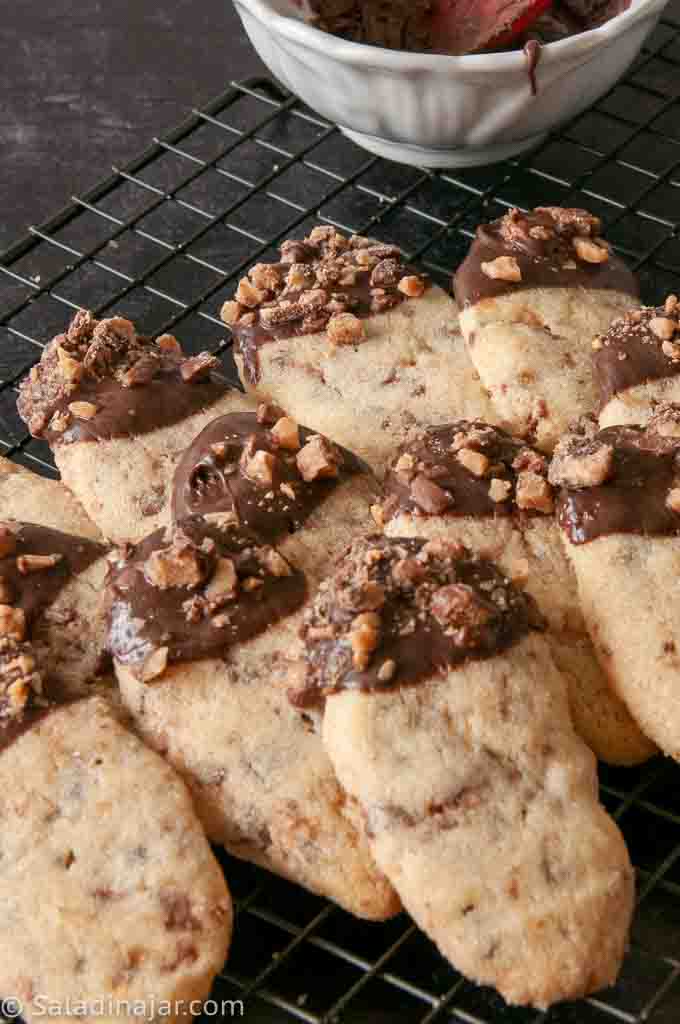 What's the definition of shortbread?
Traditionally, shortbread cookies have a ratio of 1 part sugar, 2 parts butter, and 3 parts flour (for a detailed explanation see this post on Kitchen Heals Soul). Salt and flavorings may be added.
In the case of this hand-me-down recipe, the ratios work out very close to the standard for shortbread
However, there is an aberration. 1 egg yolk has been added.
Why add the egg yolk?
The egg yolk helps to hold the cookie together, making it less crumbly and sturdier than traditional shortbread.
This is important when making a cookie tray. Cookies are often jostled about before reaching their final destination.
Or maybe you want to mail your cookies. The egg yolk will help preserve them in transport. Traditional shortbread is not normally the best traveler.
Adding the egg white tends to make a more cake-like cookie. Adding an egg yolk might cause some people to argue it's no longer shortbread. I'm calling it a "variation."
What can I substitute for the chocolate-covered toffee bits?
First of all, you can leave them out completely. I do it often for a simple cookie everybody will enjoy. Delicious!
Mini chocolate chips are a good alternative to the toffee bits. Regular-size chocolate chips will spoil the appearance. Your cookies will look like they have "chocolate-pox" (related to chicken pox) when you try to flatten them with a glass before baking.
Toffee bits are sometimes sold without chocolate. Another good choice.
If you can't find the "bits" (usually found in the same aisle as chocolate chips), buy some Chocolate Heath Bars or Skor candy bars. Chop them finely and you're good to go.
How to shape Chocolate-Dipped Shortbread Cookies: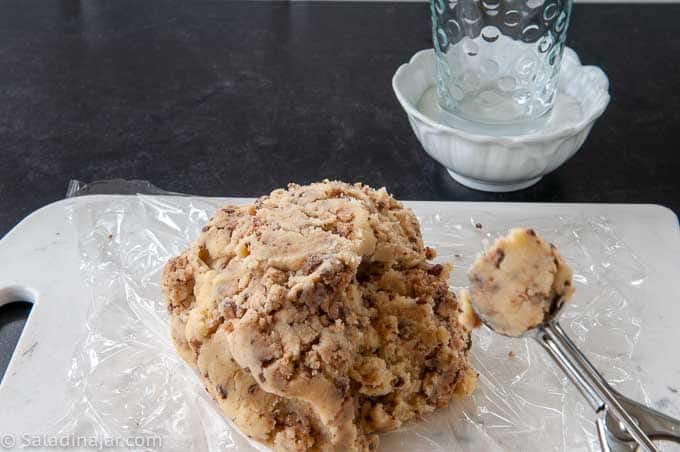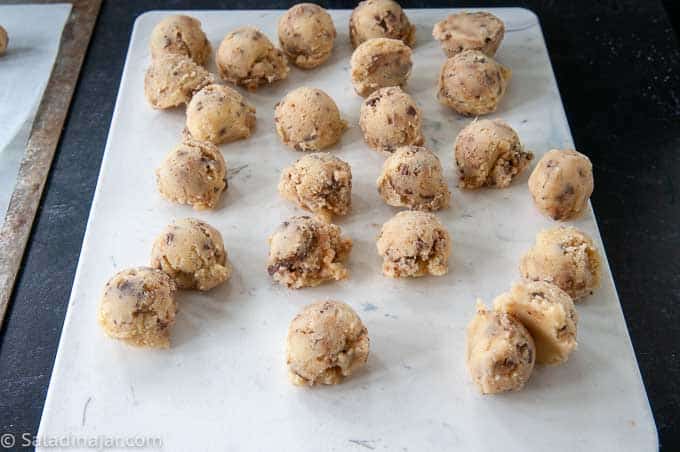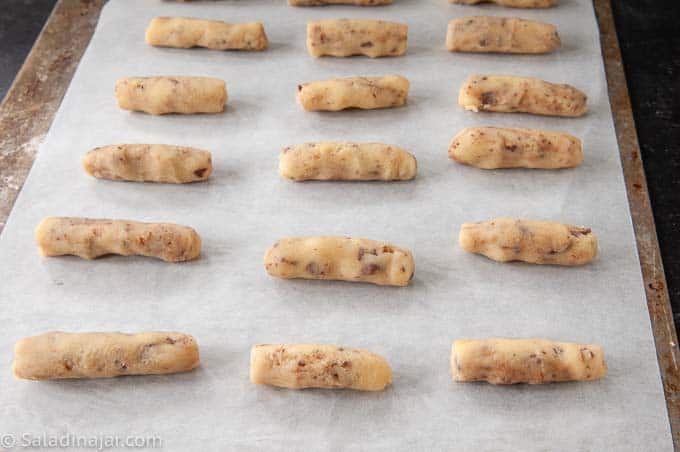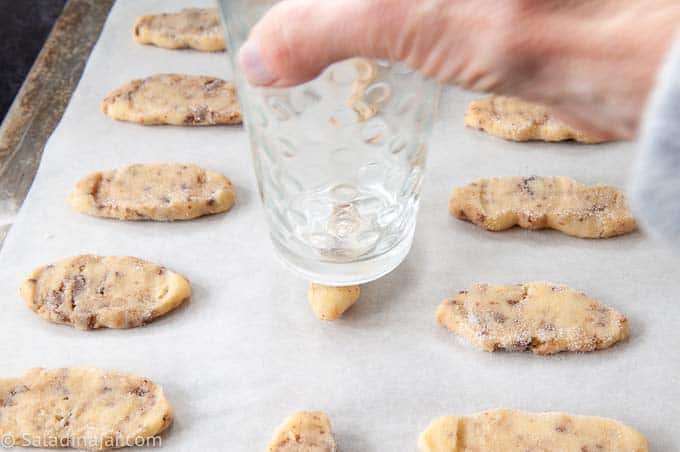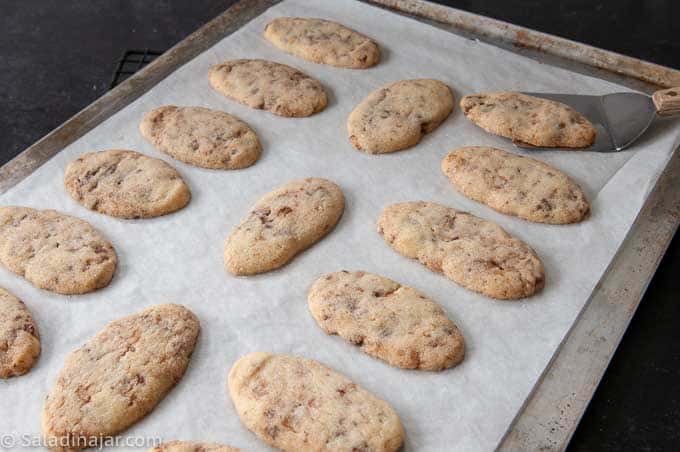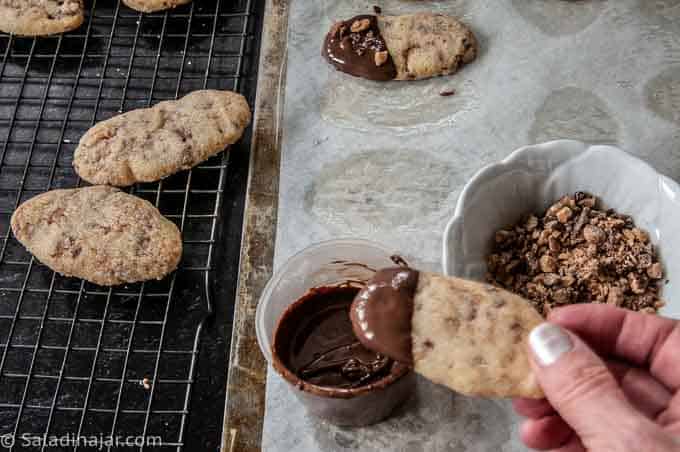 Kitchen Tip for coating Skor Shortbread Cookies:
If you use semi-sweet or bittersweet chocolate to coat the ends of the cookies, it's best to keep these cookies in the refrigerator.
If you use chocolate disks or squares made for coating, it's not necessary to refrigerate once the chocolate firms up and dries.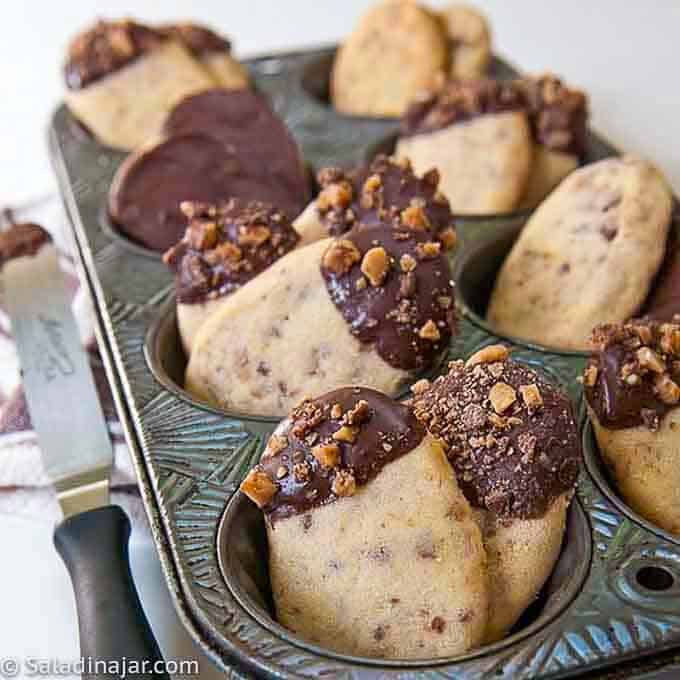 ---
Are you a cookie lover?
If you enjoyed this recipe, it would help others and me if you gave it a five-star rating inside the recipe card below. 🤩 No comment required. Thank you.

Hope to see you again soon!
Paula
p.s. Questions or suggestions? Please email me: Paula at saladinajar.com.
---