Gooey Chocolate Cakes have a soft chocolaty center when first removed from the oven. Serve these little cakes with ice cream or whipped cream.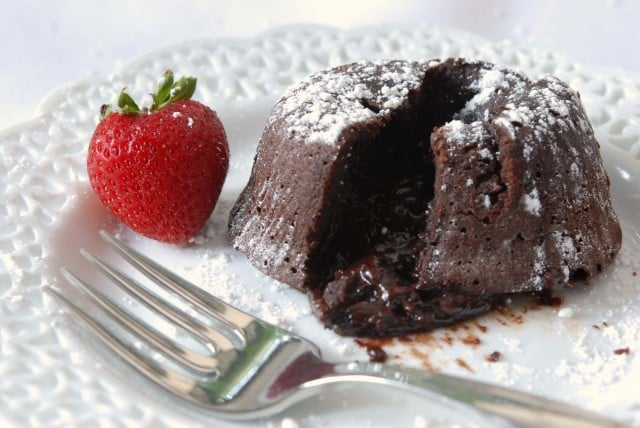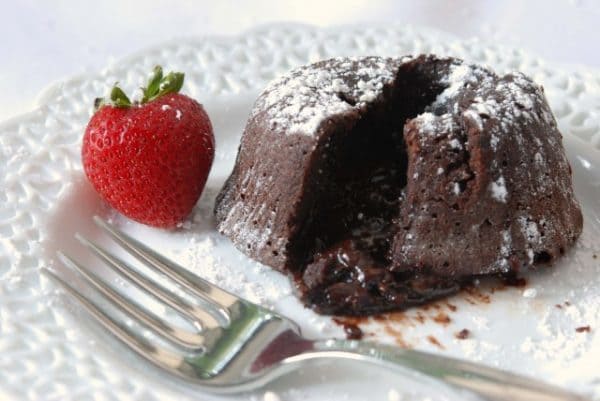 Back in June, my sister, Kay, invited me to come cook for a small group of college girlfriends who were staying at her house for a few days. For dessert one evening, I prepared these Gooey Chocolate Cakes I had seen in Dorie Greenspan's marvelous cookbook, Baking, from my home to yours.  Served with coffee ice cream–they were too delicious and rich for words.
Kitchen Secrets You Need To Make Gooey Chocolate Cakes Successfully
Can't recommend the disposable aluminum foil muffin pans enough.  They are easier to bend and manipulate to get the cakes out in one piece.  In addition, they can be washed (by hand only) and used again and again.
Another kitchen secret: Use the vegetable spray with flour in it i.e. Baker's Joy.  Although you could use a regular vegetable spray or butter and then coat with flour, it tends to show when you turn the cakes out after baking.  If you must, use cocoa so you won't see it on the final product.
Because every oven is different, I suggest a trial run with this recipe. Bake it too long and your cake won't have a gooey middle. Not long enough and you'll have raw cake dough. It will still be delicious but probably not what you're going for.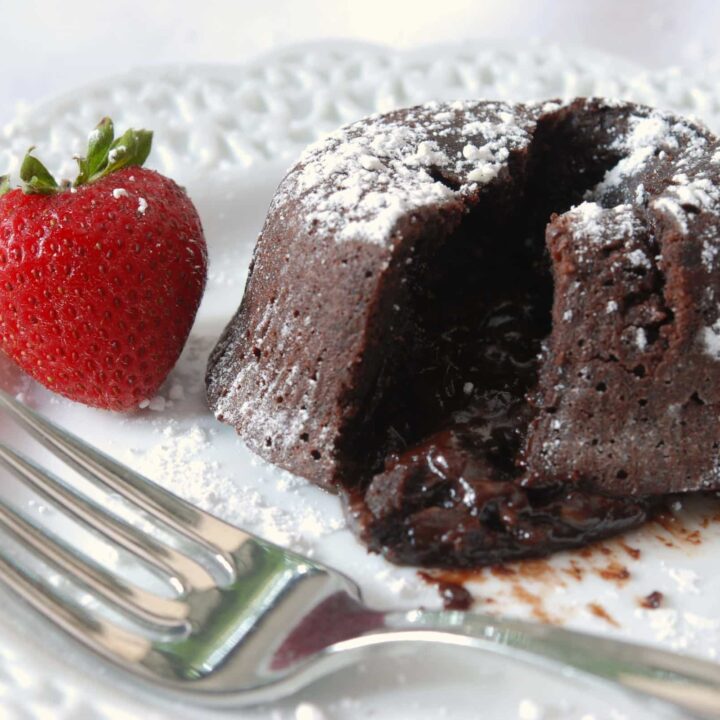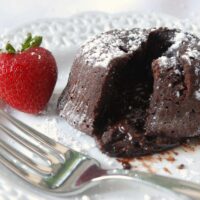 Gooey Chocolate Cakes
Individual chocolate cakes with a gooey chocolate center
Ingredients
1/3 cup all-purpose flour
3 tablespoons unsweetened cocoa
1/4 t. salt
5 ounces bittersweet chocolate, 4 ounces coarsely chopped, 1 ounce very finely chopped, (I like Ghiradelli best and it's readily available)
1 stick (8 tablespoons) unsalted butter, cut into 8 pieces
2 large eggs, at room temperature
1 large egg yolk, at room temperature
6 tablespoons sugar
Instructions
Preheat oven to 400 degrees. Use nonstick spray with flour in it to grease 6 cups of a regular-size muffin pan. Disposable aluminum foil pans work great. Place muffin pan on a baking sheet.
Sift the flour, cocoa and salt together.
Combine coarsely chopped chocolate and the butter in a glass batter bowl. Microwave on MEDIUM for 2 minutes. Stop and stir after one minute.
In a large bowl, whisk the eggs and yolk until smooth. Add the sugar and whisk until well blended, about 2 minutes. Add the dry ingredients and, still using the whisk, stir (don't beat) them into the eggs. Little by little, and using a light hand, stir in the melted chocolate and butter. Divide the batter evenly among the muffin cups (makes 6) and sprinkle the finely chopped chocolate over the batter.
Bake the cakes for 10-11 minutes. (See note) Transfer them, still on the baking sheet, to a rack to cool for 3 minutes. (There is no way to test that these cakes are properly baked, because the inside remains liquid.)
Line a cutting board with a silicone baking mat or parchment or wax paper, and, after the 3-minute rest, unmold the cakes onto the board. Use a wide metal spatula to lift the cakes onto dessert plates. Serve immediately.
Notes
Dorie suggests baking for 13 minutes. In my oven, they need less. You may have to experiment. Baked too long, the cakes will not be gooey. Still delicious, but not gooey. Serve with ice cream, whipped cream or custard sauce. They are also good the next day, especially heated in the microwave for a few seconds.
Recommended Products
As an Amazon Associate, I earn from qualifying purchases. But don't worry. This doesn't change the price you pay.
Nutrition Information:
Yield:

6
Serving Size:

1
Amount Per Serving:
Calories:

295
Total Fat:

21g
Saturated Fat:

12g
Trans Fat:

0g
Unsaturated Fat:

8g
Cholesterol:

165mg
Sodium:

137mg
Carbohydrates:

21g
Fiber:

1g
Sugar:

13g
Protein:

6g
Related Posts: