Homemade Chocolate-Covered Graham Crackers are incredibly scrumptious. You've never had fresher graham crackers in your life. Decorate like dominos and invite your family to play "Mexican Train."
I know, I know, I need a life.
As if it isn't bad enough to make your own graham crackers, then you have to go and decorate them?
Hey! I'm on vacation and this is my hobby. It's how I like to waste my time. But it sure is fun playing Martha and then taking pictures to remember the fun forever.
We started down memory lane…
After making graham crackers yesterday, my husband and I started reminiscing, He talked about his Aunt Pearl. I thought of my Grandma Herd. Then, my sister mentioned Grandma again after she saw yesterday's post. They all offered us chocolate-covered graham crackers when we visited their home.
Even if these are a blast from the past, they are so good and so easy. It would be a great project for the kids on a cold, rainy day or a nice addition to your cookie jar.
Rolling out Homemade Graham Crackers: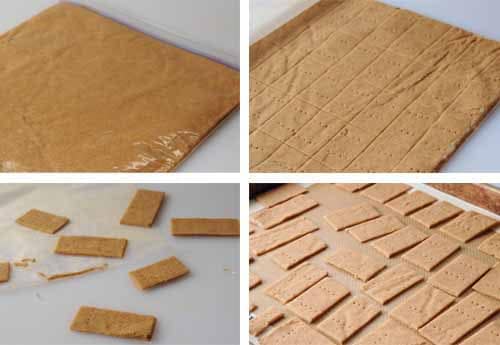 Place soft dough inside a gallon-size zippered plastic bag. Use a rolling pin to level out dough from corner to corner. Freeze dough until hard.
Peel back plastic on one side. Cut dough into preferred cracker size and use a fork to perforate.
Separate crackers.
Place on a lined (with a silicone mat or parchment paper) cookie sheet.
Directions for Decorating Homemade Graham Crackers:
First: Melt 1/2 cup semi-sweet chocolate chips in a small bowl in the microwave for 1 minute. Stir and return to microwave for however long it takes to melt the chocolate. Add a few drops of vegetable oil and stir. This will buy you time and spread-ability.
Second: Spread thin layer on top of each graham cracker and allow to dry. Refrigeration will speed up the process.
Third: Melt approximately 1/4 cup of white candy coating in small plastic snack bag in microwave oven for 1 minute. Massage sealed bag to be sure all chocolate is melted.
Fourth: Snip a small corner of the bag and decorate cookies as desired.
Note: I have used white chocolate chips for this in the past but found it difficult. The white coating or dipping chocolate works much better.