Here's a great party idea! Try serving an Ice Cream Sundae Mini-Tart Party Bar. Serve ice cream sundaes in fancy but simply embellished homemade mini-tart shells. Let guests pick their shell and their ice cream.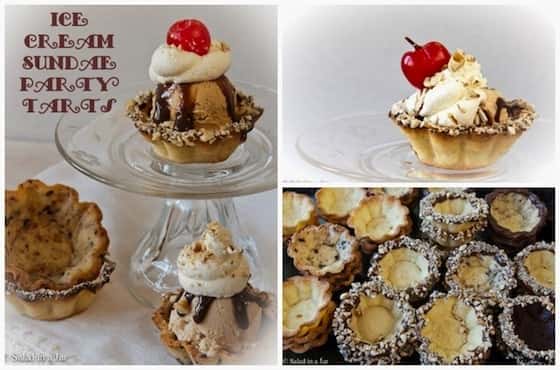 "When choosing between two evils, I always like to try the one I've never tried before." Mae West
What Mae said. That is pretty much my philosophy about dessert. Actually, I just love having choices, and evidently, other people like choices too, Have you noticed the way ice cream shops like to advertise the number of flavors they offer?
Before Thanksgiving, I helped host a wedding shower along with several other girls from my church. We wanted something different from the usual cake and punch routine.
I decided to embellish individual vanilla and chocolate cookie-crust tarts (make them yourself or buy at most large grocery stores) with chocolate, nuts, and coconut and use them as the base for miniature hot fudge sundaes.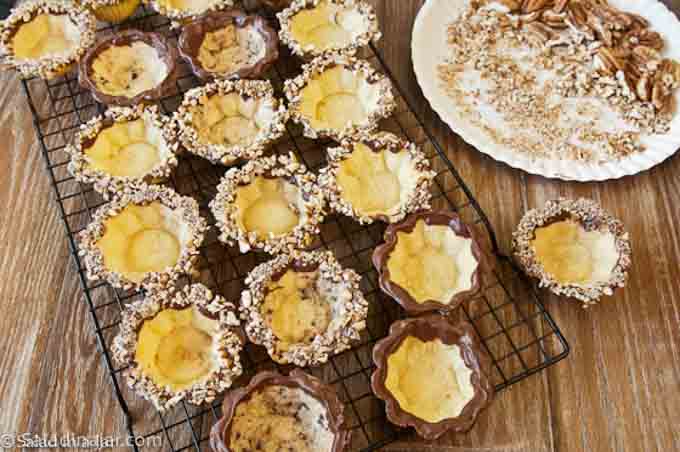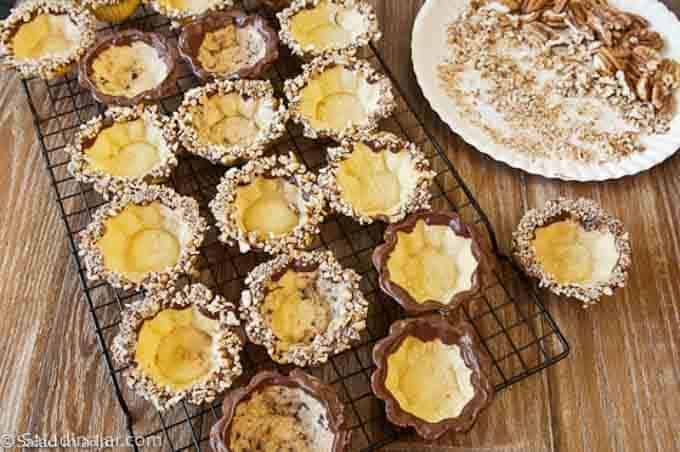 We offered three kinds of homemade ice cream along with the usual toppings– hot fudge sauce, whipped cream, nuts, and cherries.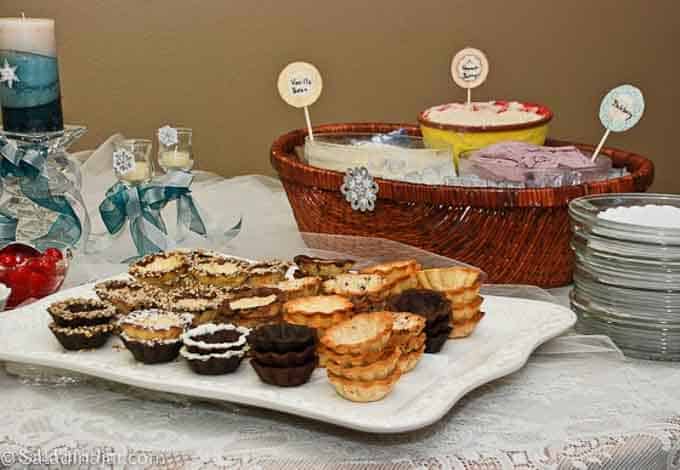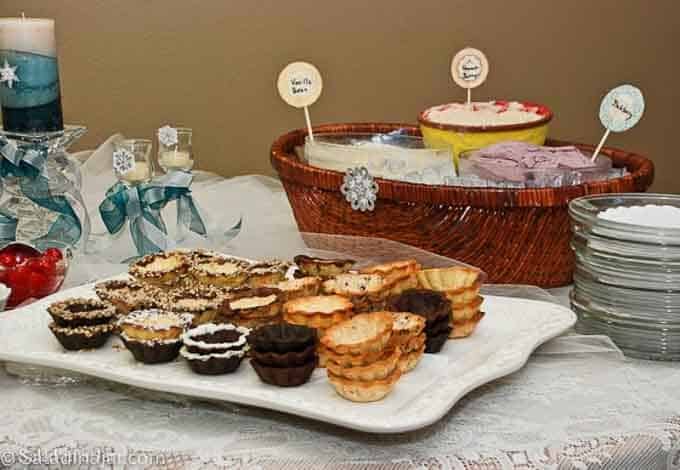 To hold the ice cream, I lined a large but shallow basked with plastic. We needed to keep it cold for about an hour as the shower was a come-and-go affair. A couple of containers of ice cream were on reserve in the freezer when the ice cream in the basket began to get too soft.
Notice the printed labels for the ice cream which made it easier for the guests to decide which flavor they wanted. We had homemade vanilla bean, homemade peanut butter, and blackberry with chocolate shards. I also had coffee ice cream from Starbucks (one of my favorites) in reserve. 
In reality, you don't need a lot of ice cream because the tart shells don't hold that much.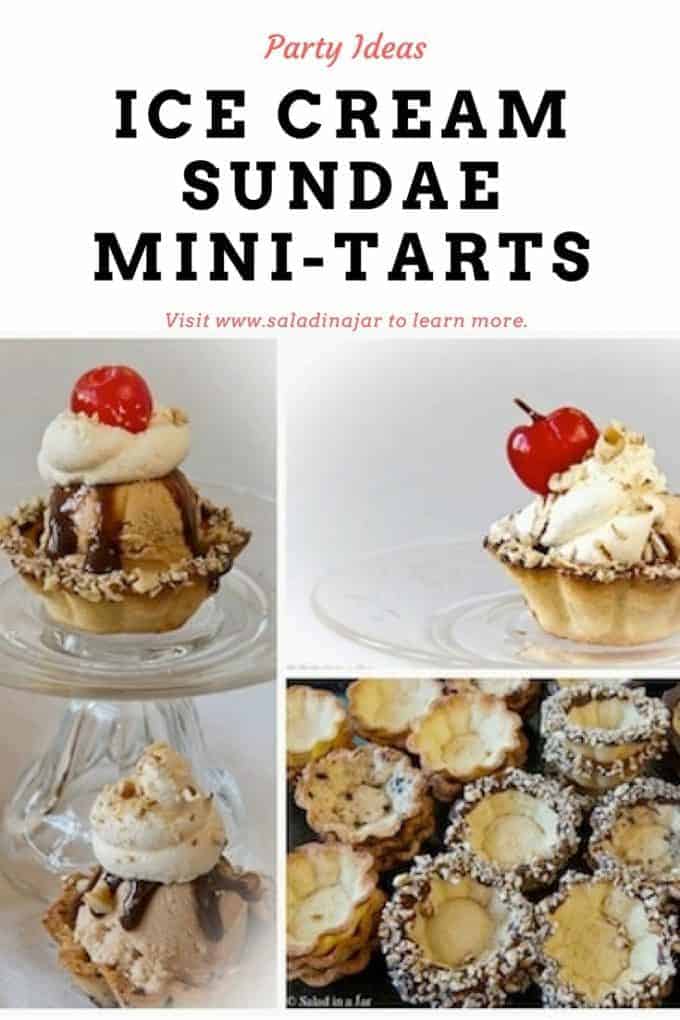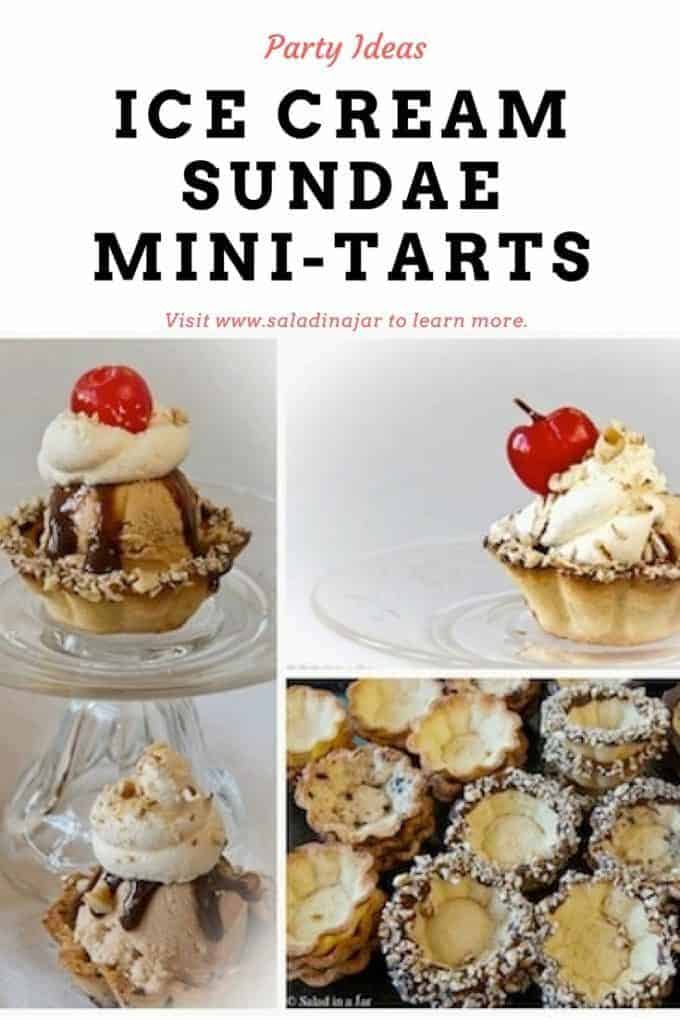 If you make this and enjoy the recipe, it would help me and others if you would return to this post and leave a rating (on the recipe card itself underneath the picture). Although always appreciated, no comment is required. Thank you for visiting! Paula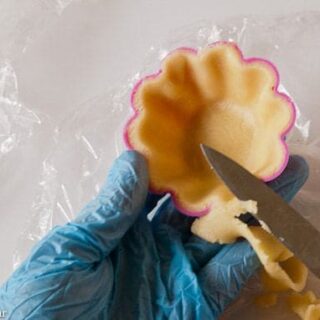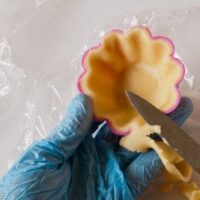 Cookie Crust for a Tart Shell
Total Time:
2 hours
15 minutes
A buttery sweet crust that goes well with any flavor custard or cream filling.
Ingredients
1 1/4 cup all-purpose flour
1/3 cup powdered sugar
1/4 teaspoon salt
1/2 cup (1 stick) chilled butter, cut into 8 pieces
1 large egg yolk
1 tablespoon heavy cream
1/2 teaspoon vanilla extract
Instructions
Combine flour, sugar and salt in food processor. Add butter and process until it looks like a cross between oatmeal and coarse cornmeal.
Combine egg yolk, heavy cream and vanilla extract. Process until most of dough rolls into a ball. If necessary, sparingly add drops of cream to make it come together.
Press dough into a disk and wrap in plastic. Refrigerate at least 1 hour. Roll dough into large circle. In the pictures you see a circular plastic bag that magically facilitates the rolling out process.
Dust inside of bag with flour. Place dough inside and zip bag. Roll out dough large enough to hang over edges of tart pan approximately 1/2 inch. Open up bag. Place tart pan upside down on top of dough. Flip dough over into pan. Carefully and without stretching, press dough into creases. Instead of cutting dough at top edge, I prefer to fold excess (not more than 1/2 inch) dough back inside the edge of the pan so sides will thicker. Seems to help prevent crust from shrinking so much.
Note: If you don't have the cool plastic contraption pictured, roll out on lightly floured board or pastry towel similar to instructions seen here.
Freeze tart at least 30 minutes. Lay nonstick foil or butter the shiny side of aluminum foil and fit flat but snugly inside of crust. No need to use weights if you have frozen the tart. Bake in 375 degree oven for 30-35 minutes. Remove foil for last 8 minutes of bake time. Gently push crust down if you see it has begun to puff when you remove the foil. Cool.


Notes
Variations:
Add chopped chocolate or chopped pecans to cookie crust dough during step 2.
Recommended Products
As an Amazon Associate, I earn from qualifying purchases. But don't worry. This doesn't change the price you pay.
Nutrition Information:
Yield:

14
Serving Size:

1
Amount Per Serving:
Calories:

180
Total Fat:

14g
Saturated Fat:

9g
Trans Fat:

1g
Unsaturated Fat:

4g
Cholesterol:

63mg
Sodium:

148mg
Carbohydrates:

11g
Fiber:

0g
Sugar:

3g
Protein:

2g
Related Posts: