There's no recipe for these Oreo and Coffee Ice Cream Treats – just a quick description of my favorite snack for a warm summer evening involving oreo cookies and coffee ice cream (feel free to substitute your favorite flavor of ice cream.)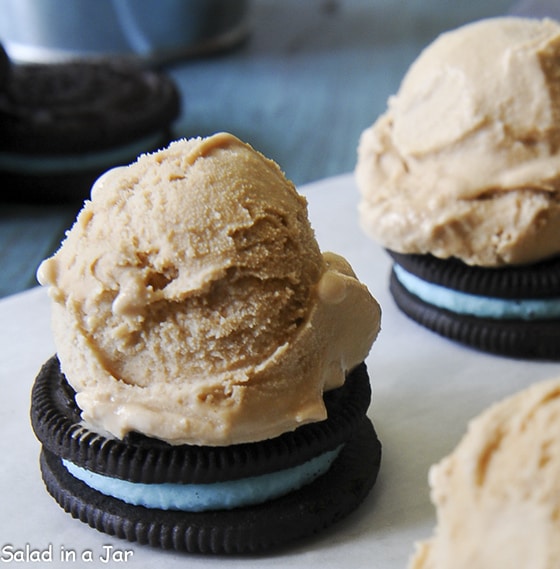 It's all Kay's fault. My Alabama sister made this up (I think) and then had the nerve to encourage me to try it.
There's no recipe–just directions. Ready?
Buy a package of Oreo cookies.  I spotted these fun blue ones at Walmart but I think they have a limited showing this summer.  Hope the blue doesn't weird you out. They taste the same as the white ones.
Buy a pint of Starbucks coffee ice cream. I like ALL coffee ice cream but have you tasted the Starbucks brand?  Oh, my goodness.  Something special indeed.
Spoon a small amount of coffee ice cream onto the top of an Oreo cookie.  Eat immediately.  Incidentally, these are 84 calories a piece as pictured but the number will vary according to the size of your ice cream portion. The picture appears larger than it really is.
You have my permission, like you needed it, to eat this one standing over the sink. It can get messy unless you eat it in one bite. I suppose you could use a plate.
p.s.  With the temperatures warm enough to incubate yogurt on my back porch, there's not much cooking going on around here. It's even too hot to grill.   This is about the only "recipe" I've made this week so I'm sharing the pleasure.