My Version of Libby's Famous Pumpkin Pie is a creamier and slightly richer version of Libby's Pumpkin Pie recipe printed on the can.
Thank-you to everyone who stopped by this little website during the past year. A special thanks to…
Those of you who leave comments of encouragement, tidbits of useful information, thoughtful questions, or funny observations
People who stumble, tweet, re-tweet, pin, re-pin and otherwise spread the word about a favorite post.
Readers who come back to report their experience with a particular recipe, good or bad, in person or in writing
Facebook followers and fellow food bloggers– you're the best
Readers who left supportive and comforting words during my father's illness and subsequent passing– they were read and re-read
Friends, family, and co-workers who eat my rejects and overruns
My friend who proofreads my posts. (If you find a mistake, it's probably because I changed something after she read it.)
Love y'all. Have a wonderful Thanksgiving!

Give thanks to the LORD, for he is good;
his love endures forever.
Psalm 107:1
Credits:
In case you haven't chosen a recipe for pumpkin pie yet, here's the one I like . . . . this year. It's a richer and creamier adaptation of Libby's classic pumpkin pie. Thanks to Better Homes and Gardens (November 2011) for the idea to cut letters out of pie dough scraps. I bought a set of small alphabet cookie cutters that I'm pretty sure you'll be seeing again in other projects.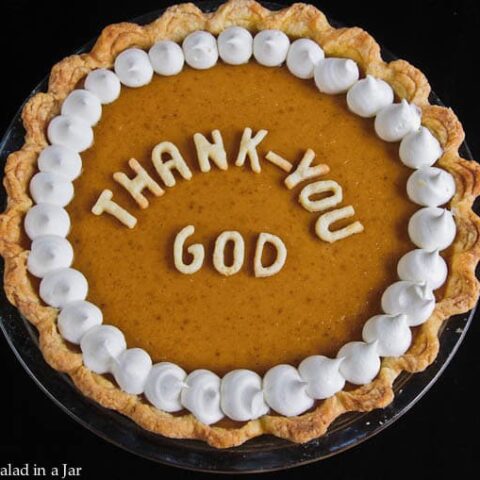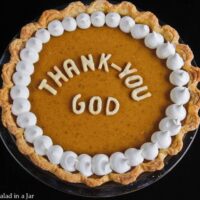 My Version of Libby's Pumpkin Pie
My take on Libby's traditional recipe for pumpkin pie
Ingredients
3/4 cup brown sugar
1 teaspoon cinnamon
1/8 teaspoon cloves
1/2 teaspoon ginger
1/2 teaspoon salt
1/8 teaspoon allspice
2 eggs + 1 egg yolk
1 (15 ounce) can pure pumpkin
1/2 cup heavy cream
3/4 cup milk
1- 9-inch unbaked pie crust (I used my recipe for Yogurt PIe Crust)
Instructions
Combine first 6 ingredients in medium bowl.
Whisk eggs and pumpkin together in another bowl. Add spice mixture and whisk well. Add cream and milk and whisk until smooth.
Optional: Pour pie filling through a medium sieve into microwave-safe bowl for maximum smoothness.
Heat filling in microwave for two minutes, whisking several times.
Fill pie shell. Shield crust around the outside of the pie with aluminum foil or a pie shield which is well worth the money.
Bake at 350 degrees 35-40 minutes or until middle jiggles like jello.
Recommended Products
As an Amazon Associate, I earn from qualifying purchases. But don't worry. This doesn't change the price you pay.
Nutrition Information:
Yield:

8
Serving Size:

1
Amount Per Serving:
Calories:

337
Total Fat:

17g
Saturated Fat:

8g
Trans Fat:

0g
Unsaturated Fat:

8g
Cholesterol:

89mg
Sodium:

336mg
Carbohydrates:

42g
Fiber:

1g
Sugar:

22g
Protein:

6g
Posts Related to "My Version of Libby's Pumpkin Pie"