Raspberry-Marinated Grapefruit is simple but beautiful fruit compote composed of grapefruit marinated in a raspberry puree. There's no recipe. Just follow the pictures below.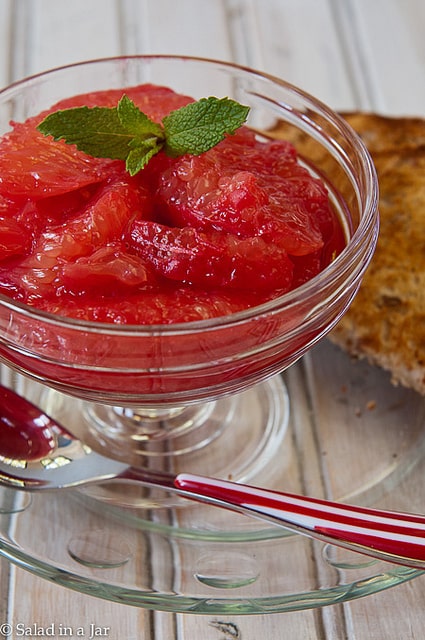 Grapefruit is my new dessert. I like it plain or fancy, served as wedges or just cut in half. But occasionally, I crave grapefruit wedges soaked in raspberry puree.
This is a particularly good way to serve grapefruit to company because it not only looks festive but can be prepared ahead of time, and really, it should be for maximum raspberry flavor. It's also easier to eat compared to digging each wedge out with a grapefruit spoon, although I enjoy that, too, for routine grapefruit eating. It adds a certain element of satisfaction and enjoyment not unlike eating corn off the cob or picking every last morsel of meat and crunch from a piece of fried chicken.
No recipe here. Just follow along and adjust the amounts to your needs.
Un-Recipe Directions for Raspberry-Marinated Grapefruit
Peel one grapefruit for every two people you are serving. If I'm invited, better allow a whole grapefruit for me.
The process of extracting wedges can be time-consuming until you get the hang of it. Then it will go fast. Or you can buy the prepared wedges in the refrigerated section of your grocery store.
Use  enough fresh or frozen raspberries to barely cover the grapefruit.
Does the tartness of grapefruit offend your sweet tooth? Add a spoonful of sugar, honey or sweetener. If there is a lime in the house, I like to add a couple squeezes just for fun. Refrigerate overnight.
Is this too simple? I hope you'll forgive me. Thanks to Helen Corbitt for this idea she called "Grapefruit Melba".
Related Posts: