Soft Cinnamon Cookies with Browned Butter Icing are a cake-like, cinnamon-spiced cookie frosted with a browned butter icing. Kids love them!!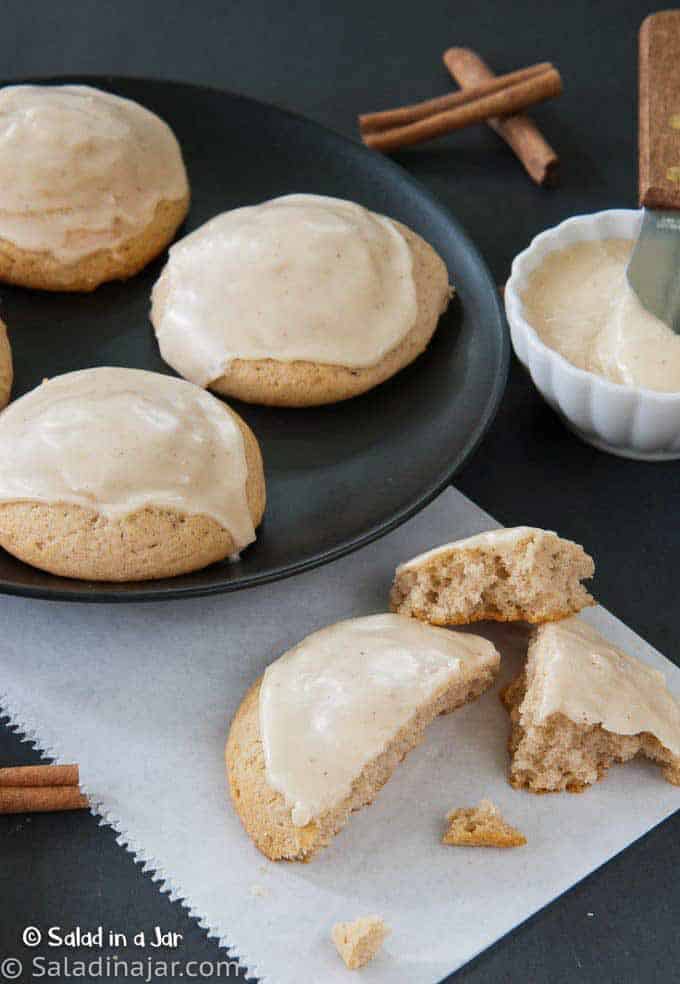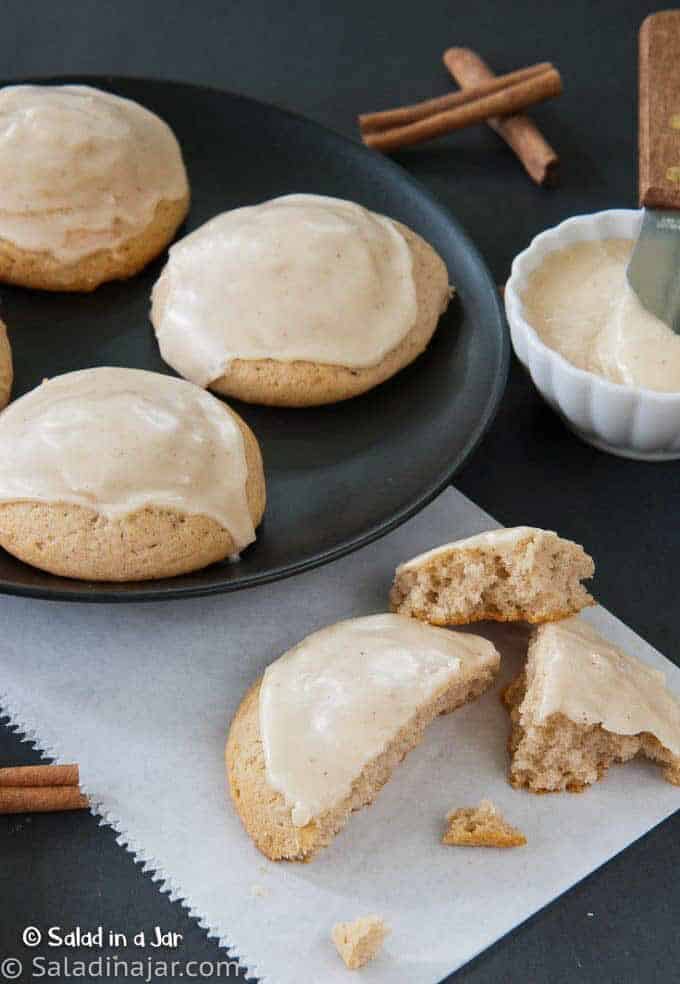 What kind of cookies did your Grandma keep in her cookie jar?
My grandma had a cookie drawer. These cookies taste like the ones I often found at her house. But they don't look like them.
She dropped big blobs on the cookie sheet. They usually grew together as they baked making for square cookies after she cut them apart. So they were pretty ugly–but still delicious.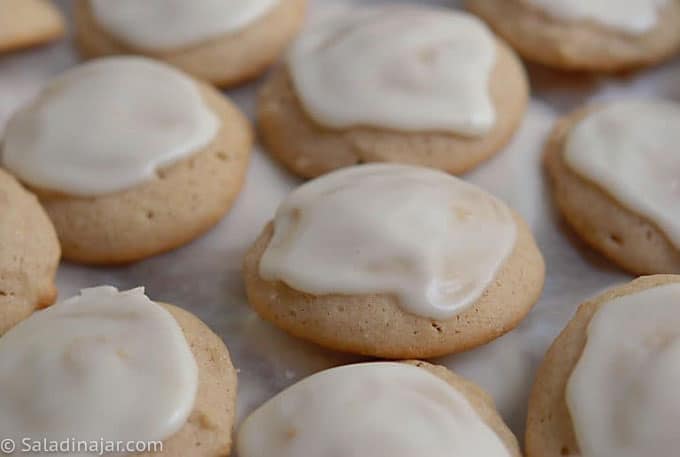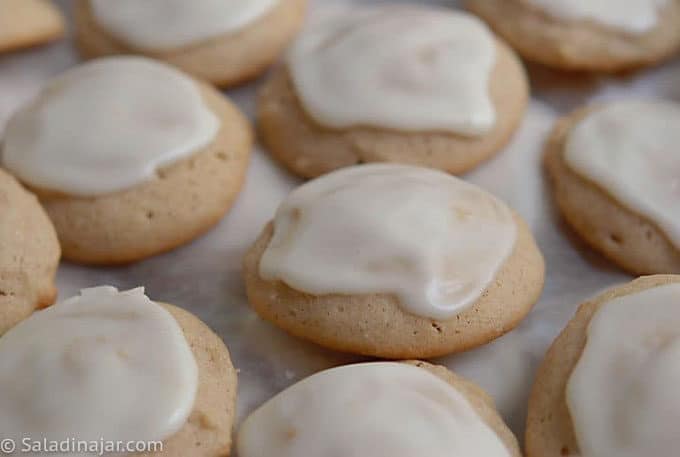 I never had Grandma's original recipe. But I found this one in a Betty Crocker Cookie Book entitled "Cinnamon Jumbles."
Try them for yourself. They are mild, soft and not too rich. They go down real easy–which is why I will NOT be putting them in the Skinny Secrets category.
Did you notice the beat-up cookie tin in the picture above?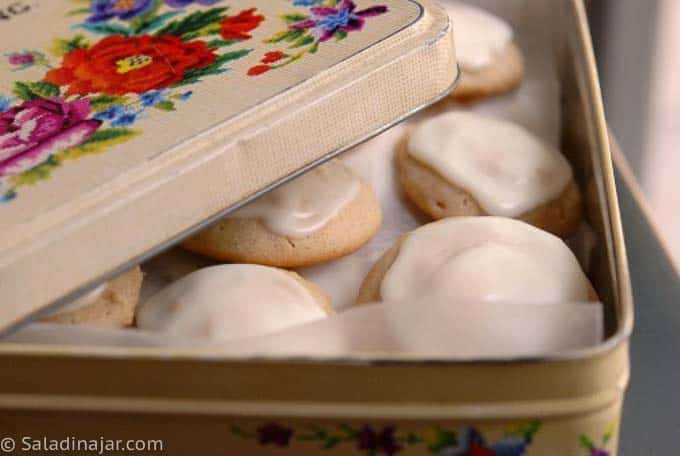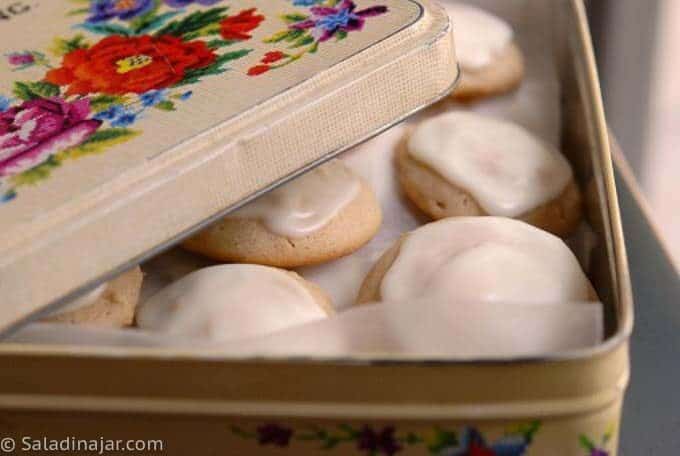 Whenever I show up with this tin, the Hastings family (our camping buddies) expect these Soft Cinnamon Cookies. We have become as sentimental about the tin as the cookies.
The decorative tin was originally given to us full of goodies from Holland by our friends Harm Engel and Anke. As you can see, these cookies are more than just a cookie with icing to our family. They represent good friends and good memories.
Pin the picture below to save for later.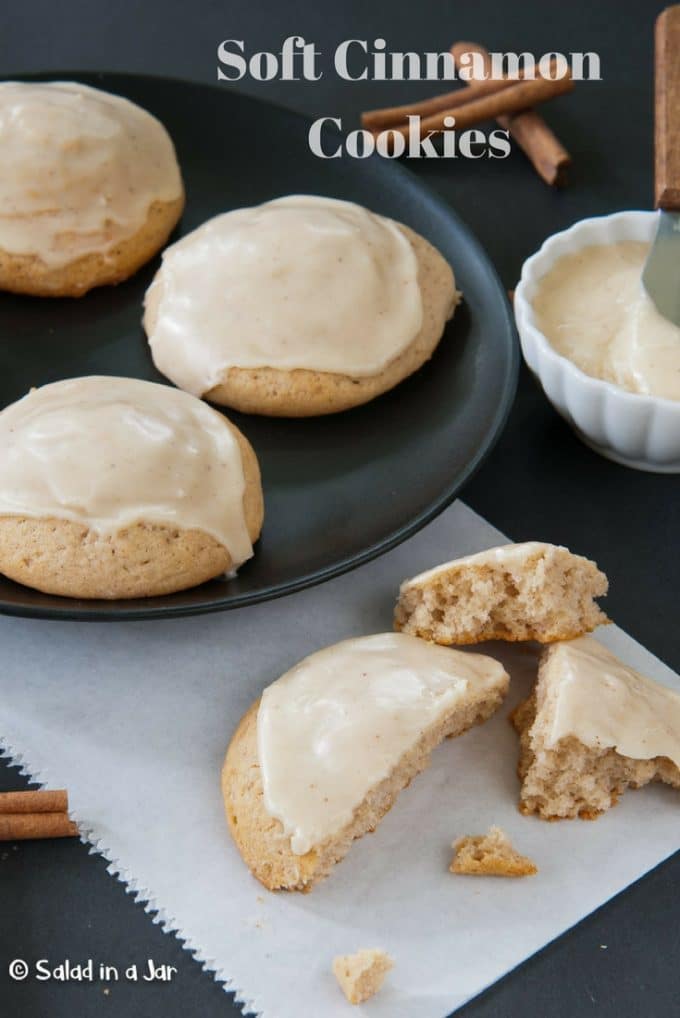 If you make this recipe and enjoy it, consider helping other readers and me by returning to this post. Leave a rating on the recipe card itself underneath the picture. Although always appreciated, comments aren't required. Thank you for visiting! Paula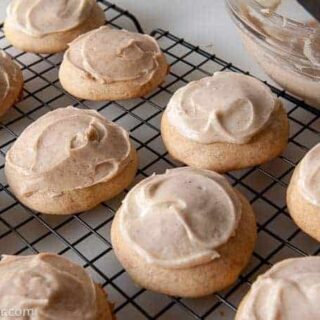 Soft Cinnamon Cookies with Browned Butter Icing
Yield:
3 dozen small cookies
Kid-favorites!! Cake-like, cinnamon-spiced cookie frosted with a browned butter icing
Ingredients
1/2 cup butter
3/4 cup plus 2 tablespoons sugar
1 egg
3/4 c. buttermilk
1 teaspoon vanilla extract
2 cups all-purpose flour
1/2 teaspoon soda
1/2 teaspoon salt
1 teaspoon cinnamon
Instructions
Cream shortening, sugar, and egg.
Stir in buttermilk and vanilla extract.
Blend in flour, soda, salt, and cinnamon. Combine until you can't see any flour.
Chill in the freezer for about 30 minutes or 1-2 hours in the refrigerator.
Preheat oven to 400 degrees F.
Use ice cream dipper to drop 1 tablespoon of dough onto a lightly greased baking sheet or use parchment paper (or Silpat).
Bake at 400 degrees F for 8-10 minutes. When barely cool, ice with Browned Butter icing.
Brown Butter Icing:
Melt 2 tablespoons butter (do not substitute margarine) in a small skillet using low heat on stove till golden brown. Be careful not to burn. If any solids turn black, start over. Remove from heat and let cool slightly.
Start out by adding about 1 tablespoon of milk into the butter. Stir in 2 cups powdered sugar and beat till smooth, adding milk as you go in very small increments till spreading consistency. Because icing becomes thick as it cools, stir in a small amount of milk if necessary to make icing spreadable as you go. If you get it too thin, let it sit for a while or add more powdered sugar.
Leftover icing is good on graham crackers. (The Hastings tell me they like icing on animal cookies too.)
Posts Related to Soft Cinnamon Cookies