Blueberry Coffee Cake starts with a cookie-crust base, then a layer of blueberries enveloped in a sweet cake-like batter topped with pecans.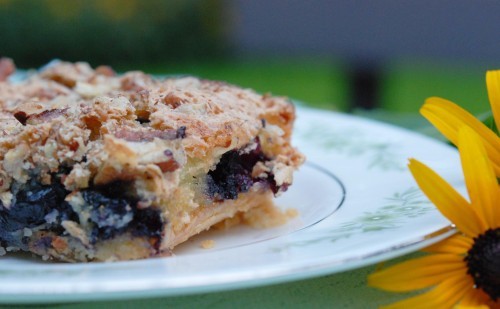 Fresh blueberries take me back to my brother's house on the farm in Indiana. Good food is always happening in my sister-in-law's farm kitchen.
Susan shared this Blueberry Coffee Cake recipe with me a few years ago. I'm pretty sure she uses blueberries she has picked herself.
Unfortunately, there is no opportunity for me to pick blueberries. But the coffee cake is still fabulous with the fresh berries I get from the store.
Is this really a cake?
That's what my family calls it, but it's more of a bar cookie put together in layers. It's best served hot with a scoop of vanilla ice cream on top.
If you make this and enjoy the recipe, it would help me and others if you would return to this post and leave a rating (on the recipe card itself underneath the picture). Although always appreciated, no comment is required. Thanks so much! Paula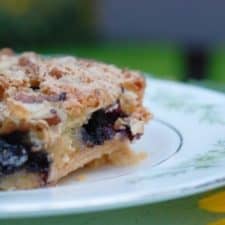 Susan's Blueberry Coffeecake
Total Time:
1 hour
5 minutes
Blueberry Coffee Cake starts with cookie-crust base, then a layer of blueberries enveloped in sweet cake-like batter topped with pecan.
Ingredients
1 cup flour
1/2 c. butter
3 tablespoons powdered sugar
1 c. fresh or frozen blueberries
2 eggs
1 cup sugar
1 teaspoon vanilla
1 teaspoon lemon juice
1/4 cup flour
1/2 teaspoon baking powder
1/4 teaspoon salt
1/2 cup shredded coconut
3/4 cup chopped pecans
Instructions
Base
Blend together in food processor until particles begin to stick together. Press into 8×8 inch square dish. Bake for 25 minutes at 350 degrees.
Topping
Scatter blueberries on top of baked base.
Combine remaining ingredients except pecans and pour over blueberries.
Sprinkle pecans on top.
Bake in oven preheated to 350 degrees F for 25 minutes or until golden brown.
Related Posts: