Cauliflower saves the day with this Faux Potato Salad: The Craving-Satisfier. It's a great way to re-purpose leftover mashed cauliflower.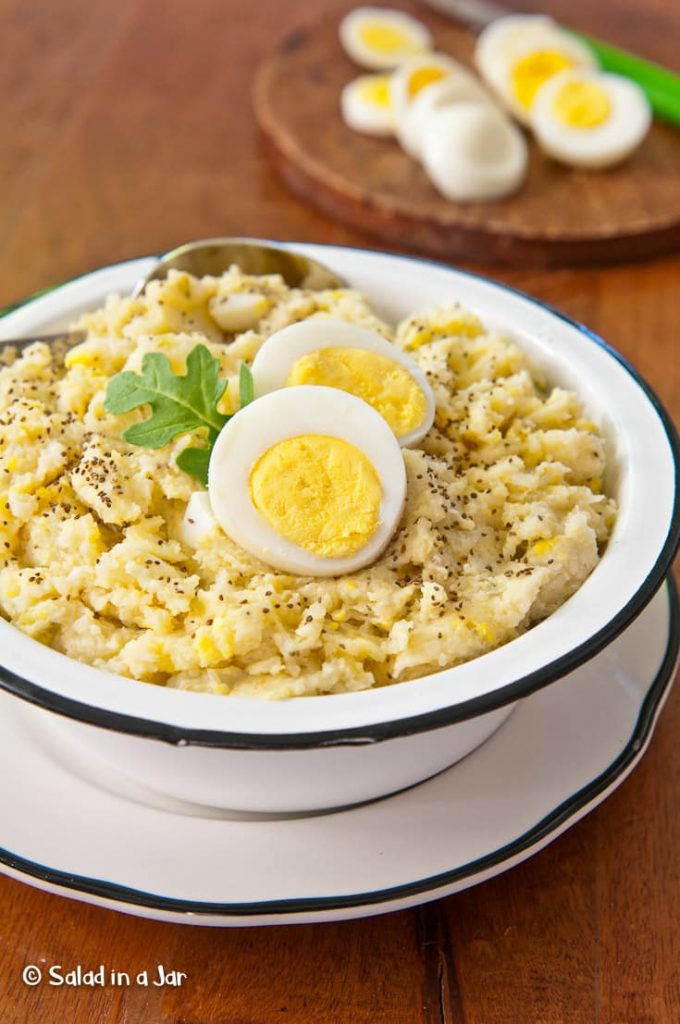 "Faux" anything always makes me a little nervous. Is the substitution of cauliflower for potatoes worth it?
Just like regular potato salad, people generally prefer their mom's recipe, so there's no satisfying everybody with this dupe.
Faux Potato Salad is a close replica of my own mom's potato salad, celery seeds and all. When I went to a potluck as a kid, I would only eat her's.
That reminds me of my hairdresser who once told me about her own mom's potato salad. She claimed it was made with hot mashed potatoes and served warm. She didn't like it any other way. It sounded weird to me because I prefer mine cold. However, I tried it, and it was scrumptious.
As you can see, tradition is the first hurdle when it comes to substitutions.
Admittedly, Faux Potato Salad is not going to fool anyone.
It's like eating a bean burger – not the same as a real hamburger, but it has its own merits. For me, it satisfies the craving – especially when eaten with other "cook-out" fare.
Furthermore, my husband gave this recipe a thumbs-up and said I should definitely share it. He likes it with grilled sausage.
A parting word about the texture of Faux Potato Salad:
I don't care to encounter chunks of cauliflower in this salad the same way I do with real potato salad, so I puree or mash the whole cauliflower – maybe not as smooth as my mashed cauliflower but almost.
Yield: 6 servings
Faux Potato Salad: The Carb-Craving-Satisfier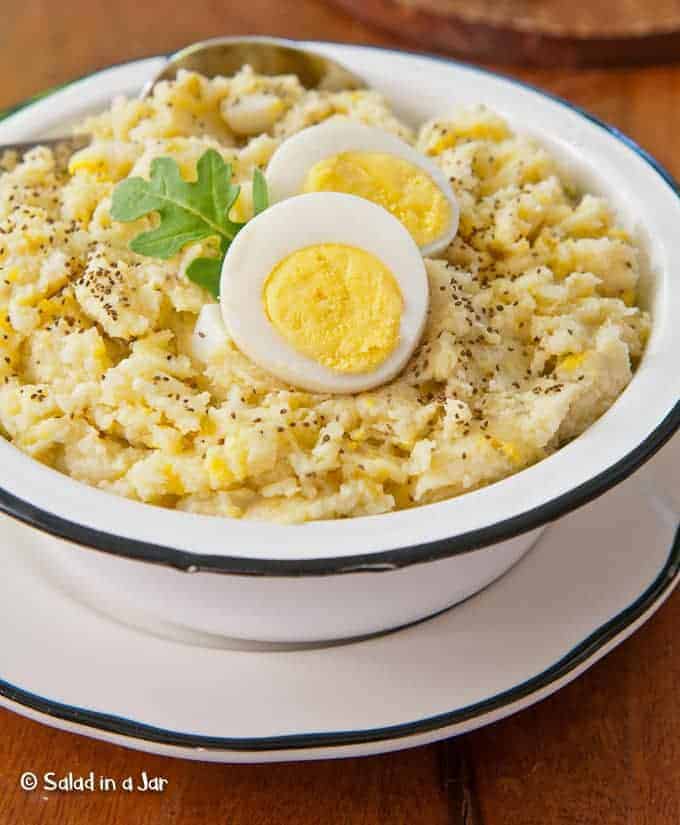 Cauliflower substitutes for potatoes in this American classic.
Ingredients
1 large head cauliflower
3 hard-boiled eggs, coarsely chopped
1/2 cup mayonnaise
1/3 cup no-sugar-added pickle relish
1-2 tablespoons apple cider vinegar
2 packets of preferred sweetener. (I like "Better Stevia" or Swerve)
1/2 teaspoon celery seed
1/2 teaspoon onion powder
1 teaspoon salt
1/4 teaspoon white pepper
Garnish with paprika if you want it to look like my mom's potato salad.
Instructions
Steam or microwave cauliflower. I do mine in the microwave on HIGH for 10 minutes in an uncovered microwave-safe glass bowl. No cover, no water. Stir after 10 minutes and cook another 8-10 minutes on HIGH or until cauliflower is tender.
Puree cauliflower. I use a food processor. Process until cauliflower is mostly smooth. Transfer cauliflower to a medium mixing bowl.
Add eggs, mayonnaise, pickle relish, and remaining seasonings. Combine with a light touch and a large spoon. Taste and add additional vinegar and/or sweetener to achieve a perfect balance between the sweet and sour flavors.
Chill 2-3 hours before serving.
Notes
Servings could vary depending on the size of the head of cauliflower you use.
Recommended Products
As an Amazon Associate, I earn from qualifying purchases. But don't worry. This doesn't change the price you pay.
Nutrition Information:
Yield:
6
Serving Size:
1 serving
Amount Per Serving:
Calories:

306
Total Fat:

21g
Saturated Fat:

4g
Trans Fat:

0g
Unsaturated Fat:

16g
Cholesterol:

129mg
Sodium:

763mg
Carbohydrates:

24g
Fiber:

4g
Sugar:

15g
Protein:

7g
OTHER POSTS YOU MIGHT FIND INTERESTING: