Preview: This Easy Cauliflower Potato Salad Recipe Without Mustard substitutes cauliflower for potatoes. Cook the cauliflower in the microwave.
Faux anything always makes me a little nervous. Is the substitution of cauliflower for potatoes worth it?
Just like regular potato salad, people generally prefer their mom's recipe, so there's no satisfying everybody with this dupe. But if you like traditional potato salad without mustard, you are sure to like this cauliflower potato salad recipe without mustard.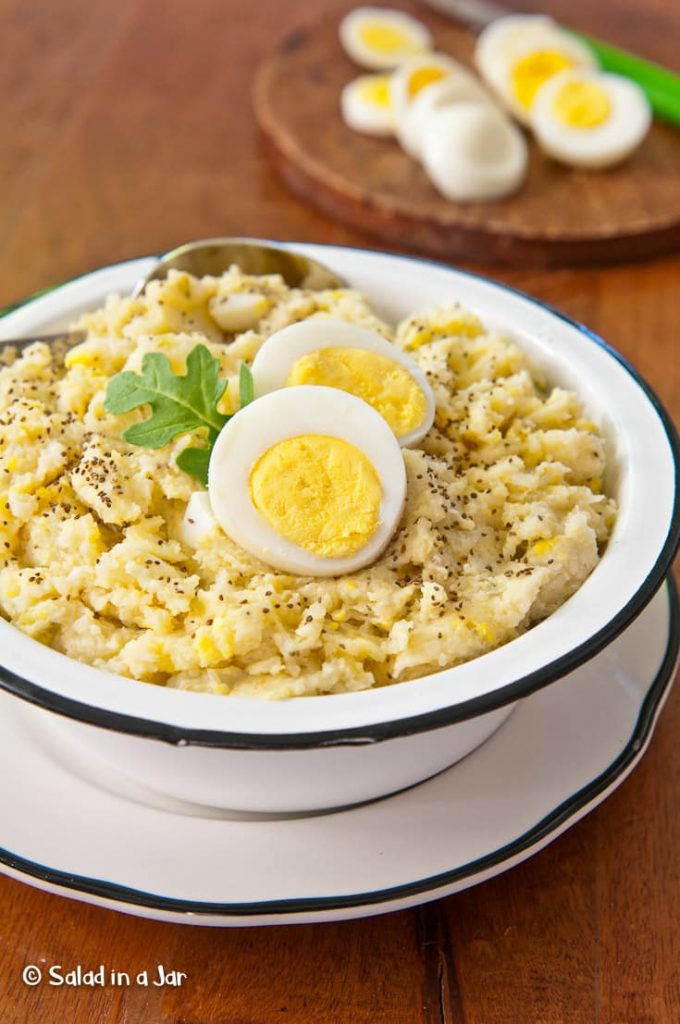 Faux Potato Salad is a close replica of my own mom's potato salad, celery seeds, and all. When I went to a potluck as a kid, I would only eat hers.
That reminds me of my hairdresser who once told me about her own mom's potato salad. She claimed it was made with hot mashed potatoes and served warm. She didn't like it any other way. It sounded weird to me because I prefer mine cold. However, I tried it, and it was scrumptious.
As you can see, tradition is the first hurdle when it comes to substitutions.
Admittedly, Cauliflower-instead-of-Potato Salad is not going to fool anyone.
It's like eating a bean burger – not the same as a real hamburger, but it has its own merits. For me, it satisfies the craving – especially when eaten with other "cook-out" fare.
Furthermore, my husband gave this recipe a thumbs-up and said I should definitely share it. He likes it with grilled sausage.
About the texture of Cauliflower Potato Salad:
I don't care to encounter chunks of cauliflower in this salad the same way I do with real potato salad, so I puree or mash the whole cauliflower – maybe not as smooth as my mashed cauliflower but almost.
OTHER POSTS YOU MIGHT FIND INTERESTING: