Green Chile Stew with Green Beans is a spicy southwestern stew packed full of green beans, green chili and ground pork. Low on carbs!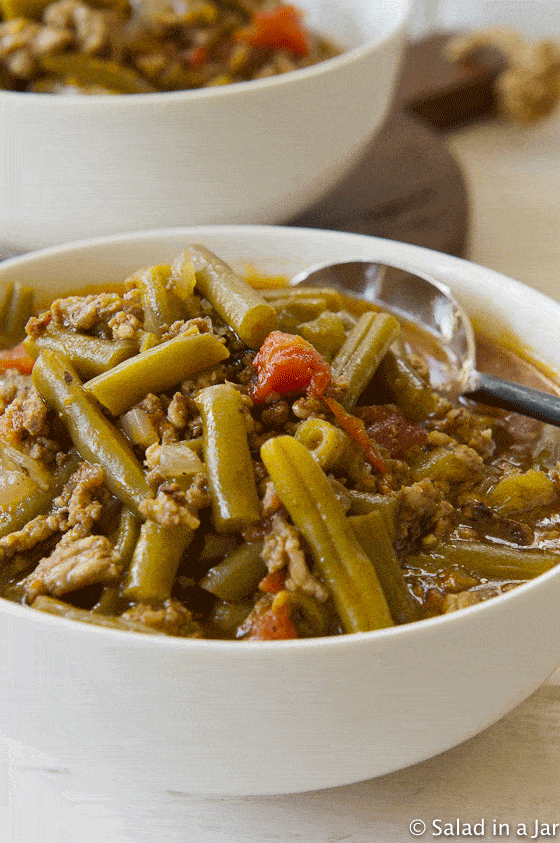 Have you ever said this about vegetables? "I need to eat more veggies but ….
My family won't eat them.
My kids/husband will only eat corn and green beans.
Fresh veggies go bad pretty quickly and then I have to throw them out and I can't stand to waste money.
I need more good veggie recipes.
They take too long to prepare."
This recipe for Green Chile Stew with Green Beans is my answer to all those complaints. It came about as one of those fortunate accidents that happen occasionally in the kitchen.
Maybe you can relate…
What to do when the cook is hungry and staring at the fridge, with the door open, wondering what to throw together for dinner in a hurry.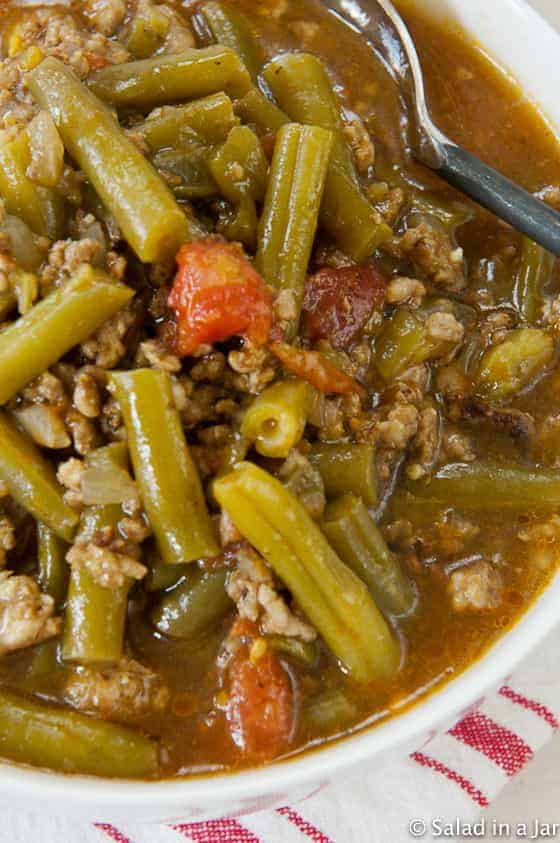 I had this Green Chile Stew leftover a few months ago and some leftover green beans from a different meal. In a moment of veggie craving, I combined them. Voila! –a new favorite comfort food. I have not made the original Green Chile Stew since that day because I love this so much.
SUBSTITUTIONS:
Fresh green beans cut into small pieces with kitchen shears are best, but cheap canned cut green beans will also work. Drain them well and then rinse the salt and "canned flavor" off with additional water. Add the canned green beans at the last minute since they don't need to be cooked, just warmed.
I mentioned the original recipe, but like everything else I cook these days, I modified it and left out the flour to decrease the carbs. Instead, I added 1/4 teaspoon of powdered xanthan gum during the last five minutes of cooking to thicken the stew slightly. The soup will still be totally delicious if you don't use any thickener.
Total carbs = 15 g if you can get five servings out of this recipe.
Yield: 5 servings
Green Chile Stew with Green Beans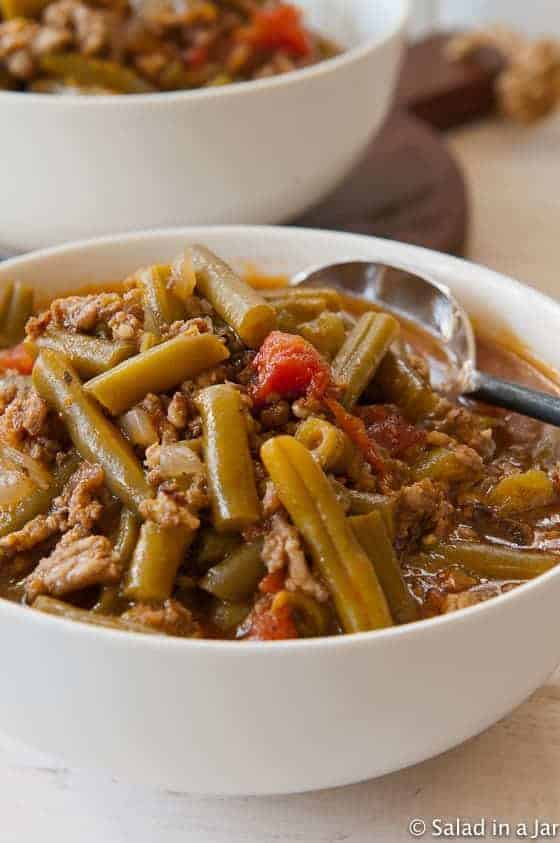 A most fortuitous combination of Green Chili Stew and green beans for those days when you just need more veggies.
Ingredients
1 pound ground pork (not sausage)
1/2 cup chopped onion
1-2 cloves minced garlic
1 teaspoon ground cumin
salt and pepper
1 14.5 ounce can diced tomatoes
4 ounce can chopped green chilies
4 cups water
1/4 teaspoon xanthan gum (optional to thicken)
1 pound fresh green beans or 2 14.5 ounce cans cut green beans
Instructions
Brown pork in Dutch oven along with onions, garlic and cumin. Drain any excess grease. Season with salt and pepper.
Add tomatoes and chilies to meat. If using fresh green beans, add to meat now. Stir in water and bring to a boil. Simmer for about 30-40 minutes or until green beans are well-cooked and tender. If using, sprinkle xanthan gum over soup and whisk to combine. Continue to simmer until slightly thickened.
If using canned green beans, add them about 10 minutes before you want to serve stew.
Nutrition Information:
Yield:
5
Serving Size:
1
Amount Per Serving:
Calories:

368
Total Fat:

20g
Saturated Fat:

7g
Trans Fat:

0g
Unsaturated Fat:

11g
Cholesterol:

85mg
Sodium:

244mg
Carbohydrates:

22g
Fiber:

8g
Sugar:

11g
Protein:

28g
RELATED POSTS: