Try this cornbread baked over a layer of hot sausage and peppers. When it comes out of the oven, carefully flip the whole mixture onto a platter. Serve Upside-Down Sausage and Pepper Cornbread with warmed enchilada sauce. Wouldn't hurt to add a little cheese on top and guacamole on the side.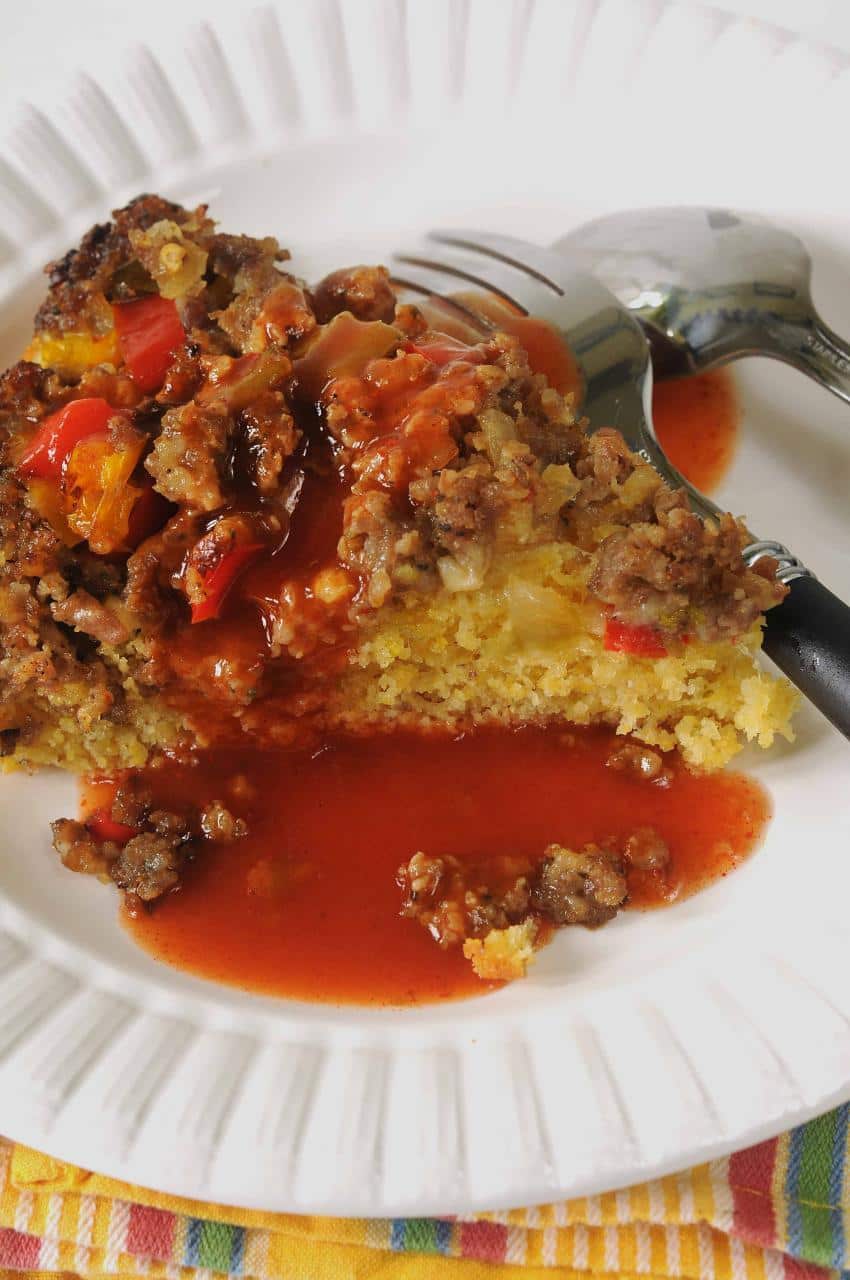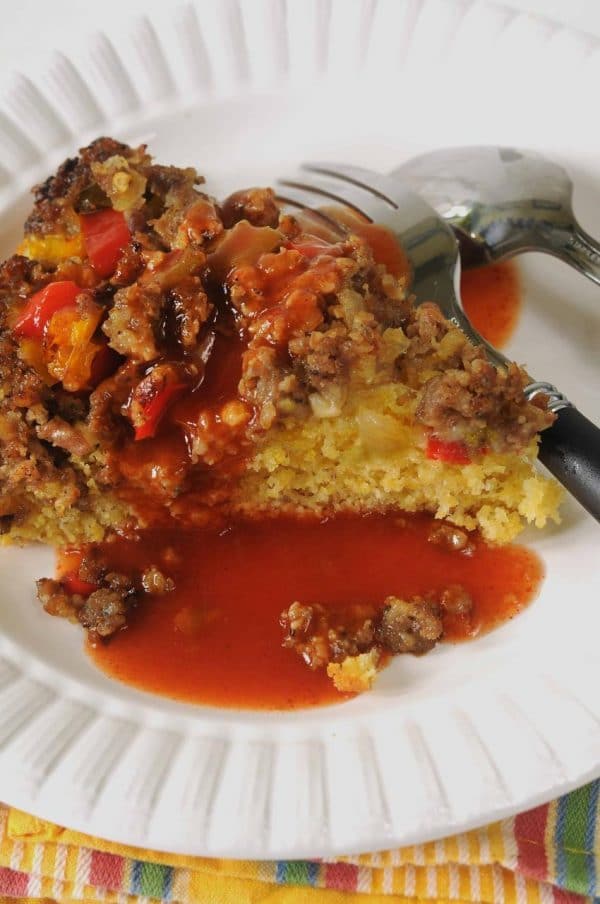 Can you do a flip?
Back in the day, I used to spend hours trying to learn how to do a backflip. In my yard. With no spotters. Crazy! I know. In the end, I mastered a handspring but never managed a flip.
Anybody can do this flip.
After baking Upside-Down Sausage and Peppers, you will carefully FLIP it out of the pan and serve it upside down for a memorable meal. We like to eat it with warmed enchilada sauce poured over the top.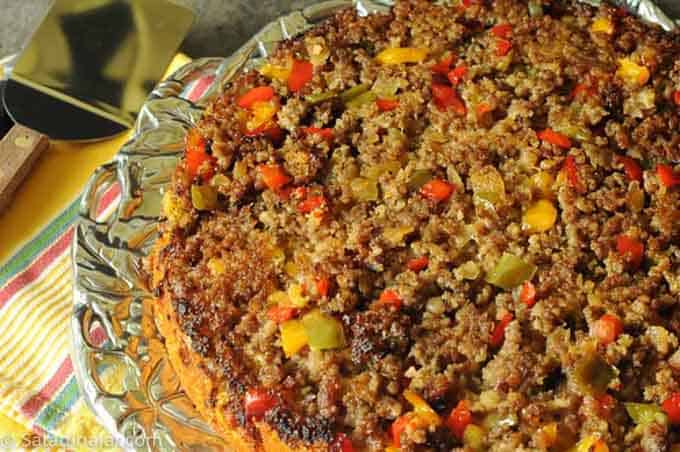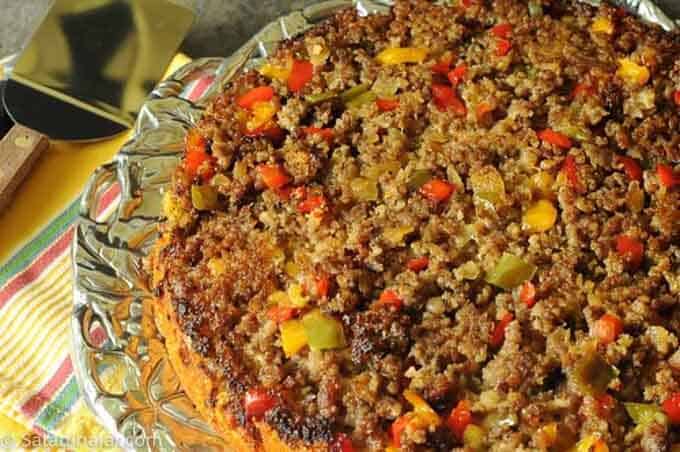 Add three different colors of peppers to "hot" pork sausage for added color. Although you could use a mix or your cornbread recipe, our favorite cornbread recipe comes from the back of Lamb's Stone Ground Corn Meal package. It's perfect for this recipe due to the sturdy texture.
How to assemble Upside-Down Sausage and Pepper Cornbread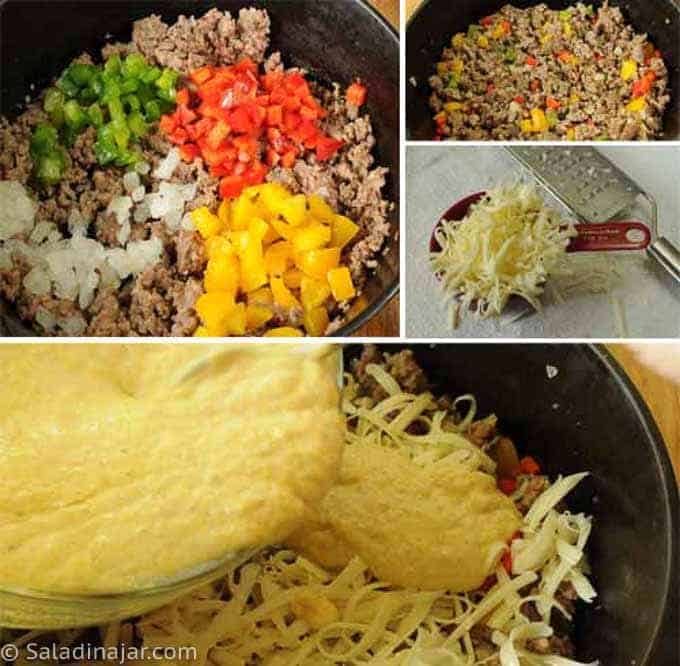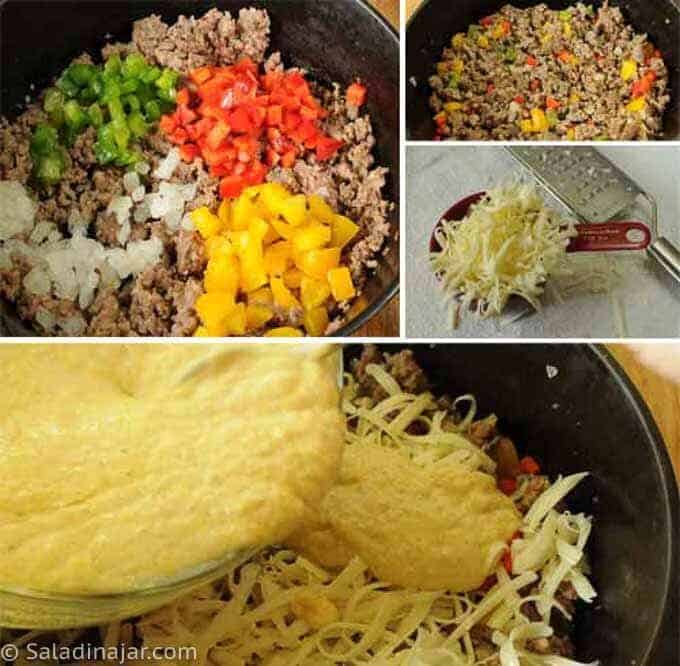 What can I serve with this recipe?
Try serving Upside-Down Sausage and Pepper Cornbread with a pot of pinto beans. You will find it tastes fabulous crumbled into the beans and juice. OR, pour canned or homemade enchilada sauce over the top. A cheese sauce or queso would also be tasty. Then again, you might prefer it plain However, we are the condiment family so we like it best with a sauce.
If you make this and enjoy the recipe, it would help me and others if you would return to this post and leave a rating (on the recipe card itself underneath the picture). Although always appreciated, no comment is required. Thank you for visiting! Paula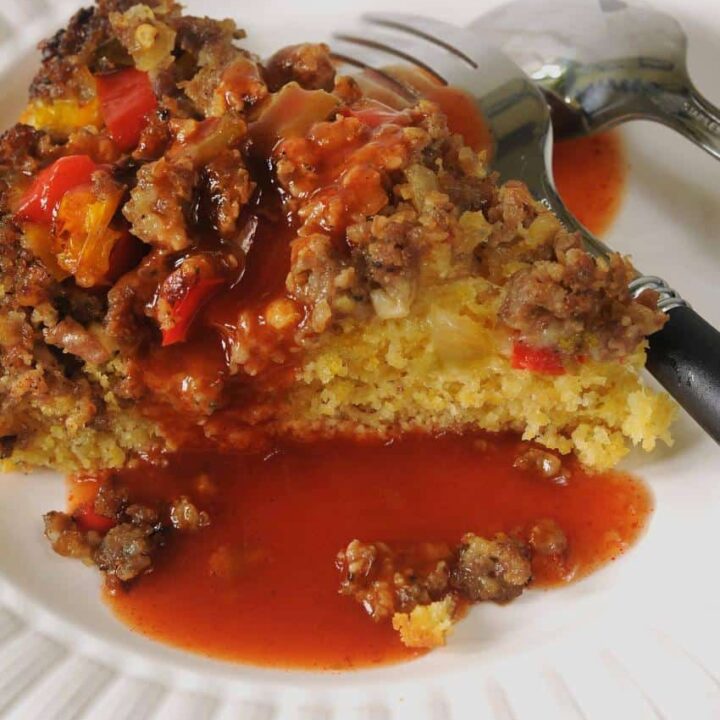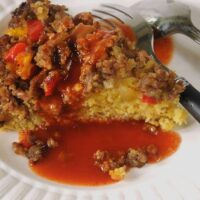 Upside-Down Sausage and Pepper Cornbread
Cornbread baked over a layer of saucy hot sausage and peppers
Ingredients
1 pound hot sausage
1/2 cup chopped onion
1/2 green bell pepper, diced
1/2 red bell pepper, diced
1/2 yellow or orange bell pepper, diced
1 cup grated Cheddar cheese
Cornbread Batter
1 cup stone ground corn meal (yellow or white)
1 cup flour
1 teaspoon salt
1 tablespoon baking powder
2 tablespoons sugar
1 egg
1 cup milk (1/2 milk + 1/2 water)
1/4 cup oil or bacon drippings (heat in baking pan until piping hot)
Instructions
Preheat oven to 425 degrees F.
Lightly brown sausage in 10-inch skillet. It will get browner in the oven so don't go too brown now.
Add onion and peppers to skillet and cook until tender.
Sprinkle shredded cheese over meat mixture.
Pour cornbread batter on top. Bake in preheated oven for 25 minutes or until golden brown.
Place serving plate over the top of skillet. Carefully flip cornbread over resulting in the meat layer on top.
Cornbread Batter:
Combine dry ingredients in medium bowl.
Add beaten egg and milk
Pour hot oil into batter and stir briefly. Go to step 4 above.
Nutrition Information:
Yield:

8
Serving Size:

1
Amount Per Serving:
Calories:

512
Total Fat:

31g
Saturated Fat:

10g
Trans Fat:

0g
Unsaturated Fat:

22g
Cholesterol:

79mg
Sodium:

1081mg
Carbohydrates:

36g
Fiber:

2g
Sugar:

6g
Protein:

22g
Posts Related to Upside-Down Sausage and Pepper Cornbread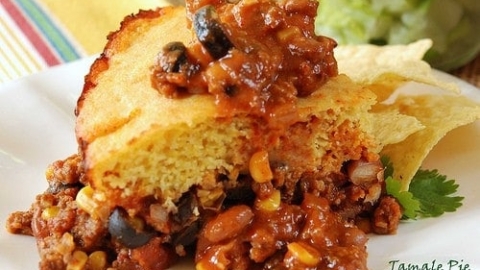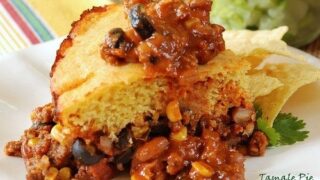 A Tamale Pie
Spicy Mexican vegetable and bean mixture topped with cornbread.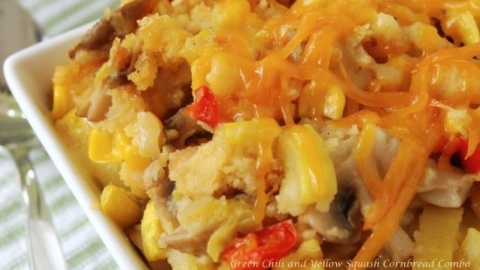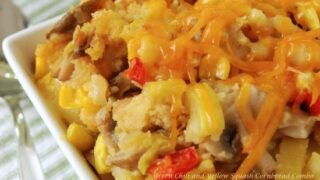 Green Chili and Yellow Squash Cornbread Combo
Spicy mixture of yellow squash, corn, green chilies and cornbread. Southern cuisine mixes with Tex-Mex flavors.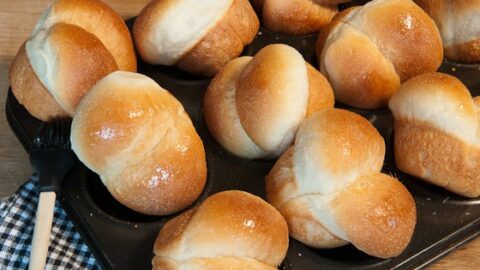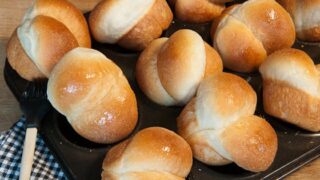 Cornmeal Dinner Rolls
Cornmeal Dinner Rolls | A Bread Machine Recipe makes a yeast roll formulated to be mixed and kneaded in a bread machine with just enough cornmeal to add a slight but interesting crunch to the crust.