Pizza Potatoes are seasoned mashed potatoes layered under Mozzarella cheese, fresh herbs and tomatoes for a delightful combination of pizza flavors. To be clear–this is not pizza. Nevertheless, this potato side dish is sure to please the pizza lovers at your table.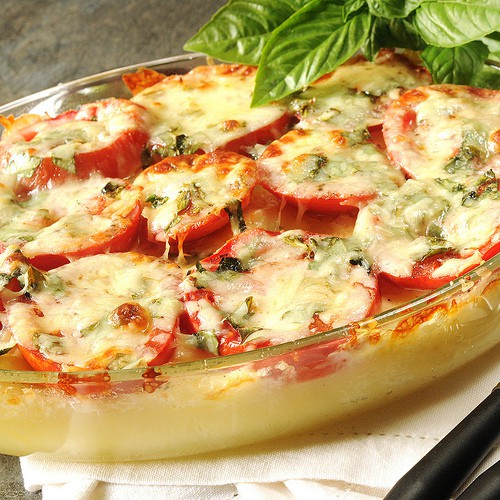 This is not pizza…
Instead, it is potatoes topped with pizza-like ingredients. Yep! I like to put pizza sauce and Mozzarella on every thing, even fish. But oh my! This potato side dish is delicious on its own merit.
In related news…
My basil plants are growing like crazy.
Coincidentally, tomatoes are showing up in the grocery store that actually smell like tomatoes. Can never get enough while they're in season.
It must be time…
When basil is abundant and vine-ripened tomatoes are available, I go looking for this recipe. It's one of my favorite potato dishes–a simple layer of mashed potatoes layered with cheese and sliced tomatoes, seasoned with fresh herbs. After baking, the tomatoes soften and the cheese melts into a chewy, savory topping.

Assembling Pizza Potatoes:

Miscellaneous Observations:
#1
Try making the potato layer from leftover mashed potatoes. It's a great way to give them a second life. Leftover haters won't be quick to recognize them.
#2
If you happen to be cooking for people who aren't fond of tomatoes, slice them as thin as possible.
#3
This is a perfect side dish for grilled or barbecued meat.
---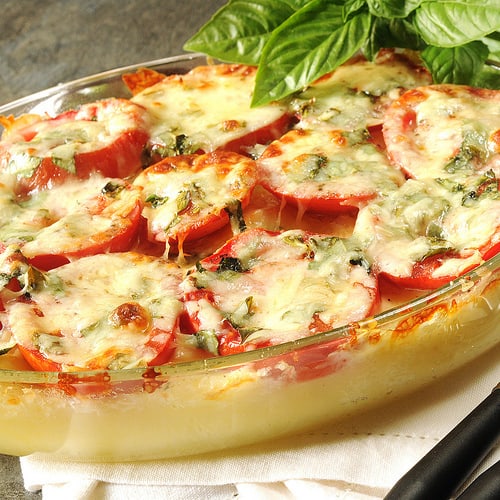 Pizza Potatoes
Seasoned mashed potatoes layered under Mozzarella cheese, fresh herbs and tomatoes
Ingredients
2 pounds potatoes, peeled and cut into 2-inch pieces
1/4 cup butter, softened
1/2 cup sour cream or plain, nonfat Greek yogurt
Salt and pepper to taste
1/4 pound grated mozzarella cheese (you could use more if you really love cheese)
3 medium-size fresh tomatoes, sliced 1/4 to 1/2-inch thick
1 1/2 teaspoons fresh oregano, chopped (1 teaspoon if using dried)
1 1/2 teaspoons fresh basil, chopped (1 teaspoon if using dried)
1/2 cup Parmesan cheese, freshly grated
Olive Oil or Butter Spray
Instructions
Directions:
Cover potatoes with cold water and bring to a boil. Turn heat down to simmer and cover. Cook until fork tender but not falling-apart mealy.
Drain cooked potatoes. Mash, add butter and season with salt and pepper. Place into a buttered 9-inch pie dish or 1 1/2 quart baking dish.
Cover potatoes with half of grated Mozzarella, then the tomato slices. Sprinkle herbs over all. Sprinkle remaining Mozzarella over tomatoes. Add salt and pepper to taste. Sprinkle with Parmesan cheese. Give a few quick sprays of olive oil or butter spray over the top to protect herbs in the baking process.
Cook in 425 degree oven for 20-25 minutes or until cheese is lightly browned. If it's too hot in the kitchen to turn on the oven, heat in the microwave until warmed through, then place under broiler until cheese on top starts to brown.
Nutrition Information:
Yield:

8
Serving Size:

1
Amount Per Serving:
Calories:

291
Total Fat:

16g
Saturated Fat:

8g
Trans Fat:

0g
Unsaturated Fat:

6g
Cholesterol:

41mg
Sodium:

311mg
Carbohydrates:

29g
Fiber:

3g
Sugar:

4g
Protein:

11g
Posts Related to "Pizza Potatoes"