Simple Green Chili Stew with Tomatoes and Ground Pork is a simple and quick-to-put-together stew for supper. Throw it together and let simmer for 30-60 minutes while you wind down from a long day. Serve with flour tortillas.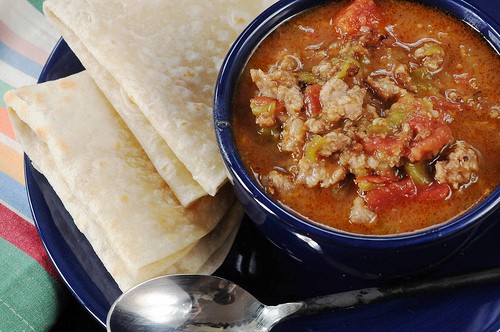 Before Christmas, a partially frozen bag of roasted green chilies arrived at my doorstep. My sister Bonnie sent them from Colorado.  Thankfully, she also sent some of her favorite recipes. The title on this one was, "Christmas Chili."
Why Christmas Chili?  Is it like "Funeral Potato Salad"  or  "Fourth of July Cake?" Turns out the chili gets its name from the red and green colors. It most certainly IS NOT limited to the holiday season.  Tastes especially good on a blustery day.  (I love the word "blustery"– ever since my boys used to watch Winnie the Pooh.)
How to peel roasted green chilis for Simple Green Chili Stew with Tomatoes and Ground Pork:
Although they don't make a good  first impression visually (especially after being frozen), fresh roasted green chilies are fabulous. Peel off the charred skin, split and clean out the seeds.
Canned green chilies are a satisfactory substitute if you don't happen to have a source or a generous sister like I do.
This mildly flavored chili is reasonable in calories and EASY to make.  But the best part??  Dipping warm flour tortillas in the savory liquid.  Oh my…wonderful!! Especially if you use my favorite cook-them-yourself tortillas from Costco.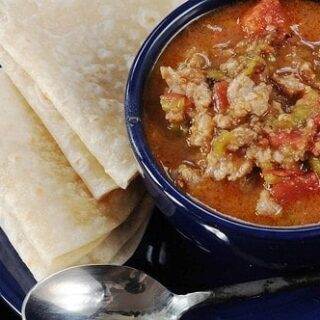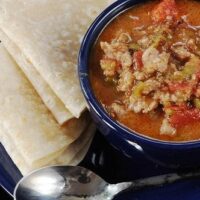 Green Chili Stew with Pork and Tomatoes
Total Time:
1 hour
10 minutes
Stew with ground pork and tomatoes spiced with cumin--serve with flour tortillas for dipping
Ingredients
1 pound ground pork (not sausage)
1/2 cup chopped onions
1-2 cloves minced garlic
1 teaspoon cumin (optional)
2 tablespoons flour
Salt and Pepper
1 14.5 ounce can diced tomatoes
4 oz. can chopped green chilies
4 cups water
Instructions
Brown pork in Dutch oven along with onions, garlic and cumin, if using. Drain grease. I like to leave a teaspoon or two behind for flavor.
Sprinkle meat with flour and stir till it browns. Season with salt and pepper.
Add tomatoes and chilies to meat. Stir in water and bring to a boil. Lower heat and simmer for 30 to 60 minutes or until thickness desired.
Serve with warm tortillas.
Nutrition Information:
Yield:

4
Serving Size:

1
Amount Per Serving:
Calories:

397
Total Fat:

24g
Saturated Fat:

9g
Trans Fat:

0g
Unsaturated Fat:

13g
Cholesterol:

107mg
Sodium:

296mg
Carbohydrates:

13g
Fiber:

3g
Sugar:

6g
Protein:

32g
Nutritional Analysis based on 4 servings:
Calories — 296
Total Fat — 6 g
Sodium — mg
Total Carbohydrates — 28.7 g
Dietary Fiber — 9.8 g
Sugars — 15.0 g
Protein — 34.3 g
Related Posts: