A poached egg with a soft yolk serves as "instant" Hollandaise sauce for this single serving of grilled asparagus. Makes a lovely appetizer or vegetable side.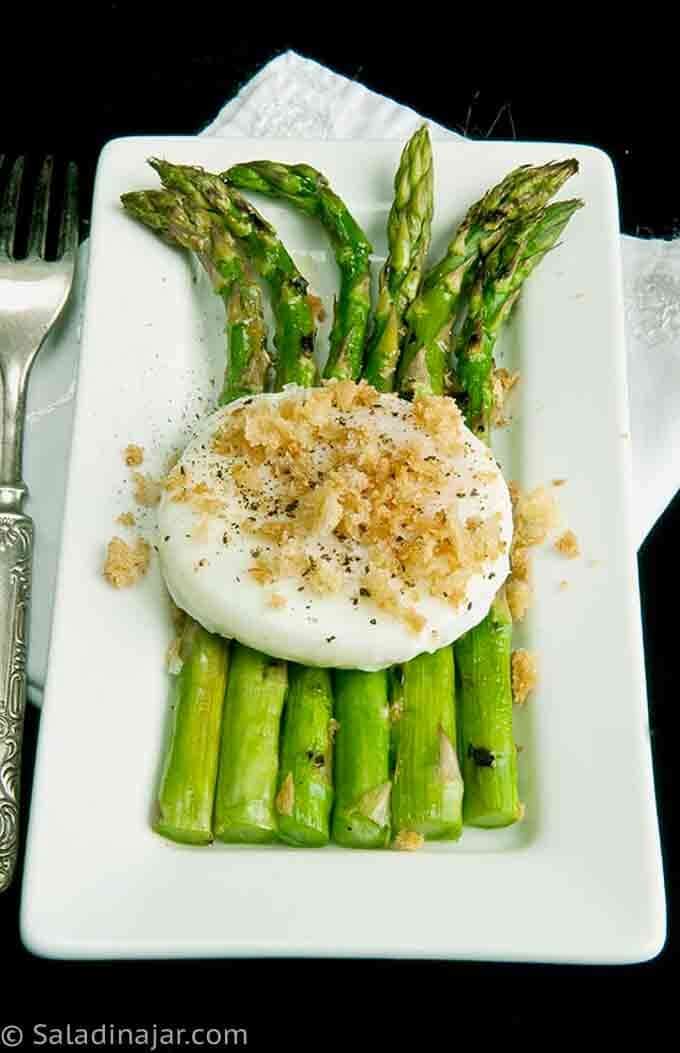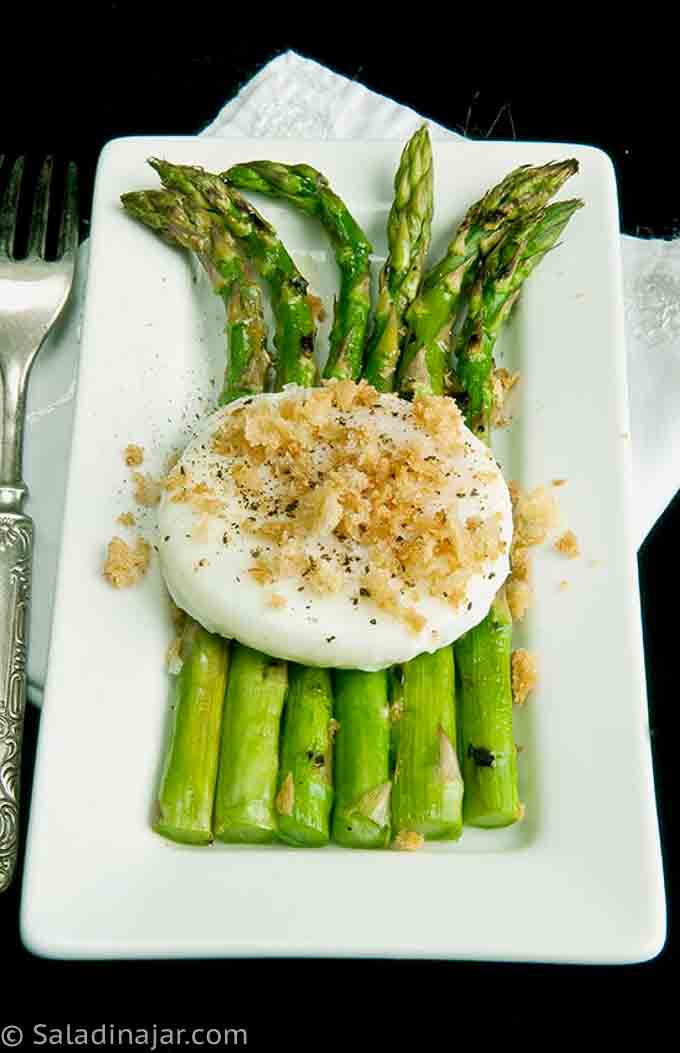 My 10-year old palate never dreamed asparagus might be a delicacy. Mom grew it in her garden back home in Indiana, so we had plenty. Olive green and cooked till mushy, asparagus for dinner was reason enough to feign nausea and head for bed.
As an adult, I discovered a new appreciation for asparagus, and not just because I figured out how expensive it was in the store. After eating it grilled, I was smitten.
Recipe inspiration
While celebrating our anniversary at a nice restaurant recently, we were served freshly grilled asparagus with a soft poached egg on top. The waiter called it "instant Hollandaise." Simple but sophisticated.
How do I grill asparagus if I don't have a grill?
You have several choices. Use a grill pan if you have one or use a regular skillet with a little bit of butter to sauté the asparagus.
Another choice is a conventional oven. Bake at 450˚F. Place olive-oil-coated asparagus on a foil-lined cookie sheet. It only takes a few minutes when you do it this way. Watch carefully to avoid overcooked asparagus.
How will I know when the asparagus is cooked?
Asparagus will turn bright green when it is perfect. It should be tender, but not mushy or stringy. Skinny asparagus cooks really fast so keep your eyes on it. And remember that it will continue to cook a little after you remove it from the heat.
If you like your asparagus soft, cook it until the color is olive green or about the same color as canned green beans.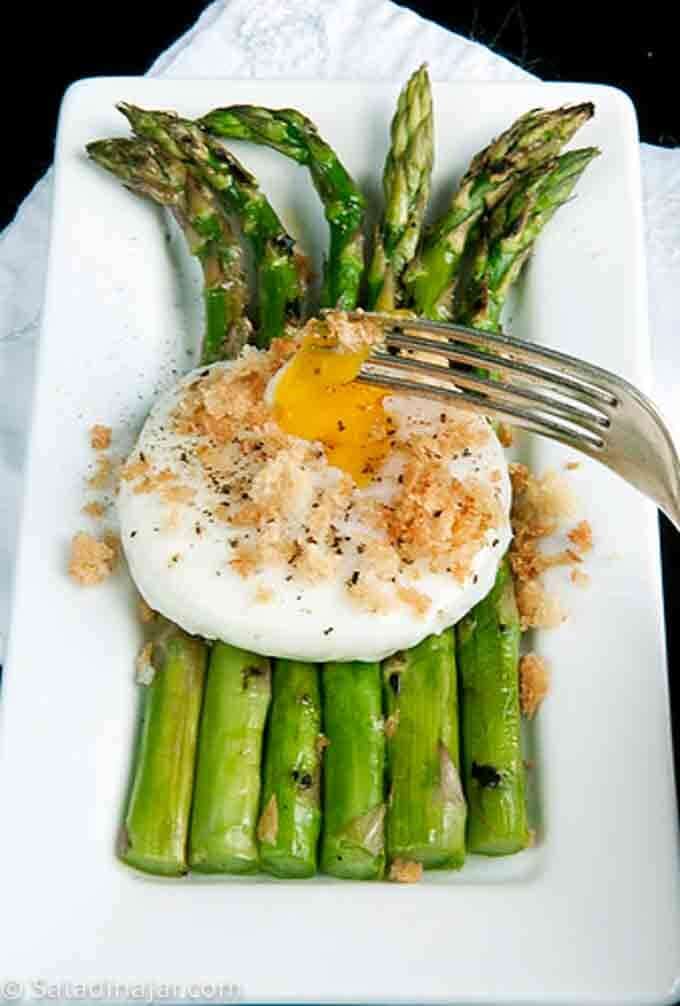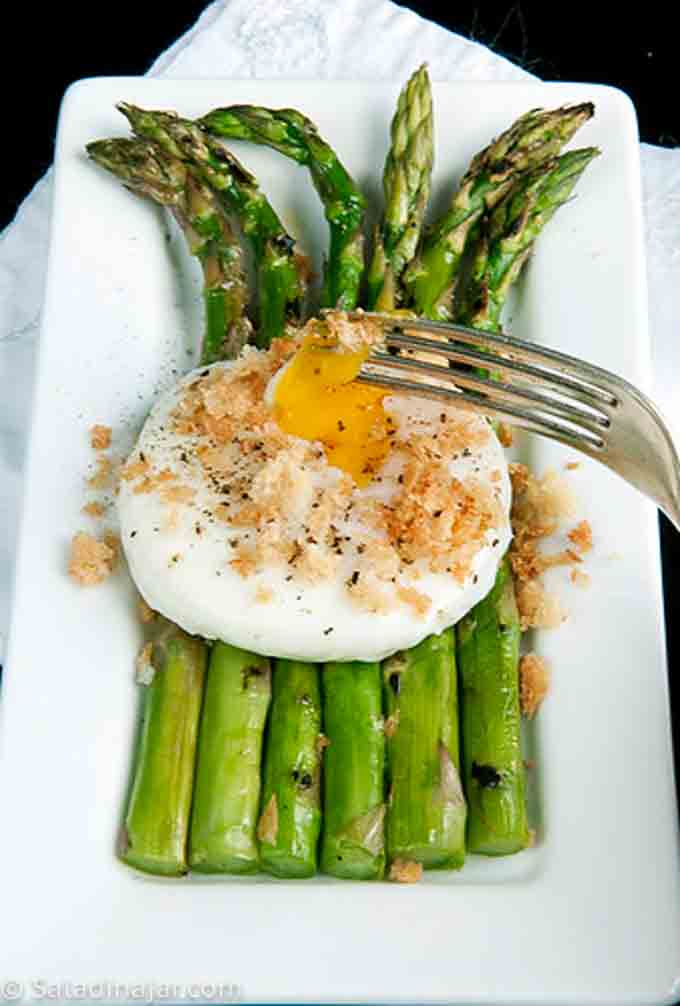 How do I make this recipe for more than one person?
It's easy to scale this recipe for more servings. Use one egg per serving.
In regards to how much asparagus you will need, I will defer to Piggly Wiggly.
"One pound of asparagus contains 12-15 spears that typically measure 9-10 inches long and 1/2-3/4 inch thick. One pound serves 2-4 people."
—Piggly Wiggly
More recipes for egg-lovers
Deviled eggs with a mildly sweet and sour twist.
A quick low-carb breakfast with fried cheese and an egg, garnished with avocado and salsa. No wheat in sight.
Flour tortillas filled with scrambled eggs and sausage--baked in the oven until tortillas are crispy
---
---
Did you enjoy this recipe? You can help others (and me) by leaving a rating on the recipe card itself underneath the picture. No comment required. Thank you.

Hope to see you again soon!
Paula
p.s. Questions? Email me: paula at saladinajar.com.
Yield: 1 serving
Grilled Asparagus and Eggs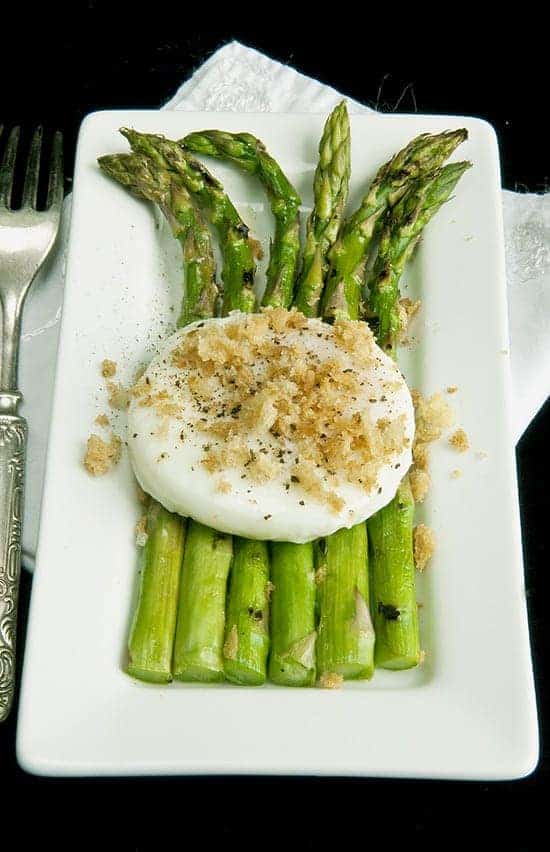 Grilled asparagus topped with a soft poached egg and toasted bread crumbs
Ingredients
1 tablespoon toasted bread crumbs
6-8 stalks fresh asparagus with the tough stalk trimmed
1 soft-cooked, poached egg
Salt and freshly ground pepper
Instructions
Preparing Bread Crumbs:
Use a food processor or blender to tear a slice of stale bread into small pieces the size of oatmeal.
Saute in a skillet over medium heat with enough butter to barely coat crumbs and give a nice crunchy brown crust.
Grilling Asparagus:
After washing asparagus, cut off the tough ends--usually about 1-2 inches
Lightly spray or brush asparagus with olive oil.
Preheat grill for 20 minutes.
Grill over medium-high heat until spears begin to turn bright green, turning once or twice as they cook.
Remove asparagus to a serving plate.
Poach Egg:
Preheat a non-stick skillet over med-low heat.
Add butter. When it is melted, add 1 tablespoon of water. Carefully crack an egg and drop it into a skillet. Cover the pan with a lid.
Cook until the egg turns white over the top of the yolk. The yolk itself should still be soft.
Assembly:
Carefully place an egg on top of the grilled asparagus. Sprinkle with salt and pepper to taste and top with toasted bread crumbs.
Notes
More ways to grill asparagus:

Use a grill pan on top of the stove. Heat over high heat. Turn asparagus as grill marks appear. Asparagus is done when it turns bright green.
Use your oven to grill asparagus. Preheat oven to 450˚F. Place asparagus on a foil-lined cookie sheet. Depending on the thickness of the asparagus, this may take 4-10 minutes. Watch closely.
Recommended Products
As an Amazon Associate, I earn from qualifying purchases. But don't worry. This doesn't change the price you pay.
Nutrition Information:
Yield:
1
Serving Size:
1
Amount Per Serving:
Calories:

107
Total Fat:

5g
Saturated Fat:

2g
Trans Fat:

0g
Unsaturated Fat:

3g
Cholesterol:

185mg
Sodium:

475mg
Carbohydrates:

7g
Fiber:

3g
Sugar:

2g
Protein:

9g