Grabbing a salad for lunch is now as easy and portable as grabbing a Lunchable. 12 FAQ About Vacuum-Packing Chopped Lettuce answers your questions about making "Salad in a Jar" my way.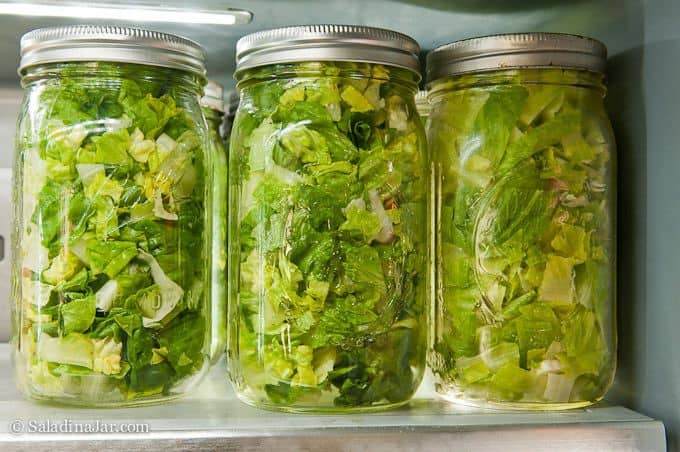 It seems like a good time to answer questions about making Vacuum-Packing Chopped Lettuce in a way that's easier to read than sifting through the entire comment section. If you still have unanswered questions, leave them in the comments here and I'll get back to you ASAP.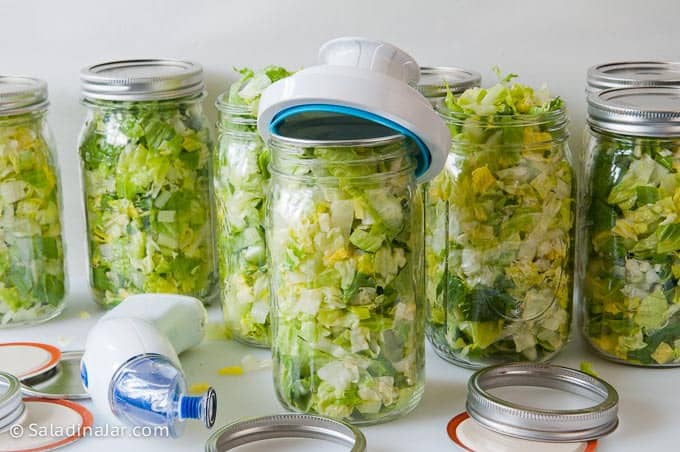 12 FAQ About Vacuum-Packing Chopped Lettuce:
I'll start with the NUMBER ONE, TOP QUESTION!
1. Can I include other vegetables along with the lettuce?
Yes, but the length of time you can keep the lettuce-filled jars will most likely be shorter (much shorter in some instances) depending on which vegetables you add and how fresh they were in the beginning. Personally, I never add anything to the lettuce for 3 reasons:
It takes longer to prepare the jars. I don't want to spend more than 20 minutes–MAX– on a job that loses its novelty after awhile. Don't misunderstand. 20 minutes of trouble is well worth the benefit– kinda like doing push-ups. But this is a lifestyle for me so it has be sustainable.
I want my salads to last at least a week or longer.
I never know what kind of salad I'll be in the mood for from one day to the next so a simple jar of chopped, ready-to-eat lettuce gives me a clean slate.
Reader Rick did an experiment adding various veggies to his jars of lettuce. You can read about it here.
2. I've heard rinsing the lettuce in lemon juice or vinegar will help it stay fresh longer, so maybe I don't really need this machine.
After a reader suggested this, I did a side-by-side experiment rinsing lettuce with diluted lemon juice compared to vacuum-packed lettuce. The lemon-juice-rinsed and cut lettuce was beginning to turn brown after 3 days. No comparison!
3. Any suggestions for other ways to use a vacuum-pack machine?
There are too many to count but these are MY current favorites. See comments on the original post for other ideas.
Use jars for rice, flour, oatmeal, granola and other dry pantry items. It's also good for homemade stir-fry sauce, barbecue sauce or salad dressing stored in the fridge.
Use the (way too expensive) bags for cheese, leftovers, and meat.
4. Are the flat lids used to seal the jars reusable?
Yes, until they get bent or they rust. I still use some of the ones I started out with 7 years ago.
5. Do I need an attachment for each jar and where do I buy one?

No. The attachment fits over the opening with a flat lid between the top of the jar and the attachment. Once sealed, the attachment is pulled off. See video.
Large mouth jar attachments are available online. I've never seen them in a store but sightings have been reported.
I only know about FoodSavers so I can't speak about other brands. Look for a machine that has a port for the attachment. I talk about that in the video. You don't need all the bells and whistles for this project but the really cheap ones don't have a port, so beware.
7. I prefer to tear lettuce with my hands or cut it with a plastic knife because it helps keep the edges from browning. Why is that unnecessary with this method?
Vacuum-packing removes the oxygen that causes the lettuce to brown. I use a sharp knife so I can chop it fast and in fairly small pieces. Hands and plastic knives are way too slow for me.
Remember?! 20 minutes. MAX. That's all the time I want to allot.
8. Can I preserve other types of greens in the same way?
I've experimented with spinach and spring mix. Neither lasted more than 3-4 days. They're just too fragile. Although some say it works for them. I can't recommend it. I'm a hearts-of-Romaine girl.
9. How often do you eat lettuce vacuum-packed into a jar?
It's what I take to work for lunch every day– along with a very small serving of something that's hot i.e. soup or leftovers, just to keep things interesting.
10. Do you get tired of lettuce?
Honestly, yes. I weary of preparing the jars so I try to do it on the weekends when I'm not tired or rushed like I am at 6 AM getting ready for work.
If I get sick of eating salads, I take a break but I'm usually back to them in a day or two because I feel more energetic and my clothes fit better. When I get bored, I switch up the toppings and dressing.
11. I already have a lot of old Mason jars but they don't have a wide mouth. Can I still use them?
Yes, but the wide-mouth jars are much easier to fill, empty, seal and wash. I HIGHLY recommend them.
12. A vacuum-pack machine can be pretty pricey. Any suggestions?
Places you might check include Tuesday Morning, Ross, eBay, warehouse stores, Walmart, Target and online. Or just ask around.
Many people have one sitting in their cabinets that they quit using after they ran out of the original bags that came with the machine.
Portable units are much cheaper and they work great. See here.
One last reminder. Wash your lettuce thoroughly and keep refrigerated at all times for safety's sake.
Here is a sampling of what others are saying about their experience with Salad in a Jar:
http://blog.rickk.com/food/2010/03/the-great-salad-experiment.html
http://lunchitpunchit.com/2011/07/salad-in-a-jar/
http://farmflavor.com/salad-in-a-jar/http://lifehacker.com/5830602/enjoy-fresh-salads-all-week-with-a-vacuum-sealer-and-mason-jars
http://steamykitchen.com/17001-fab-finds.html
http://www.whateverdeedeewants.com/2011/05/salad-in-jar.
http://coloradocraftmomma.blogspot.com/2012/02/lettuce-in-food-saver.html
What do you want to read next?