What I Like to Add to My Salad in a Jar is a collection of ideas for ingredients you can carry in your lunch bag to dress up plain lettuce salads, specifically, non-perishable foods for people without access to refrigeration.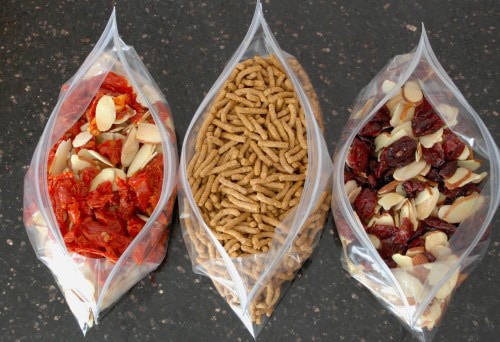 Wondering what I put on all the salads I pack in a jar? (salad-in-a-jar)  I like variety but convenience, calories and healthiness are bigger concerns. Add the fact we only have a dorm-size personal refrigerator at my work for about 8-10 employees.  So non-perishable and easy-to-carry in my lunch bag are also vital.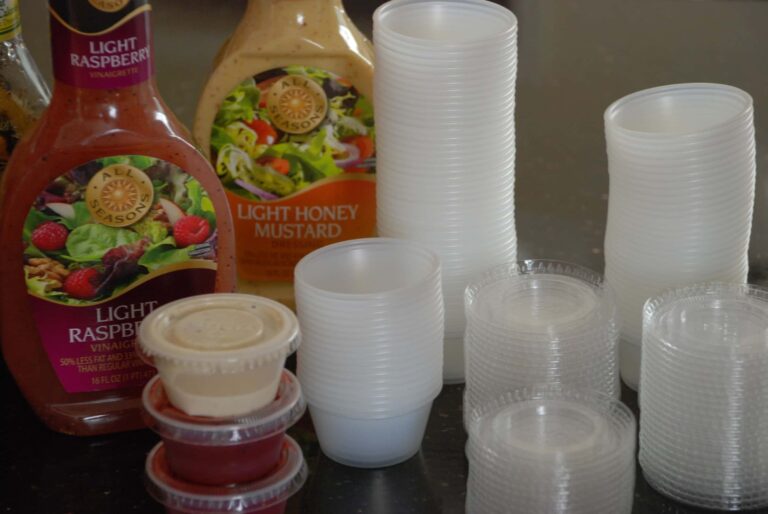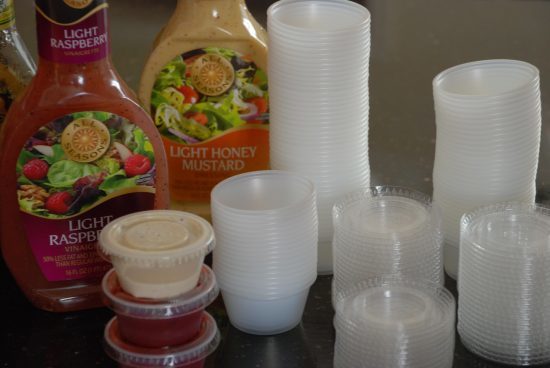 Let's look at the dressing issue first.  I can't store a lot of bottles of salad dressing in that tiny refrigerator so I have devised a better system.   In the past, I used small (2-3 oz) plastic containers to make individual servings.  But they were hard to keep up with in the dishwasher and my "plastics" drawer.  Does anyone else have problems with missing lids, or unmatched sets?  I found the solution at the restaurant supply store–small, inexpensive individual plastic cups with lids like restaurants use.  Can't beat them for convenience.  Toss when done.  I like the small size for two reasons:  portion control and easy-to-carry in my lunch bag. Make up plenty and store in the butter compartment of the refrigerator.  It's not a good place to store butter because butter needs the coldest spot in the fridge.
Regarding the dressing itself, I prefer homemade.  But time constraints and laziness more often prevail.  I look for something at or below 80 calories per serving.  For a quart jar of lettuce, I need about 2-3 oz. depending on the viscosity of the dressing. Until I come up with something more original (which I will post here when I get to it) my favorite today is the Honey Mustard Great Seasons Brand from Walmart, (I have done extensive research on diet Honey Mustard Dressing and this has been declared the winner.) I also like Ken's Raspberry Pecan and most any of the diet balsamic vinaigrette dressings. Beware of the extremely low calorie dressings.  I think they taste like flavored water but suit yourself.  I'm not willing to eat crummy food in the name of saving calories.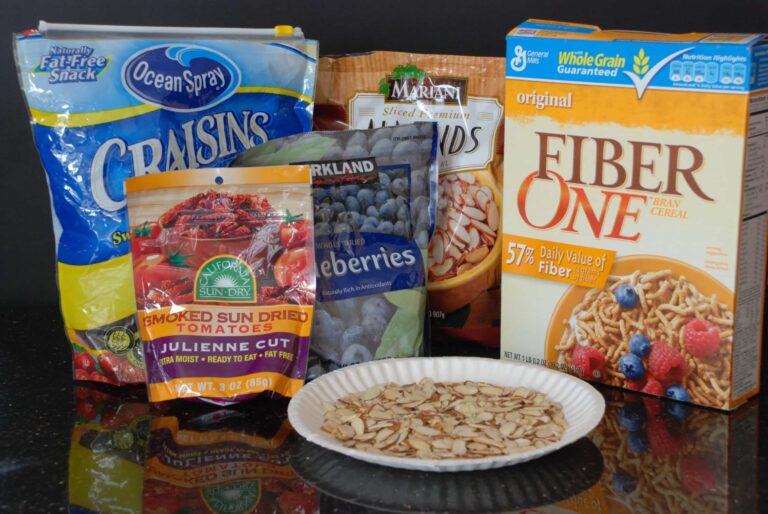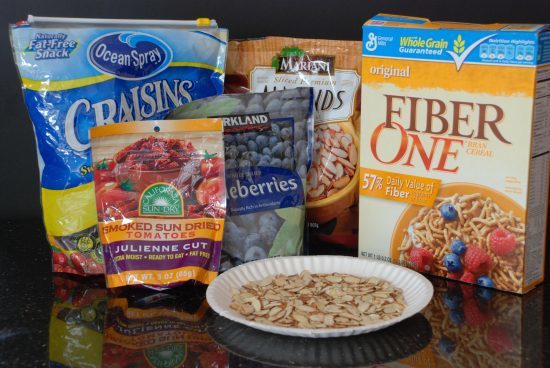 Keep add-ons simple.  If I ate lunch at home with a large refrigerator at hand, I would be much more creative.  For now, I like to mix toasted almonds (see note at the end) with smoked sundried tomatoes (found at Krogers and much tastier than plain sundried tomatoes) or dried cranberries, blueberries or other dried fruit. Bags of these combinations will keep for weeks in your desk drawer. Sprinkle ¼ to 1/3 cup of Fiber One in place of croutons.  It may seem weird at first but it really is good and adds lots of crunch and fiber.  It's also good in place of tortilla strips or fried wonton strips.  Eating salad at home is much more interesting.  I may add marinated mushrooms or artichoke hearts, sliced pickled beets, hardboiled egg, tomatoes, etc.  You probably have your own favorites but watch the calories.  For that reason, I rarely add cheese.
How I Use Salad Fixin's with my Salad in a Jar every morning:
* Grab a jar of lettuce from the fridge.
* Choose a salad dressing (already packaged in individual container).
* Keep Fiber One (or substitute) and bags of almonds/dried fruit/vegetables at your work or in the pantry ready to go.
Now you can have a healthy salad with no preparation in the morning if you have done your homework (less than 30 minutes with practice) beforehand.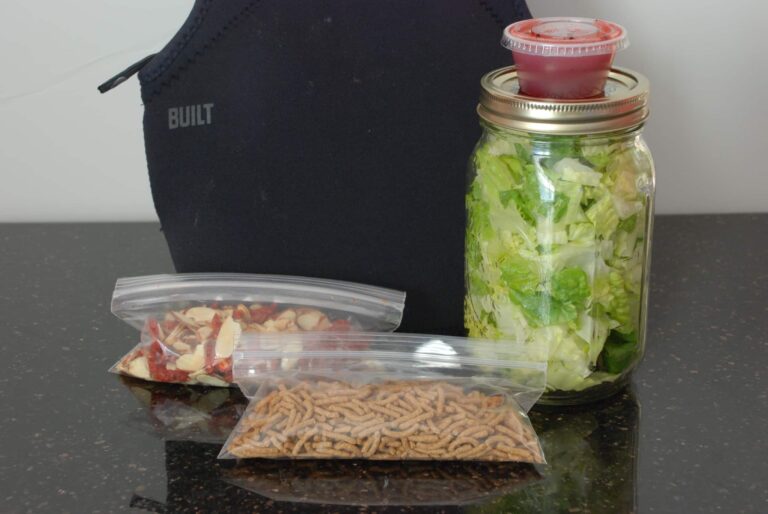 Kitchen Secret Alert:
Did you know you can toast almonds (or pecans or any other nuts) in the microwave?  Place about ¾ c. on a paper plate. Microwave on HIGH for 1 minute.  Stir.  Microwave an additional minute and let sit on the counter till cool.  DO NOT try to cook for 2 minutes without stirring.  They will burn.  (Times may vary with different microwaves.)
Related Posts:
The Lettuce Experiment
How to Make Salad in a Jar That Lasts a Week–a Video and FAQ
Which Vacuum-Pack Machine Should I Buy to Make Salad in a Jar?
Yes, You Can Use a Handheld Vacuum-Pack Machine to Seal Salad in a Jar
How To Vacuum-Pack Salad in a Jar for Less Than $6 (Plus a Video)
Is a Plastic Knife a Substitute for Vacuum-Packing Lettuce?
Can I Add Other Foods to My Vacuum-Packed Jar of Lettuce? 
Salad in a Jar–5 Years Later